Jurassic World: Dominion Dominates Fandom Wikis - The Loop
Play Sound
Last edited:
24 June 2022
Joel Goodman is a research architect living in Wisconsin, USA. After a few solar cooking experiences in the 1970-80s, he began studies of small-mid size solar kitchens using built-in fixed ovens (2003), inserted solar box cookers (2005), and augmented with building size nonimaging fixed reflector troughs with adjustable end reflectors (2007)(2009).
Because of outgassing concerns from materials (insulation, glues, etc.) inside of augmented box cookers, and box cookers take up space in kitchens, mid-size kitchen studies began with thru-wall greenhouse type (HotPot, etc.) ovens (2006), and recently for small houses with thru-wall greenhouse type ovens combined with improved cook stoves, revealing house plan and solar access planning requirements. Additional studies are for exterior furniture fixed reflectors augmenting box cookers.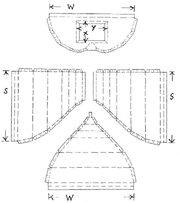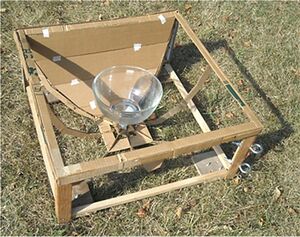 News
NEW: 

June 2022: Thru-Reflector-Wall (TRW) nonimaging solar concentrator studies for big and heavy targets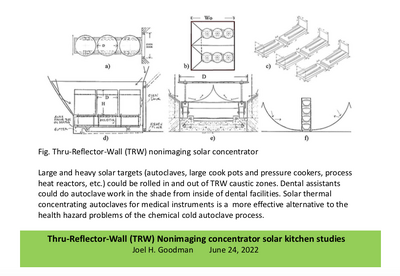 October 2021: Bamboo CPC solar cooker kitchen studies with metal ovens
October 2021: Bamboo CPC solar cooker kitchen studies for Auroville region - The 32 degrees ½ acceptance angle truncated CPC (Rapaka Oct. 2006 p22) is inclined about 12 degrees south towards the equator for the Auroville area latitude location. The CPC trough is inclined similar as the solar bowl. The horizontal line from B on the left parabola segment to C' on the right parabola segment is Wo (CPC width outlet). The horizontal line from A on the left parabola segment to D' on the right parabola segment is Wi (CPC width inlet). An asymmetric truncated CPC is defined for about 12 degrees locations. Rapaka, E. V. K., Report No.3: Study on the optical and thermal properties of a compound parabolic concentrator with and without end-wall reflectors for Pondicherry region, Oct. 9, 2006, Department of Mechanical Engineering, Pondicherry Engineering College, Pillaichavady, Pondicherry, INDIA. CPC expert solar engineers may advise differently, however the differences are likely to be small angular differences, and the presented preliminary CPC characterization is sufficient for preliminary design of reflector facets and bamboo structure. Bamboo CPC solar cooker kitchen studies for Auroville region
September 2021: Bamboo CPC solar cooker kitchen studies
September 2021: Bamboo solar cooker kitchen for equatorial locations
September 2021: Thru-Reflector-Wall (TRW) solar kitchen studies for equatorial locations (supplemental)
September 2021: TRW solar cooker with bamboo for equatorial latitudes
July 2021:Larger pressure cookers/autoclaves on trays with wheels may be rolled in/out from/to the kitchen floor with precast rails above a drainage level in the caustic zone.
July 2021: TRW solar kitchens slides
April 2018: 
July 2014: Thru-wall solar kitchen building or trailer with vertical oven door diagram. A thru-wall solar kitchen building or trailer has a vertical oven door (0 in Fig A); and reflector parts (Fig A): 1 is a reflector wall above the oven door; 2 is a box with horizontal or inclined inlet aperture (unglazed or glazed); 3 is a ridged- pyramid base/bracket; 4 is an E and W end adjustable or repositioned at noon; and 5 is the other side of a two-sided trough. Cookware targets (Fig B)include: w-1 roaster pots; w-2 HotPots TM; and w-3 all-glass evacuated tubes. Multi-tube racks rolls/slides in-out thru the oven door into the exterior cooking zone. A five tube rack is illustrated in Fig. C. The tubes are horizontal or near horizontal.
July 2014: Thru-wall solar kitchen with multi-tube racks roll in-out. Thru-wall solar kitchen with multi-tube racks roll in-out thru doors into the exterior cooking caustic zone, so that batch after batch can be cooked in a day. The multi-tube racks are within the volume of the exterior nonimaging reflector boxes, avoiding wind, and so that E and W end reflectors (repositioned at noon) flapping in wind gusts could not damage the tubes. The tubes can slip out of the racks for ease of tube cleaning.
March 2014: Reflected nonimmaging concentrated sunlight from a CPC-type trough thru a vertical wall opening to reflectors funnel sunlight upward to the underside of cookware.
March 2014: Converting a sun-facing double-hung window wall for non-snow season cooking and baking. The lower window part becomes the cookware doorway to the exterior concentrating reflectors. The window width influences the inlet size of a reflector 'box', securely attached to the exterior building wall. Roof overhang and gutters can limit the height of the upper reflector fixed to the building wall around the upper window part (above the box). The reflector 'box' would be removed for the snow season and the reflectors on the double-hung window could be removed as well for daylighting and passive cold season heating.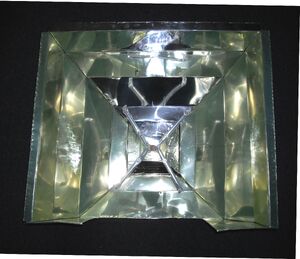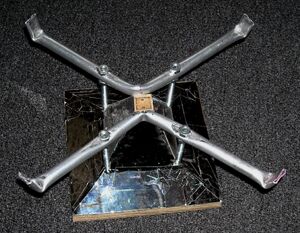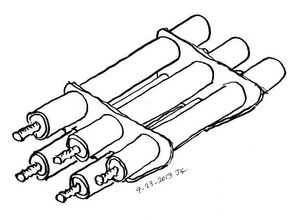 September 2013: Thru-wall fixed non-imaging reflector concentrator for ovens, cookers, autockaves, etc. A thru-wall fixed nonimaging (NI) reflector concentrator for ovens, cookers, autoclaves, etc. may be a lightweight for the most part attachment to a house or trailer wall. A NI 'box' has four creased aluminum-reflector elements attached together, secured to a square based two-angles pyramid-reflector(with grill posts) supported on a bracket(s) structured to the wall. Augmentation is with fixed reflectors attached to the wall, and E and W repositioned reflectors at noon with wind fail-safe design.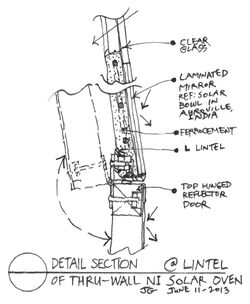 January 2013: A mirror-tiled concrete base, with grill support bolts casted in, is a nonimaging concentrator shape segment to reflect solar radiation upwards to the underside of cooker-ovens.
December 2012: Joel Goodman describes and illustrates the constraints and opportunities for incorporating a permanent thru-wall solar cooker in home design. Wisconsin Thru-the-Wall Solar Cooker
October 2012: The adjacent drawing illustrates using a fixed one-sided reflector trough to augment a built-in solar cooker.
September 2011: When a thru-wall cooker counter height is higher, 36 inches/ 915mm above kitchen floor level, and the outdoor ground level is lower, 24-36 inches or more below the kitchen floor level, a more substantial construction is required to support the fixed reflector concentrator, possible with an integrated small storage space/room. And a higher rainwater drain permits water storage with a higher gravity flow.
January 2011: A building integrated fixed reflector non-imaging mid-size solar kitchen schematic for non-seismic locations combines: multiple thru-mirror wall greenhouse type ovens on one side, and on the other side a scoop type reflector concentrator.
The adjacent illustration of a partial house kitchen plan illustrates orientation and solar access requirements for a thru-mirror wall greenhouse type oven. The top edge of a nonimaging fixed reflector can align with different wall and roof house construction types and shapes.
Various fabrication-construction methods for a chair-size thru mirror wall oven nonimaging reflector concentrator include:

Masonry substrates (compressed stabilized earth blocks, fired bricks, etc.) for gluing flat laminated glass mirror segments.

Bent metal reflectors bolted to a center concrete pyramid with glued reflectors.

Prefabricated injection molded plastic substrates for adhering reflectors.
December 2010: Joel has provided some conceptual ideas for incorporating thru-wall solar oven, and solar still installations.
Documents
June 2003: Goodman, Joel H., "Selected Building Integrated Active Solar Energy Structures", International Solar Energy Society Solar World Congress, Gothenburg, Sweden, June 14-19, 2003.
2005: Goodman, J.H., (2005) Solar Cooking Kitchen Studies with Building Size Nonimaging Reflectors, ISES Solar World Congress, Orlando, Florida, 8-2005
August 2006: Goodman, Joel H., "Architectonic studies with building size nonimaging reflectors", invited, Proceedings of the World Renewable Energy Congress IX, Florence, Italy, Aug., 2006.
2007: Goodman, Joel H., (2007),"Architectonic Studies with Selected Reflector Concentrating Solar Collectors", Journal of Green Building, Vol. 2 Number 2, Spring, College Publishing, pp 78-108.
January 2009: Goodman, Joel H., Building Size Fixed Reflector CPC Troughs and Bowls for Food Processing Facilities, Proceedings of the International Solar Food Processing Conference, ISES, Jan. 2009, Indore, India
January 2009: Building size fixed reflector CPC Troughs and Bowls for Food Processing Facilities - Joel Goodman
August 2012: Goodman, Joel H., Fixed Troughs, Heliostats, Bowls and Reused Wind Blades
July 2014: Goodman, Joel, H., Nonimaging reflector concentrator thru-wall trough solar kitchen studies. In this presentation, Joel offers a strong summary and discussion of his body of work of merging architecture and solar cooking.
Contact
Joel H. Goodman
P.O. 14, Dodgeville, Wisconsin 53533
USA
Tel: (608) 935-5483
Email: joelhgoodman3@hotmail.com