Last edited:
18 October 2019
Solar Cookers International's first and largest refugee project began in January 1995 in the Kakuma Refugee Camp located in Kenya. At the time, the camp provided a safe haven for 28,000 refugees, primarily from Sudan and Somalia. The camp also housed refugees from Ethiopia, the DRC, Burundi, Eritrea, Rwanda and Uganda. Kakuma had considerable refugee turnover, but by 2004, when Solar Cookers International (SCI) concluded the project, the camp had tripled in size to nearly 90,000 refugees. Though rapid growth posed problems for assisting all those who wanted to solar cook, SCI ultimately served over 15,000 families. Beginning in 2016, new efforts have been made to bring solar cooking back to Kakuma.
Most significant solar cooking projects
[
edit
|
edit source
]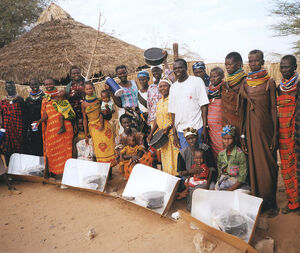 A refugee camp in Kenya was the first to receive a large scale solar cooking project - The Kakuma refugee camp was formed in 1972 when Sudanese refugees first arrived in Kakuma, Kenya. Introducing solar cooking to the camp was Solar Cookers International's first and largest refugee project, beginning in January 1995. Kakuma had considerable refugee turnover, but by 2004, when Solar Cookers International (SCI) concluded the project, the camp had tripled in size to nearly 90,000 refugees. Though rapid growth posed problems for assisting all those who wanted to solar cook, SCI ultimately served over 15,000 families. The program also extended solar cooker technology to schools, especially primary school, through demonstrations, poems, songs and drama.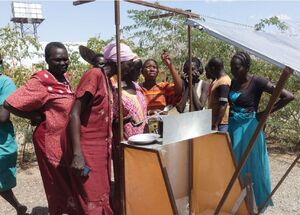 June 2019: Solar Cookers International has recently brought life-saving solar cooking to more than 300 people in the Kakuma Refugee Camp. Before you stepped in, women were often forced to sell their precious food rations for cooking fuel, putting their children at risk of malnutrition. If they dared to journey outside of the camp to collect firewood, they risked violence.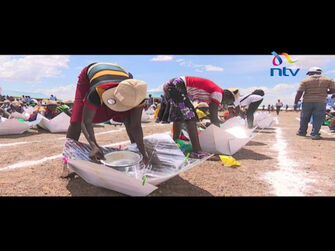 April 2017: On April 29, 2017, a solar cooking festival for 500 schoolchildren was held at Kakuma Refugee Camp in Kenya. The idea was originated by three of the participants at the 6th SCI World Conference 2017, put on in January by Solar Cookers International in Gujarat, India. Roger Haines, CEO of Haines Solar Cookers, Ritesh Raithatha, CEO of Simplified Technologies for Life, and Godfrey Mawira Kaburu, an engineer with the World Food Program in Nairobi. At the Gujarat conference, Godfrey presented the results of his study showing that in October, 2016, solar cooking was the second-most preferred method of cooking at the Kakuma Refugee Camp, even though very few solar cookers were available. To create an inexpensive, durable cooker for the festival, Roger collaborated with Sharon Clausson, designer of the Copenhagen Solar Cooker, to design a "Haines-Copenhagen" cooker using Roger's metallized polyester (MPET) foam reflector, and a UV-resistant polycarbonate Haines Cooking Sleeve. The cookers were made in Kakuma by refugees from materials donated by Haines Solar Cookers, and should last 10 years with proper care. Ritesh's company, Simplified Technologies for Life, has produced "Suryakumbh" solar cooking festivals for almost 120,000 participants in India, and holds the Guinness Record for the most people solar cooking at the same time: 7,438. Ritesh and his colleague, Vivek Kabra, provided expertise and leadership for the festival. Godfrey put together a team of experts, including Mwenda Wilkinson, who handled the logistical, financial, and personnel details. The National Council of Churches of Kenya (NCCK) generously donated the services of Raphael Nyabala and Wilson Kinyua and many others to recruit the children and provide facilities and transportation. Funding was provided by Haines Solar Cookers and the San Diego, California, Rotary Club. Additional support and resources came from Solar Household Energy (SHE), a Washington, DC solar cooking organization. Other partners included Eco-Mandate, which sells solar cookers in Chuka, Kenya, the Alliance for African Assistance, a San Diego-based refugee resettlement organization, and the Rotaract Club of the University of California, San Diego, which made 500 Water Pasteurization Indicators (WAPIs) for the Festival participants. Training was provided by Faustine "Mama Solar" Odaba, and her Nairobi NGO, NAREWAMA. Significantly, Ms. Odaba had been one of the trainers in 1995 when SCI first introduced solar cookers in Kakuma. Before the festival, 50 refugee women were trained to use the cookers, and they in turn trained the children. The festival took place at Hope Primary School in Kakuma Camp Four. During the festival, "Mama Solar" set up fifteen cookers and cooked a wide variety of food, including rice, vegetables chicken, eggs, cabbage, ugali, beans and cake. The children sat in neat rows as trainers handed out the cookers, cooking pots, food and water. Each child assembled their own cooker, and successfully cooked delicious noodles before an enthusiastic crowd of family members and relatives. The children were elated and proudly showed off their new cookers. Follow up studies are planned, and Roger Haines is working with a local entrepreneur to offer Haines-Copenhagen solar cookers for sale in Kakuma for a sustainable price of around $25 USD.
September 2016: Renewed solar cooking workshops at Kenyan refugee camps - Solar cooking advocate, Faustine Odaba, and her daughter have been conducting solar cooking and fireless cooking workshops at the Kakuma and Dadaab refugee camps in Kenya. The has been an enthusiastic response to thee workshops as participants prepare for the time when Kenya closes the camps.
September 2012: The Swedish Church and the aid agency Lutheran World Federation (LWF) are launching Solvatten in Kakuma Refugee Camp in Kenya. The goal of the project is to reduce environmental degradation by enabling people to use alternative sources of energy in the camp and in the host community that surrounds it. 

Supply of firewood has been a problem in Kakuma region since the camp was set up in 1992 but it has escalated in the past two years, despite that the refugees are not allowed to harvest firewood directly from the bushes. This is attributed to the continuous massive influx of people into the camp leading to the environmental degradation through the harvesting of sticks from the available vegetation for firewood. Firewood has become very expensive and the UNHCR struggles to purchase and supply fuel to the growing population of refugees in the camp.
December 2003: Independent Project Evaluation - The evaluation of SCI's Solar Cooking project at Kakuma Refugee Camp was commissioned by SCI primarily to exhaustively review the entire solar cookers project from inception to the present, in anticipation of its phase out and eventual replacement by a refugee trainer operated cooperative. The evaluation is in line with SCI's procedures, much like other development agencies, which highlight the processes, impact and lessons learnt from development projects.
Community content is available under
CC-BY-SA
unless otherwise noted.