Last edited:
16 January 2016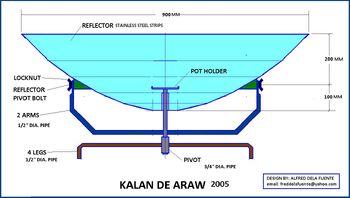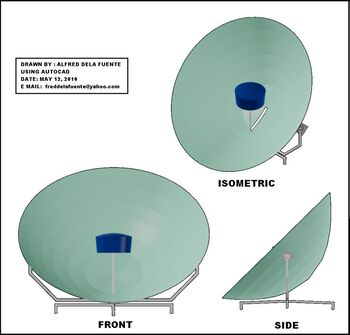 The reflector of the Kalan de Araw is compose of six pieces cut stainless steel mirror surface sheet welded (the thin blue horizontal line) or braze together to form a parabolic reflector (strips is a cone strip from analytic geometry) or a composite of galvanize sheet and aluminum foil. The reflector can be rotate vertically and fixed by the loosening and tightening of the lock nut. It can rotate horizontal rotation at pivot. Two arms and holder for the pot are welded together. The four legs are welded to the pivot pipe. The Kalan de Araw is actually three pieces, the reflector to arm by lock nut, insert arm and pot holder to pivot with leg. You could put weight on the leg to prevent from moving and tie the reflector during windstorms. The reflector could be easily rotate on three axes because the center of gravity is approximately at the focus of the reflector and where the light is concentrated.
Put your black pot with your favorite dish on the pot holder and focus the sun's rays. After 45 minutes it is done.
Email: freddelafuente@yahoo.com
Web: http://freddelafuente.blogspot.com
Community content is available under
CC-BY-SA
unless otherwise noted.