Last edited:
24 August 2009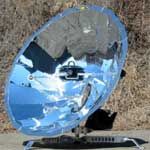 The Karupika is a parabolic cooker with two pivots that allow it to be turned towards the sun: one allows rotation and the other controls the angle of parabola's elevation. It is a lightweight cooker that is easy to use. It can be assembled in 3 minutes, and can boil a liter of water in 33 minutes. The Karupika uses a black recipient of 16 cm, which allows the temperature to reach 205 °C (401 °F).
All components are made of aluminium, with a highly reflctive aluminium laminate (aca 4250E made in U.S.A), 0.5mm thick.
Dimensions:
Diameter: 80 cm focal length: 17cm (from the deepest part of the parabola)
Diameter of condensing focus: 10 cm
Weight: 3kg
Motoharu Takizawa
356 Kuwayama
384-2101 Saku, Nagano
Japan
Email: amane@mx2.avis.ne.jp
Community content is available under
CC-BY-SA
unless otherwise noted.