Last edited:
12 September 2016
Online events
Edit
NEW: 

Webinar:

11 July, 2020 (2:00-4:00 PDT, 9:00pm-11:00pm GMT): Cooking using a Haybox and a Battery Powered Slow Cooker - This webinar, presented by SF Innovations Ltd, will look at two different techniques of cooking using a well insulated cooking container. It will show how to cook rice, stews and even bake bread using little or no fossil fuel. Registration information...
NEW: 

1-4 September 2020: EuroSun2020 is going virtual - The conference will be now be held on a virtual platform, as a response to safety concerns surrounding Covid-19. According to the organization, "We are currently working on new registration fees that reflect the resources and support for creating the virtual conference infrastructure and presenting the conference online. We will provide more details on the registration rates in the coming weeks." The 13th Conference on Solar Energy for Buildings and Industry will offer a platform to discuss the latest developments with leading solar energy experts, policy makers, and industry representatives. More information...
December 2020: SWC50 – The Century of Solar - In 1970 solar research pioneers met at the first International Solar Energy Society (ISES) Conference in Melbourne Australia. ISES is commemorating this Conference with a special 50th Anniversary Conference and Display, called the Solar World Congress at 50 (SWC50). The face-to-face conference, originally scheduled for 2-4 December 2020, will be replaced by a series of eight virtual conferences over the course of the month in December 2020. It will include the same panel sessions that were planned for the in-person planned event. More information...
See also: Global Calendar of Events and past events in Kuwait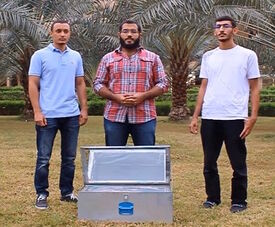 January 2016: Mahmoud Mousa, Abdullah Osama, and Ahmed Essam of E-Innovation won second place overall in the Kuwait Global Technopreneurship Challenge with their solar box cooker design. The event was organized by Wamda, a group dedicated to supporting entrepreneurs in MENA (Middle East and North Africa region). E-Innonation sees their design as a good solar cooker option for low-income families and intends to explore Egypt as the initial market. Read more...
2010: US Soldier builds solar cooker to cook with while stationed in Kuwait - Colin Hoskins is a US service member currently deployed in Kuwait at Camp Arifjan in 2010. In his words: Aside from a bbq grill, there are no facilities for soldiers to prepare a meal for themselves and as you can imagine Army chow soon becomes monotonous. I had the foresight to bring along a couple dutch ovens and I've made extensive use of them using charcoal as fuel. Charcoal isn't always available and safety restrictions prohibit me from using fire outside of designated areas so I could really only cook in the evenings when we had a slow day. I thought that a solar cooker would be ideal. No fire required and it would allow me to "set it and forget it". I built a panel style solar cooker using laminated foam board and 3 mil Mylar. I scaled up the design by 10% so my 10" dutch oven would fit. Read more...
Archived articles
Climate and culture
Edit
Resources
Edit
Possible funders
Edit
Construction plans in Arabic
Edit
Articles in the media
Edit
Web pages
Edit
The entities listed below are either based in Kuwait, or have established solar cooking projects there:
SCI Associates
Edit
Manufacturers and vendors
Edit
Individuals
Edit
Government agencies
Edit
Educational institutions
Edit
References
Edit
Community content is available under
CC-BY-SA
unless otherwise noted.