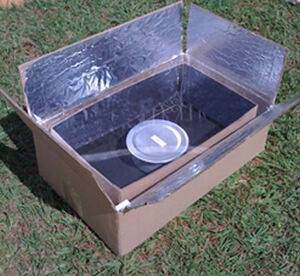 When Jon Bohmer sat down with his two little girls for a simple project they could work on together, he didn't realize they'd hit upon a solution to one of the world's biggest problems for just $5: A solar-powered oven. Inventor Jon Bohmer with the oven he has made out of a cardboard box.
The ingeniously simple design uses two cardboard boxes, one inside the other, and an acrylic cover that lets in the sun's rays and traps them.
Black paint on the inner box, and silver foil on the outer one, help concentrate the heat. The trapped rays make the inside hot enough to cook casseroles, bake bread and boil water.
[Text copied from http://www.cnn.com/2009/TECH/04/09/solar.oven.global.warming/index.html]

News and recent developments
Edit
May 2010: London Week: Designs of the Year - A Kyoto Box solar cooker was included this year in the annual exhibition. More Information...
Design discussion
Edit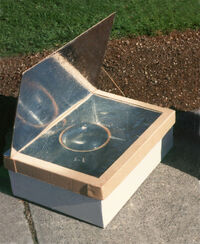 This design, while simple, has a number of shortcomings:
The reflectors will not stay in position with even the slightest wind.
When the sun is not straight overhead, in order to make use of the reflectors, the entire box has to be tipped up to face the sun. This causes the cooking pot(s) to slide around and spill food.
Rather than have four reflectors, it is much more desirable to have a single rear reflector such as in the "Minimum" Solar Box Cooker design.

Revised design
Edit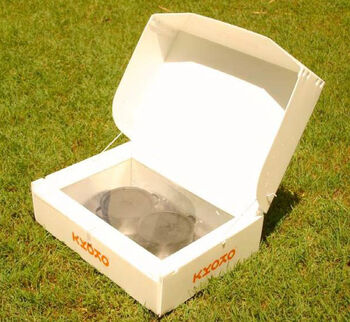 Audio and video
Edit
External links
Edit
Community content is available under
CC-BY-SA
unless otherwise noted.