This article is about an entity that either no longer exists or that may no longer be active in solar cooking promotion. It is retained here for archival purposes.


Last edited:
8 March 2015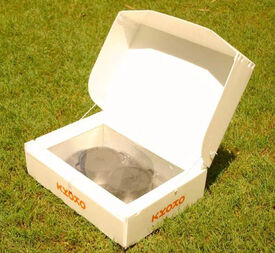 Kyoto Energy's products range from the Kyoto Family entry-level package with solar cookers, smokeless biomass cookers, solar water heaters/cleaners and solar flashlights. This Quick Impact Package is targeted to the poor in rural or slums, as well as refugee camps in Kenya.
The Kyoto SunTrap solar water heater is the first to be made from 100% aluminum and carries a lifetime warranty.
The Kyoto Butterfly solar concentrator is designed for industrial and farm scale and provides both low-cost electricity and water / air heating in a co-generation system. Kyoto Butterfly uses the patented Kyoto Mosaic plastic mirror technology, which offers unprecedented photon distribution on the PV, cells at extreme low cost.
The Solar cooker is a US$5 cardboard solar oven with high volume manufacturing and flat pack distribution. There is a glass on top and it's painted back inside.
News and recent developments
October 2015: Jon Bohmer reports that Kyoto Boxes are no longer available for purchase.
March 2015: Jon Bohmer reports: "Kyoto Boxes are available straight from the factory in Malaysia. We are mostly selling to smaller NGOs and for trials, with a focus on arid areas and refugees.
See also
External links
Contact
Kyoto Energy
Jon Bøhmer
Box 234
Thika
Kenya 01000
Tel: +254 732239948

Email: jon@kyoto-energy.com
Web: http://www.kyoto-energy.com
Community content is available under
CC-BY-SA
unless otherwise noted.