Last edited:
19 March 2020
| | |
| --- | --- |
| | Heat retention devices insulate cooking pots, that will continue the cooking process without a heat source, are demonstrated at a gathering in Liberia. - Photo credit: Karyn Ellis (2009) |
Online Events
Edit
NEW: 

4-5 April 2020: Global Health & Innovation Conference - At this 17th annual conference, learn from more than 200 speakers who are committed to effective, responsible programs in health, development, entrepreneurship, and education. More information...
NEW: 

23-26 June 2020: ASES SOLAR 20/20 - In conjunction with the U.S. Department of Energy's Solar Decathlon, the American Solar Energy Society is sponsoring the global event, SOLAR 20/20. Hear the latest information on climate change, as well as learn about amazing technology and market advances by innovators and financiers. This will be a push by everyone across the political spectrum for more control of our energy choices to reduce associated costs.

NEW: 

SOLAR 20/20 will happen over the same dates, but as a virtual event. More information...
International conferences
Edit
NEW: 

29 June - 01 July 2020 (Frieburg, Germany): International Energy Workshop - More information...
See also: Global Calendar of Events and past events in Liberia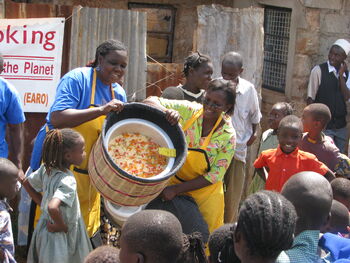 May 2013: This photo taken by Karyn Ellis in 2009 clearly illustrates the capabilities of extended cooking with heat retention baskets. It was taken at a gathering in Liberia, a country suffering from years of civil conflict. The villagers of the Gbehyi chiefdom in eastern Liberia have expressed a strong interest in creating sustainable income and obtaining clean water and electricity through green technology. Together with a Liberian organization specializing in community development and promoting local "eco-economies," Empowerment Society International (ESI) is working to develop a Sustainable Village Initiative (SVI) in the Gbehyi chiefdom of Nimba County. Read more...
August 2010: Eleven women from the West Africa Network for Peace Building and the Women in Peace Building Network are back in Liberia after completing a one month training workshop in Ghana. The women who were drawn from Margibi, Montserrado, Bong, Nimba and Lofa Counties were trained in kente weaving, basket weaving, making of solar stove, recycling and jewelry at the Kokrobitery Institute. Speaking Tuesday at WANEP/WIPNET Head Offices in Sinkor, The National Network Coordinator, Lindora Howard Diawara, praised the women for their determination to acquire some skills that will help themselves and their families and the country as a whole.
Archived articles
Climate and culture
Edit
Resources
Edit
Possible funders
Edit
Articles in the media
Edit
External links
Edit
Audio and video
Edit
The entities listed below are either based in Liberia, or have established solar cooking projects there:
SCI Associates
Edit
Manufacturers and vendors
Edit
Individuals
Edit
Government agencies
Edit
Educational institutions
Edit
References
Edit
Community content is available under
CC-BY-SA
unless otherwise noted.