Last edited:
17 October 2015
This article is about an entity that either no longer exists or that may no longer be active in solar cooking promotion. It is retained here for archival purposes.



In 2004, friends Bill Longbrake, Rick Levy and Sam Muinde formed Lift Up Africa (LUA) to create sustainable development projects leading to independence and community ownership. We provide a hand up not a hand out. LUA works closely with African communities on sustainable projects that concentrate on basic needs such as clean water, health care, reliable and sustainable food and energy sources, education, and employment.



Current projects
[
]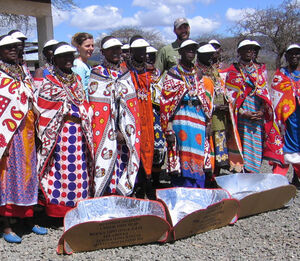 Solar Cooking -- Helping Indigenous Women, Orphanages and Schools LUA is partnering with SCI (EA) on several new solar cooking projects, including providing solar cooking equipment to school and orphanage feeding programs and to indigenous women. We are also considering two new initiatives, one to promote solar cooking education in urban areas and another to integrate microlending into solar cooking distributions to speed up the spread of this critical technology.

Kaliluni Medical Centre (KMC), Kaliluni, Kenya KMC is a complex that includes a hospital, visiting doctors/nurses quarters, and a funeral home. Once construction has been completed, the local community will manage all aspects of functional operations. We are also supporting efforts to bring solar cooking to this community of 22,000 people.

Peaceful Home For Children Construction Project Peaceful Home is a new orphanage project located in the Kianyaga area near Mt Kenya. LUA is helping raise funds to complete construction work on housing for the orphans.

BethanyKids (Nurse Training) A recent LUA grant is supporting costs associated with training two Kenyan nurses who, upon completion of their program, will serve their local communities.

CHAPS (Solar Vaccine Refrigerator) A LUA grant is supporting a field trial of a new, portable solar powered vaccine refrigerator that is designed for transport under rugged conditions by foot, camel and motorized vehicle. Made of off-the-shelf components, if successful this device will bring fragile vaccines to remote villages, a critically needed service.

Fiscal Sponsorship LUA fiscally sponsors several projects that help African people.


Past projects
[
]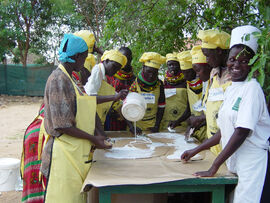 Lokichoggio Solar Cooking Projects. LUA supported several projects in Loki, including a project that trained 20 Turkana women to make and use CooKits, a small portable solar cooker, and the installation of three (3) commerical solar cookers at St. John's Primary School, an area school that provides provides breakfast and lunch for up to 1,500 children daily.

Maasai Solar Cooking Projects. A LUA grant provided fireless cookers, WAPIs, and CooKits to a group of mostly illiterate Maasai women living in southern Kenya's Kajaido district.

Hamomi Children's Centre Solar Cooking. Hamomi is a primary school and orphan support project in Nairobi's Kangemi Slum. A LUA grant provided solar cooking equipment for their critical feeding program.
News and recent developments
[
]
October 2015: Lift Up Africa reports that they are no longer promoting solar cooking.
January 2011: African solar cooking partnership project visited by Dr. Jill Biden, wife of the U.S. Vice President. Lift Up Africa is a strong believer that partnering and sharing resources is a key to successful implementation and sustainability. This project was designed to introduce solar cooking and related technologies to ten communities in Kenya. The partnership relied on Africa HEART, a Kenyan-based NGO, recently visited by Vice President Biden's wife Dr. Jill Biden, to identify three community groups in each district, the fifty trainees in each community, and training venues. Africa Heart covered expenses and handling logistics related to transport for the solar cooking equipment, distribution venues, and follow-up on usage and other needs. Solar Cookers International East Africa Office (SCI-EA) provided the trainers and supplies, written reports, and conducted the training. Lift Up Africa provided a grant to cover direct expenses related to equipment purchase and SCI-EA's travel, partnership connections, and worked with Africa Heart on follow-up and project evaluation. This project was a success and 150 families, approximately 1,200 people, have benefitted from their new training and solar cooking equipment. This project demonstrates the value of independent organizations working together, each providing their area of expertise, to achieve substantial results. Hopefully, this will be a continuing pattern for projects initiated by members of the Solar Cookers World Network.
June 2010: LUA, Solar Cookers International, and HEART (a/k/a African Heart, our newest partner) recently launched a pilot project to introduce solar cooking in areas where HEART currently has community development projects.
April 2010: With a grant from LUA, solar cookers international conducted trainings and distributions of solar cooking equipment in Monduli, Tanzania. Representatives from two schools--Orkelili Secondary School and Orkeeswa Secondary School--were trained in the theory and practice of solar cooking. Several community members from each school's community also participated. This project's goal is to support each school's critically important feeding program through the donation of solar cooking equipment, spark interest in solar cooking in several new indigenous communities, and help save the planet through reduce biomass consumption for cooking.
2009-10 Approved Projects: Lift Up Africa will be supporting several new solar cooking projects in East Africa including providing solar cooking equipment and trainings at several schools and orphanages. These projects serve indigenous people and urban slum dwellers. In early 2010, two schools in northern Tanzania will receive solar cooking equipment through a grant from LUA. In late 2009, the Peaceful Home for Children, an orphanage and school, received solar cooking equipment to augment its feeding program.
Fall 2009: Through a small LUA grant, SCI-EA recently distributed solar cooking equipment to the Ololontungun Women's Group. More details on this distribution in the near future.
May 2009: Since July 2005, SCI-EA has been working with women's groups in Kajiado--an arid, deforested area in Southern Kenya--to promote the use of solar cooking as a means to help poor women save their meager resources for other pressing needs. The women are generally widows or single parents who need group support to move forward with their lives. Many are engaged in petty trade like selling vegetables, beads, milk and eggs. several women's groups have devised a way to purchase solar cooking materials for each member. Because the purchasing process has dragged on for three years, SCI approached LUA. They asked us to partner with several of these groups so the women could more quickly enhance their energy savings, thus improving their living standards. On May 22, 2009 the first of these partnership distributions took place in Oloika. At this distribution 17 women living in Olokia, received CooKits, fireless cookers, and water pasturization indicators. All together more than 150 people directly benefited when the women's families are taken into consideration.
February 2009: LUA sent funds to Solar Cookers International East Africa Office (SCI-EA) to support distribution of solar cooking equipment to three women's groups in southern Kenya's Kajiado District. Since July 2005, SCI-EA has been working with these three women's groups to promote the use of solar cooking as a means to help these women save their meager resources for other pressing needs. All 54 women from these three groups are widows or single parents who need group support to move forward with their lives. These three groups devised a way to purchase solar cooking materials for each member. However, this system is slow. At the time LUA made its grant, 23 members had not received the materials they needed to begin using solar cooking, and many others still needed painted black pots to enable them to fully realize the maximum benefit from their cookers. Because of LUA's grant, these women finally received the full complement of energy technology tools they needed to enhance their energy savings and improve their living standards. When extended families are taken into consideration, more than 424 people benefitted from this project.
January 2009: In late January, the Hamomi Children's Centre, a school located in Nairobi's Kangemi Slum, took delivery of the solar cooking equipment LUA's grant purchased for them. SCI staff delivered the equipment and demonstrated solar cooking at Hamomi. Hamomi's Development Director Susie Marks reported: "A crowd began gathering, staring, asking questions to the mzungu, (white person-that's Susie), who they didn't believe was just as clueless as them, no matter how I protested my lack of knowledge about the cookers....They found it pretty amusing that I was helping clean vegetables. And the demonstration began. SCI staff made rice, beans, boiled eggs (solared eggs?), a vegetable stew, and even a cake! We learned that we can pasteurize water with the solar cooker! We are still learning if the dirty river by the school can actually get clean and we will be testing the water...but if this will work, we will suddenly have free clean water, not only for us but for the entire community. Parents and guardians can come get water for their households and stop drinking from the river which leads to awful diseases....The Hamomi staff gathered round during the demonstration, learning and patiently asking all the right questions, while the crowd around them fluctuated, sometimes growing so big that people needed to take turns getting up to where the cookers were to touch the panels and feel how hot they were getting." More than 100 students, mostly orphans, benefitted from this project.
September 2008: Thanks to funding provided by two boys, one eleven and one seventeen, LUA made a small grant to the Hamomi Children's Centre in Nairobi's Kangemi Slum. The grant was for the purchase of solar cooking equipment to augment Hamomi's critical feeding program.
August 2008: The

Kaliluni Medical Centre

(KMC) hosted a second, very well-attended solar cooking demonstration for their local community.
June 2008: The

Kaliluni Medical Centre

(KMC), a Lift Up Africa project, hosted a demonstration of solar cooking for their local community. The KMC project is working with local community leaders bring Solar Cooker International's Stella Odaba to

Kaliluni

for the demonstration. KMC is also developing funding to install solar panels on the hospital building and commercial solar cookers on the hospital building.
April 2008: Altener Solar Ltd. transported and installed three (3) commercial solar cookers to St. John's Primary School of Lokichoggio, Kenya. The installation had been delayed because driving from Nairobi, where the cookers were fabricated, to the Loki area was unsafe due Kenya's post-election violence. Funding for this project was provided by Lift Up Africa and was our second Loki solar cooking project.
External links
[
]
Lift Up Africa Newsletters
[
]
Contact
[
]
Linda Alband, CAO
Lift Up Africa
POB 301206
Portland, Oregon 97294
USA
Toll Free: 1 (888) 8LiftUp (USA only)
Telephone: +1 (503) 408-6838
Fax: +1 (503) 408-5766

Email: info@liftupafrica.org
Web: http://www.liftupafrica.org
Twitter: @LiftUpAfrica