Jurassic World: Dominion Dominates Fandom Wikis - The Loop
Play Sound
This article is about an entity that either no longer exists or that may no longer be active in solar cooking promotion. It is retained here for archival purposes.


Light Gives Heat is a non-profit company, based in Grand Junction, Colorado, USA, that is interested in creating economic sustainability and creative endeavors for the citizens of Uganda, Africa. The organization began with a personal story.
"After a difficult labor and emergency delivery with our son, Asher, in December 2004, we (Dave and Morgan Hansow) decided that the next child we would welcome into our family would be through adoption. In 2005, we began the process of adopting a child from Uganda, East Africa. About that time, Uganda began to take a spotlight in the media with Oprah, Invisible Children, and other celebrities. We began to read up and learn more about Uganda and the horrific civil war with the LRA rebel group and felt called to action knowing our to-be child was somewhere in that country. Our hearts just started to become passionate about Africa in general. A year and half into the adoption process we got an email that said we were still at least 6 months out from getting to travel. And so in a single day, we made what other people might consider a brash decision - we decided to quit our jobs, rent out our home, leave our friends and family, and move to Uganda to meet our child (and start a non-profit organization in the process).
In March of 2007 we formed Light Gives Heat with the intent to 'simply go and meet real needs.' Rather than presuming we knew answers to needs in Uganda, we decided to travel first, listen/wait second, and act third (which we will have to say made fundraising initial donations a little challenging). Nonetheless, people got behind us and we bought our plane tickets (the point of no return)!"
Light Gives Heat has so far primarily being helping to find potential markets for goods produced in Uganda, mostly jewelry and clothing. But since 2011, they have begun to help encourage solar cooking to residents of low-income areas, working in partnership with Solar Cookers International. They see the potential for creating local bakery enterprises, as the solar cookers offer a way to prepare high quality baked goods to sell.
News
[
]
April 2012: Suubi women of Light Gives Heat performed their biggest solar cooking demonstration yet last week. They had an audience of about 150 people deep in the Busoga bush. These instructors are very experienced now. They took the initiative and divided the audience into three groups and assigned two instructors to each group. The ladies did well demonstrating all three products, the stove, cooking bag and CooKit and explaining the environmental, economical and health benefits. The audience was amazed by these cooking methods, especially by the cake baked in the CooKit. Beans and posho were also on the menu. The solar project is part of ERM's 2011 grant promoting sustainable environmental income generating activities amongst the Suubi community.
July 2011: The Solar Cooker Project is moving full-force ahead. Just recently, John and Julius from the Solar Cookers International in Kenya, traveled to Jinja, Uganda to continue the training on the maintenance of the solar cooking products and creating outlets for our Suubi women and Epoh tailors to sell products to their friends and local community.
July 2011: Light Gives Heat on their solar cooking workshop in Uganda: "We have given up any notions that we can bring about health simply by stumbling upon it in the same way that we stumbled upon destruction. There must be changes in the way that we think and live. To bring about these changes we teamed up with Solar Cookers International (SCI). With the help of SCI we are enabling the SUUBI and EPOH artisans to cook their food and boil their water with the free power of the sun. This reduces the emissions of charcoal that the women would normally use, benefiting the women monetarily and environmentally. One artisan reported that she spends $5 a week on charcoal. With the help of LGH, she can make a one-time purchase of a solar cooker for about $5, and save on the weekly expense of charcoal." Read more...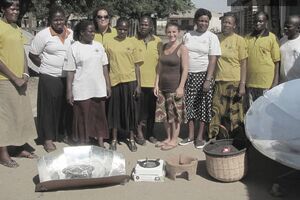 March 2011: Light Gives Heat visits Solar Cookers International demonstration in Kisumu, Kenya - Light Gives Heat is a non-profit promoting grass-root economic sustainability and creative endeavors in Africa. Ugandan Director, Amberle Reyes and a staff member recently visited a demonstration of sustainable cooking methods sponsored by Solar Cookers International. It included traditional fixed and portable earthenware stoves, called upesi in Kiswahili, which more efficiently use charcoal or wood as fuel, CooKit solar panel cookers, and Heat-retention cooking baskets. They were most interested in solar cookers and fireless baskets. Locals were initially attracted to solar cooking not because of the possibility of saving money by buying less fuel, or the health benefits of indoor smoke reduction, but because solar cookers can bake cakes. Cake is seen as a "rich person food", and LGH saw an entrepreneurial opportunity: Cakes are sold for weddings and birthdays. Most people cannot make high quality cakes because of the irregular temperatures of charcoal and wood stoves, but solar cookers bake perfect, moist cakes with very little worry of burning or overcooking. At the end of March, SCI staff will bring CookIts and fireless baskets to Jinja and demonstrate first-hand their effectiveness to all their employees. Light Gives Heat has received an 8,000 USD grant to supply our Uganda Artisans with these solar cookers. More Information and photos...
Contact
[
]
Light Gives Heat
2507 Weslo Avenue
Grand Junction, Colorado 81505-6927
USA
Tel: +1 (970) 242-1958