Jurassic World: Dominion Dominates Fandom Wikis - The Loop
Play Sound
Last edited:
24 February 2020
Lorena Harp was born in Oaxaca City, where she completed her basic studies. She attended the Bachelor of Education and Language in Mexico City, working later in Special Education Institutions in the State of Oaxaca.
Later, she graduated in Ecotourism at CIIDIR, and did professional activities at the World Wildlife Fund and registering several rural communities in a geoconservation project. Later, she joined the Olla Solar project, invited by the Fondo Mexicano para la Conservación de la Naturaleza and Solar Household Energy, collaborating as coordinator of the Southeast region for 6 years, during which she trained a large number of women in solar cooking.
After, she traveled to India to participate in the International Solar Food Processing Conference 2009 (ISES), and returning to the Ecology Department of the Alfredo Harp Helú Foundation for 8 years, with Organic Gardening and Environmental Education activities in rural schools and indigenous communities.
During that time, she collaborated with Cocina Solar México in a project for the installation of solar systems to street vendors, from which the famous Solar Taquero was derived; visiting Switzerland and Germany to present the project to the sponsors in those two countries.
She has worked on solar cooking projects since 2005 and is an independent consultant for Solar Household Energy. Her focus has been on a pilot project to introduce Haines Solar Cookers in communities in the Oaxaca Valley. These are distributed through leading local promoters of clean energy, who keep track of the users in each community to assure adoption and impact of this technology in the State of Oaxaca.
After the earthquake of September of 2019, she delivered donations of solar ovens from various organizations and taught four cooking workshops on the Isthmus of Tehuantepec, the area most affected by the earthquake, as an option for people to prepare their food.
One of Lorena's important goals is the operation of a social enterprise that includes the local manufacture of Haines Solar Cookers to facilitate distribution and lower costs in the State of Oaxaca and throughout Mexico.
News
[
]
January 2020: Scaling up Lorena Harp's Haines Solar Cooker Enterprise in Mexico - Solar Household Energy is currently supporting Mexican solar cooking expert Lorena Harp in her dream to bring solar cooking to the rural women of Oaxaca State through a sustainable social enterprise. Prior to launch of the initiative, Lorena conducted local market research and optimized the HSC for local consumer preferences. She then trained three rural women to become "solar cooking ambassadors" to sell HSCs for 500 pesos (about $25 USD) on a commission basis (earning 200 pesos, about $10 USD) to members of their communities and provide follow-up support to maximize adoption of this alternative cooking model. More information...
September 2019: Mexican Women Use Sunlight Instead of Firewood or Gas to Cook Meals - Inter Press Service
September 2017: Solar Household Energy has partnered with Lorena Harp to provide solar cookers to earthquake victims in Mexico, as well as launch a new solar cooker social enterprise in the country. The partnership will work to "carry out market research, optimize the Haines Solar Cooker and its pot for adoption by rural women, train solar cooking ambassadors, and establish [Lorena Harp's] business, with the end goal of becoming financially sustainable." More information...
November 2012: GloboSol annual report: Switzerland/Germany - Partner-meeting "Skillshare" - As a "première", some of our closest friends and solar colleagues from various foreign countries were invited to visit Globosol with Michael Götz. In the course of a manifold study and sight-seeing program, they also became acquainted with parts of Switzerland and southern Germany. Unfortunately only two guests were able to participate: Lorena Harp from Oaxaca, Mexico, the co-organizer of the project "Food-stalls in Mexico", and Sourakatou Ouro-Bangna, head of the solar center "Solasol" in Sokode, Togo. It was a stimulating event that nevertheless raised questions and unfortunately required significant administrative expense.
Audio and video
[
]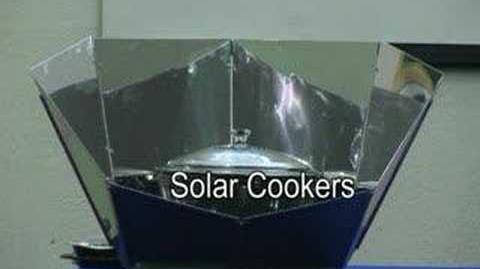 See also
[
]
Contact
[
]
See Cocina Solar Mexico.