Jurassic World: Dominion Dominates Fandom Wikis - The Loop
Play Sound
Last edited:
3 August 2016
Reflective materials are a key component of almost any solar cooker. If you are building a solar cooker and traditional reflective materials are not available in your area, several low-tech reflective material solutions can be used as alternatives.
Aluminum/tin cans
[
]
Cans made of aluminum or tin can be cut open and flattened to create and flat, semi-rigid, and low-cost reflective surface.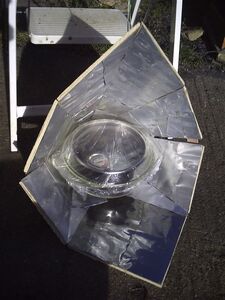 CDs
[
]
Cigarette package foil
[
]
Most cigarette packages have a inner foil liner. Collect these and use them in a patchwork fashion to create a reflective surface.
"Cool Roofing" material
[
]
Steve Harrigan reports: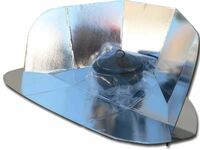 "Cool Roofing" material is available everywhere in Africa and in most of the Third World you will find roofing pan that is galvanized or zinc coated. In the past the galvanized coating has been dull and oxidized over time. But with of the improvements in zinc coating you will find zinc pan that is highly reflective to the level of aluminum. In the effort to reflect the heat in the tropics the zinc roofs are now looking like mirrors dotting the country side. I noted this April 2012 in Ethiopia. So I went to the market in Addis Ababa and purchased some flat rolled zinc tin of medium grade thickness. With the help of my Ethiopian crew we made a CooKit. We had to cut it with tin snips and bend the seams with a wood board for a straight edge. The "fingers" we bent over as "dog ears" too keep them locked in. We dulled the sharp edges by rubbing stones against them. The CooKit won't fold up in a little packet but who cares? It is washable and can be left outside or inside. The cost was just about $6, which is about the same cost of buying material for a cardboard and aluminum foil cooker!
Emergency blankets (mylar)
[
]
Emergency blankets (or space blankets) consist of a thin plastic foil (often polyethylene terephthalate, PET) and a thin layer of aluminium (cf. http://en.wikipedia.org/wiki/Space_blanket). The silver side is the aluminium side, while the gold color on the reverse side comes from a translucent yellow tint of the plastic in combination with the front aluminium layer.
Such material is similar in cost as aluminium foil or self-adhesive vinyl stickers, large formats are common (e.g. 160 by 210 cm), and the material is indended for outdoor use. Relflective accuracy is mirror-like, in contrast to aluminium foil which has fine directional grooves in the surface from production and thus reflection artefacts. Although as with self-adhesive mirror foil, the material should not be used for the hottest part of the oven, i.e. where in contact with pot or glazing. Melting point of PET is around 260 °C (500 °F). Polyester reflective materials should be used only where the cooking food is contained within a separate enclosure, such as a solar panel cooker, an not for the interior reflective surfaces of a solar box cooker.
Gift wrap
[
]
Solar cooker experimenters in Kenya, Ethiopia, Tanzania, Peru and Bolivia have all found that gift wrap can be found easily that can be used for making reflective material for solar cookers. The gift wrap is like a mirror on one side (the aluminum) and a color on the other side.
Lithograph printing plates
[
]
From SunStove Organization of South Africa: Lithograph printing plates are available in every country at the government printing office, the local printer or the local newspaper. Used printing plates are sold as scrap. This scrap may be sold for the equivalent of US$1.25 per kilogram. Before using the plates in solar cookers, clean with paint thinner and water.
Mirrors made from decal/stickers
[
]
Chrome mirror sign vinyl is excellent for most solar cooking applications where the material itself is not in touch with the hottest part. It is made to be used on business signs and is designed to stand up to many trips to the car wash. This material can turn nearly anything into a powerful mirror. Materials like this can be found online by searching for "chrome mirror sign vinyl", or, ""mirror sign vinyl", or "gold sign vinyl." This material can be found in self-adhesive roll with varying dimensions. Apply with soapy water in the same way as window tint. After some exposure to warmth, the soap vanishes and your mirrors will stick for years. Wax and oil can be used to maintain reflectivity.
Tetra Pak juice boxes
[
]
Kenya
[
]
Solar Cookers International East Africa Office recycled waste from Tetra Pak materials. This is a packaging making industry and sometimes they have waste which they have already prepared, this then we use as our foil. When this is not available they buy from another packaging industry called Pressmasters Ltd. Here are their coordinates: Pressmasters Ltd.
P.O. Box 17560 - 00500
Nairobi
Kenya Fax: +254 20 823044
Tel: +254 20 820253,820254
Mobile +254 722514623 / 733743783 pressmas@africaonline.co.ke
http://www.pressmasterkenya.com
Zambia
[
]
Solar Health and Education Project (SHEP) has developed a relationship with Tetra Pak International — manufacturer of aseptic drink containers — whereby SHEP uses Tetra Pak's excess foil-lined paper for solar cooker construction. (The foil-lined paper is printed in wide rolls, sometimes resulting in excess material begin generated.) According to SHEP, Tetra Pak is willing to accept proposals from other nongovernmental organizations that may want to use the reflective material as long as the material will be used for workshop participants to construct solar cookers.
See also
[
]