Last edited: 23 January 2017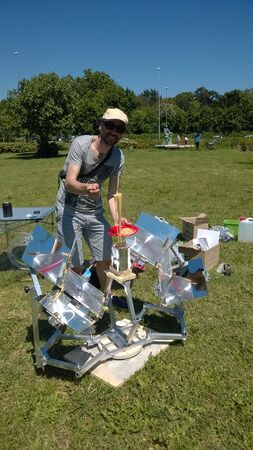 The MUMA Solar Cooker, designed by Matteo Muccioli, is composed of four Fresnel lenses and four plane mirrors. It is designed to be transportable and easily reproducible. The idea is to use a system of orientation and positioning that is integrated into the same structure as the cooker, in that way, once focused, it is easy to turn as a unit to follow the sun.
N° Fresnel lenses = 4
Dimension of lenses = 280mmX210mm
Focal length = 280mm
Absorbing surface = 0.2352 mq
Maximum power to the lenses = 235.20 W
Facebook: https://www.facebook.com/matteo.muccioli
Wikia: User:MUMAlab
Community content is available under
CC-BY-SA
unless otherwise noted.