Last edited:
4 August 2019
Solar Cookers - Saving Madagascar's Forests Global 3000

ADES employed over 150 local people in various professions in eight communities as of 2018, including carpenters who produce solar box cookers in Tulear, Madagascar.
Events
[
]
NEW: 

15-17 September 2021: Climate Chance Summit Africa 2021 - Registration is open to attend the virtual 3rd edition of the Climate Chance Africa Summit. Three days of sessions on key themes and sectors of climate action hosted by non-state actors engaged in climate change in Africa. There is no charge for attendance, but registration is required
NEW: 

Friday, 17 September 2021 (10:30am CDT, 15:30 GMT): Homeschool program on solar cooking - The Syracuse-Turkey Creek Township Public Library, in Syracuse, Indiana, USA, offers online programs for homeschool students on Fridays at 10:30am. This program is described as learning to build and use a solar cooker. Read more...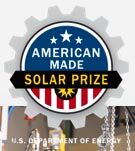 NEW: 

5 October 2021: American made solar competition - The U.S. Dept. of Energy is sponsoring a a multi-part competition to spur solar manufacturing, develop innovative solar solutions and products, and create domestic jobs and opportunities through public-private partnerships. The contest is open to U.S. residents, and the final phase is still open for submittals until 5 October 2021. Much of the attention has been with photovoltaic solutions, and this last phase is structured with two tracks that focus separately on hardware and software components. Solar cooking equipment should qualify as hardware solutions. Read more about the competition...
NEW: 

22-26 November 2021: 2nd National Congress for Solar Drying and Cooking Food - An affiliated group of universities in Mexico will host an online conference relating to solar food drying and cooking, as well as, food safety and energy savings realized with minimal environmental impact. Participants can register to view the presentations, or apply for presentation consideration. The conference will be in Spanish. Registration information... - (English version)
17-23 December 2021: Solar Cooking Awareness Week (Southern Hemisphere) - A loosely organized bid to acknowledge the fun and benefits of solar cooking. Show someone how to solar cook and share a meal.
24-26 January 2022: Fourth International Conference: Advances in Solar Thermal Food Processing - CONSOLFOOD Chairman, Celestino Ruivo, has announced an extended call for abstracts for the upcoming conference in January 2022, which is now planned to be an online event. Advances in solar cooking as well as solar food processing will be considered for inclusion. The event schedule and submission requirements are in CONSOLFOOD 2022 conference information.
See also: Global Calendar of Events and past events in Madagascar
Most significant projects
[
]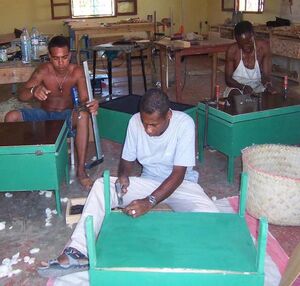 Long term investment in Madagascar has created a thriving solar cooking enterprise- Since 2001, the Association pour le Développement de l'Energie Solaire (ADES) has been making and selling solar cookers in the southwestern part of Madagascar, providing much-needed cooking alternatives as well as employment for over 30 local carpenters and trainers. In 2003, ADES built its first permanent solar cooker construction workshop in Tulear. A second construction workshop was established in Ejeda in 2006, followed in 2008 by a workshop in Morondava. Each of these regional centers also has sales and demonstration offices. Future plans include development of a fourth regional center in Anosy or Antandroy, and the creation of two or three local branches within each region to reduce transportation distances and increase outreach capacity. According to ADES, southwestern Madagascar experiences about 330 sunny days per year and is a nearly ideal region for solar cooking. However, per capita income in Madagascar is only about $400 per year, making it difficult for families to afford solar cookers and spend their meager income on a technology they are not familiar with. Rising firewood and charcoal costs over the past few years are making solar cookers comparatively more affordable, but still out of reach for many. Subsidies have mostly come from donors in Switzerland and a handful of awards. The Madagascar government has provided some additional support, partnering with ADES to promote renewable energy in Tulear. Hand-crafted wooden solar box cookers, produced locally for upwards of $200 each, are sold at a subsidized price of just over $20. These cookers reach temperatures of up to 150 °C (302 °F), and are commonly used to cook rice, various root vegetables, meat, fish, bread, and cakes. Metal parabolic solar cookers are assembled locally for about $160 each, from aluminum and steel parts made by another local organization at an already subsidized price. The parabolic cookers are then sold at a subsidized price of about $50. These cookers reach even higher temperatures, but require stirring of food and more frequent adjustments to track the sun. They are particularly useful for frying, and can work in a complementary fashion with solar box cookers. Both cookers come with 7-year warranties. By the end of 2009, ADES had sold 4,640 solar cookers. It hopes to ramp up its outreach and sales capacity with funding from carbon credit offsets.
News
[
]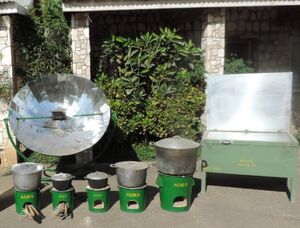 January 2019: July 2019: ADES reports figures at the end of 2018 - More than 1.2 million people have benefited from lower fuel costs, significantly better indoor air quality and a lower risk of fire accidents thanks to ADES stoves. To date, the 220,000 energy-efficient stoves sold have protected over 2,000 km2 of Madagascan forest. Today, 4.6% of Madagascan households use ADES stoves. In fact, over 1.4 million tons of CO2 have been reduced with the same amount of wood saved. Approximately 520 hours of wood collection are eliminated per year per household with an ADES cooker. The cost of the fuel is about a quarter of the average monthly salary. And this in a country where 92% of the population lives on less than USD 2 a day and about 85% has no access to electricity. ADES energy-saving cookers reduce the need for wood or coal by more than 50% - an extremely valuable amount for the small household budget. See ADES Annual Report for 2018.
November 2017: Regula Ochsner, of Association pour le Développement de l'Energie Solaire, reports their solar cooking activity in Madagascar has remained busy, but not at the levels of recent years. She explained that with the development of cheaper improved combustion stoves, solar cooker sales have dropped to approximately 500 units a year from 1,500 units previously. Their efforts have paid off however, with the creation of 460 jobs, of which 150 were within ADES itself. Below, cooks are busy preparing meals with solar cookers manufactured at ADES facilities.
History
[
]
Early attempts to introduce solar cooking
Madagascar, with its unique biological diversity, has attracted the attention of environmentalists from around the world to come to its rescue. It is somewhat surprising then to learn that historically, little has been done to curtail the use of fuelwood as the major cooking energy for the population. Around one-fifth of the island's land has forest cover, which has diminished at nearly 1% annually (FAO, 2003). A representative of the country, speaking at the Varese meeting in 1999, spoke of solar experimentation in the 1970s, revived in the 90s as deforestation worsened, but with little progress in mass implementation. The initial introduction was principally with parabolics, but later the solar box oven was introduced and enthusiastically endorsed. The report called on governments, non-governmental organizations, and businesses to attempt to establish a strong national program, urging that international research and development be done cooperatively and shared widely with smaller nations.
SALFA
One program operating in Madagascar was run by the medical arm (SALFA) of the Malagasy Lutheran Church. SALFA has operated 25 hospitals throughout the country. Dr. Stanley Quanback and his wife, medical missionaries in the country, initiated the project and helped to develop collaboration with another medical organization, Pathologists Overseas. Teaching materials and consultation were provided to the volunteers by California volunteer, Alice Hoenecke, sociologist Agnes Rasamimampianina , and nutritionist Sosanna Suzanne, the latter two employees of SALFA and citizens of the country.
The group began by training women in one village in a semiarid region of the country. The trainees were hospital staff members and members of a churchwomen's organization. As stated above, fuelwood was becoming very scarce and expensive. Miss Sosanna directed the project, supervising 15 trainers who went on to work in 11 villages. Primary health centers were usually the site for training in the use of solar cookers. They estimated, as of 2003, that there were 1,000 users and others begging to have solar cookers made available to them.Relief for Madagascar Cooks
Association pour le Développement de l'Energie Solaire
Another project in Madagascar was initiated by l'Association pour le Développement de l'Energie Solaire (ADES), an NGO and a non-profit organization that has produced solar cookers in Madagascar and supports the use of renewable energy sources. It started in Tuléar in the south of Madagascar in 2001. Local production by local people with local material has been part of the ADES philosophy.
Archived articles
Climate and culture
[
]
Solar Cookers International has rated Madagascar as the #19 country in the world in terms of solar cooking potential (See: The 25 countries with the most solar cooking potential). The estimated number of people in Madagascar with fuel scarcity but ample sun in 2020 is 3,000,000.
From Association pour le Développement de l'Energie Solaire: For centuries the population of Madagascar has been cooking their food with charcoal, which requires vast amounts of firewood in its production. About 90% of the original forest in Madagascar has been destroyed. It is not any more a green island but becomes more and more a red one. Madagascar has, especially in the south and southwest regions of the country, close to ideal conditions for the use of solar energy. The solar cookers and efficient stoves are an important contribution towards halting the deforestation process. Besides environmental reasons, there are also economical and practical reasons to favor the solar cooker. Families spend less money on wood and charcoal, and cooking with the solar cooker saves having to cook over smoky fires and avoid the associated respiratory disease.
See also
Resources
[
]
Possible funders
[
]
Construction plans in Malagasy
[
]
Project evaluations
[
]
Documents
[
]
Articles in the media
[
]
Audio and video
[
]
External links
[
]
Contacts
[
]
The entities listed below are either based in Madagascar, or have established solar cooking projects there:
SCI Associates
[
]
NGOs
[
]
Manufacturers and vendors
[
]
Individuals
[
]
Government agencies
[
]
Educational institutions
[
]
See also
[
]
References
[
]