Last edited:
6 August 2019
| | |
| --- | --- |
| | In March 2010, Universiti Malaysia Sabah (UMS) students built solar cookers to lessen the difficulties faced by rural folk in getting cooking gas. |
Events
[
]
NEW: 

15-17 September 2021: Climate Chance Summit Africa 2021 - Registration is open to attend the virtual 3rd edition of the Climate Chance Africa Summit. Three days of sessions on key themes and sectors of climate action hosted by non-state actors engaged in climate change in Africa. There is no charge for attendance, but registration is required
NEW: 

Friday, 17 September 2021 (10:30am CDT, 15:30 GMT): Homeschool program on solar cooking - The Syracuse-Turkey Creek Township Public Library, in Syracuse, Indiana, USA, offers online programs for homeschool students on Fridays at 10:30am. This program is described as learning to build and use a solar cooker. Read more...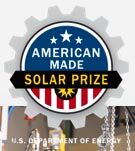 NEW: 

5 October 2021: American made solar competition - The U.S. Dept. of Energy is sponsoring a a multi-part competition to spur solar manufacturing, develop innovative solar solutions and products, and create domestic jobs and opportunities through public-private partnerships. The contest is open to U.S. residents, and the final phase is still open for submittals until 5 October 2021. Much of the attention has been with photovoltaic solutions, and this last phase is structured with two tracks that focus separately on hardware and software components. Solar cooking equipment should qualify as hardware solutions. Read more about the competition...
NEW: 

22-26 November 2021: 2nd National Congress for Solar Drying and Cooking Food - An affiliated group of universities in Mexico will host an online conference relating to solar food drying and cooking, as well as, food safety and energy savings realized with minimal environmental impact. Participants can register to view the presentations, or apply for presentation consideration. The conference will be in Spanish. Registration information... - (English version)
17-23 December 2021: Solar Cooking Awareness Week (Southern Hemisphere) - A loosely organized bid to acknowledge the fun and benefits of solar cooking. Show someone how to solar cook and share a meal.
24-26 January 2022: Fourth International Conference: Advances in Solar Thermal Food Processing - CONSOLFOOD Chairman, Celestino Ruivo, has announced an extended call for abstracts for the upcoming conference in January 2022, which is now planned to be an online event. Advances in solar cooking as well as solar food processing will be considered for inclusion. The event schedule and submission requirements are in CONSOLFOOD 2022 conference information.
See also: Global Calendar of Events and past events in Malaysia
News
[
]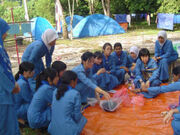 July 2009: A solar cooker course for Girl Guide leaders conducted in 2000 by former Solar Cookers International board member Barby Pulliam is still bearing fruit almost a decade later. Joyce Ong Choon Kim, a lecturer for future Girl Guide leaders known as Cadets, reports that Girl Guide solar cooker promotion is going strong in Malaysia, and that Cadets are well educated in solar cooking skills and teaching methods. "I am glad to note that efforts in promoting solar cooking in Malaysia are very encouraging," says Kim. "[We have] been advocating the benefits and fun of solar cooking in [Cadet] training courses and camps. … It is hoped that [Cadets] will continue to practice and advocate solar cooking to their students and society at large." Some highlights from the past year: In April 2008, 270 Cadets and 50 lecturers participated in solar cooking demonstrations for Orang Asli villagers in Kampung Teluk Tongkah; in May 2008, 353 Cadets attended a hands-on solar cooker training in Morib, Selangor Darul Ehsan; during a week-long jamboree in June 2008, hundreds of Cadets participated in a solar cooking course; and 46 lecturers attended a solar cooking workshop in September 2008.
March 2009: Sekolah Menengah Seksyen 9 Shah Alam is a secondary school located in Selangor, and they held a student competition, with the goal of creating the best solar cooker design. See the video below.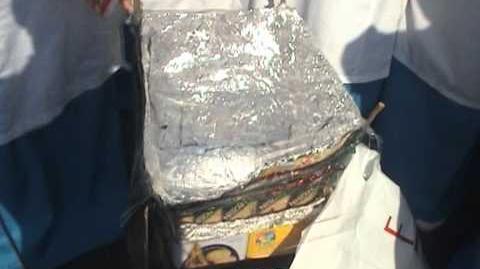 October 2008: Joyce Ong Choon Kim reports: Anyway I would like to say that as we are approaching the end of 2008, I am glad to note that efforts in promoting solar cooking in Malaysia is very encouraging. The Cadet Guides Branch of the Girl Guides Association of Malaysia has been advocating the benefits and fun of solar cooking in its training courses and camps. As a lecturer and Cadet Guides Commissioner under the Ministry of Education, I am very happy to have been actively involved in many of the programs implemented this year be it at institut, zone or national level. As the members in our branch are basically are teacher trainers and student teachers, it is hoped that they will continue to practice and advocate solar cooking to their students and society at large. Here's a brief recap of some of our activities: To celebrate the Year of the Cadet Guides 2008, we brought solar cooking to the orang asli (natives) villagers in Kampung Teluk Tongkah on 22 April 2008. We gave a talk and demonstration, as the weather was not favourable for cooking. 270 Cadet Guides, 50 Guiders, and 27 teachers from the training institute in Malaysia, participated in this celebration, for the program launched at this village. The 353 Cadet Guides from the central zone, who attended the Young Leaders' Course for Cadet Guides course were given a hand-ons session on solar cooking. The course was held from 12 - 15 May 2008 in Morib, Selangor Darul Ehsan. From 20 - 26 June 2008, a jamboree was held by the Teacher Education Division and the Ministry of Education for all the uniformed units (Scouts, Cadet Guides, Red Crescent, and others), A total of 1485 student teachers attended the camp. There was much interest and amazement when the Cadet Guides unit did a session on solar cooking. The weather was just glorious for solar cooking. The 46 new lecturers in charge of the Cadet Guides all over Malaysia were given a workshop on solar cooking when they attended the Pre Warrant Training Course in Kuala Lumpur from 16 - 19 September 2008. The response was very good and they collaborated actively to produce some cookers to take back. Sixteen Cadet Guides from the Federal Institut of Teacher Training enjoyed two days of solar cooking when they attended the Basic Camping Course in Bukit Mertajam together with other student teachers from the various uniformed units. Finally I must say that I really do enjoy solar cooking (plus advocating it) and it's all thanks to Barby Pulliam.
April 2008: The Girl Guides Association of Malaysia has targeted 2008 as the year for Cadet Guides. The Cadet Guides membership is opened to trainee teachers in the 27 institutions of teacher training under the Malaysian Ministry of Education. Many Cadet Guides have been taught solar cooking over the years, after Guiders (lecturers) in these institutions were sent for a solar cooking course conducted by Ms. Barby Pulliam in 2000. Members of the guiding fraternity in various states and schools have also benefitted from our sharing sessions. In conjunction with the Year for Cadet Guides, there was a gathering of 256 Cadet Guides and 50 Guiders at Kem Al-Azzhar in Morib from 20 - 23 April 2008. One community visit, a cooking demonstration together with some theoretical input, was held for about 15 local residents (mostly housewives) in a small village called Kampung Teluk Tongkah. Unfortunately, the weather wasn't too cooperative as it rained. We gave a set of the cooker to them and hope that they will try it out soon.
May 2008: The Teacher Education Division held a Young Leaders' Course for the Cadet Guides (trainee teachers) in the central zone. 353 Cadet Guides attended the course which was held from 12 - 15 May 2008 in Morib, Selangor Darul Ehsan. The session on solar cooking began with theoretical input followed by a demonstration. Each group then prepared and cooked caramel custard. The weather was cool and dry but not hot enough. Consequently, a longer cooking time was needed. Each Cadet Guide was given a set of notes for reference plus the instructions and plan to build a solar cooker.
History
[
]
Archived articles
Climate and culture
[
]
Resources
[
]
Possible funders
[
]
Reports
[
]
Articles in the media
[
]
Blogs
[
]
Contacts
[
]
The entities listed below are either based in Malaysia, or have established solar cooking projects there:
SCI Associates
[
]
NGOs
[
]
Manufacturers and vendors
[
]
Individuals
[
]
Government agencies
[
]
Educational institutions
[
]
See also
[
]
References
[
]