February 2013: Gnibouwa Diassana reports that World Vision Mali continues to be committed to training members of the community in Bla, including children, to solar cook. Instruction involves using various types of solar cookers. Besides being introduced to the technology, workshop participants practice local food recipes, bake cakes and bread with papaya, and learn to use their solar cookers to can mangos. He reminds us that solar applications are a simple solution for a complex problem.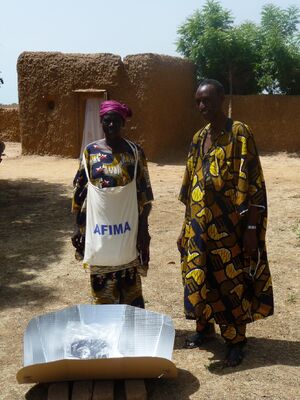 November 2012: A successful project on integrated solar cooking in Ségou - In 2009, KoZon, a Dutch NGO promoting solar cooking in the Sahel, and AFIMA, a Malian NGO promoting the development of rural women, began a joint project in Ségou, a region of Mali where solar cookers had not been introduced. In five villages (Dioro, Babougou, Koila Bamanan, Kominé, Soké), they trained four groups of 25 women (selected by the village chiefs) in the practice of integrated cooking. They received kits containing: two CooKits, to cook meals when the sun shines; a fuel-efficient woodstove, for use when there's no sun; and a heat-retention cooker to allow even more food to be cooked in the first two. In addition to a short hands-on training workshop, the project ensured that all participants were visited several times after the course to solve problems, and provide extra tips, and encouragement. In the final evaluation, in May 2012, external experts established that more than 80% of the participants--in some villages nearly 100%--used these technologies daily. As intended, they are now saving some 1,800 tons of fuel wood per year. The evaluators also found that many women appreciate having more free time each day, since they do not have to tend a fire when solar cooking or using the heat-retention cooker. They use their time for other activities including running small businesses. Buying less firewood also saves them a lot of money. It's no surprise that the evaluators spoke of integrated cooking as a great means of relieving poverty!
December 2009: Emancipated from the Smoky Kitchen by the Power of the Sun. Deborah Dao cooks her family three square meals a day - a responsibility which in this economy requires nearly constant preparation and cooking. Most women spend all day pounding millet, mixing the batter, chopping firewod and fanning the flames to cook their family's toh, but here there is no burning hearth, no fire, no smoke. On a closer look, you can see that Deborah is cooking with a solar oven - a wonderful appliance made by local carpenters with their own wood and just a few imported materials which harnesses solar radiation to collect heat energy.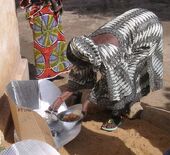 March 2008: The Association of Handicapped Women of Mali (AMAFH) continues to arrange solar cooker training for its members in Bamako, with organizational support from the Association of Women Engineers (AFIMA) and financial assistance from Dutch KoZon Foundation. In 2006, AMAFH taught 60 deaf and hard-of-hearing women how to use a CooKit solar cooker during a 2-day training. In a follow-up visit months later, at a school for deaf children, the women cooked a delicious solar feast. Fifty women with leprosy were trained in early 2007. With the loss of nerve sensation caused by the disease, traditional open fire cooking can be dangerous for these women because they can unknowingly get burned. Another benefit is that the women have increased status in the community because they now know something that most don't: how to cook food with the sun. They said that with the CooKit they can prepare special recipes for their husbands, prepare groundnuts for their children, and even sell solar-cooked meat in the market. One remarkable woman, Mariam Toure, has lost all but one finger. Yet, she already has plans to lead a training early this year for another group of women with the disease. AMAFH also led a 2-day solar cooking workshop for 20 mentally disabled women in late 2007, which was well received. Source: Wietske Jongbloed
March 2008: Longtime solar cooker builder and promoter Gnibouwa Diassana reports that 40 solar box cookers have been assembled and distributed to villagers in Nioro du Sahel, near the border with Mauritania. Nioro du Sahel suffers from an acute shortage of firewood for cooking. Diassana says that a special cooking vessel has been made to accommodate the local staple of couscous with millet or corn.
September 2007: Zeneb Guisse, a handicapped woman, reports that most people in Mali know about the solar CooKit. Since 2001 the the Foundation has financed more than 14 Cookit trainings. Handicap International has conducted one training and the UN Environment Program has also conducted one. A team from the national television is invited at every training (always on the budget and rather expensive) and broadcasts it then mostly the same evening with the news. This does not mean that it is being used by all the women who saw the broadcasts. Fifteen dollar for a CooKit and a pot is for a lot of women too expensive. Another big problem in Mali is the large families of 12 to 20 persons for whom the meals have to be cooked. Their pots are far too big to be used in the CooKit. It was first tried to solve the problem by using two CooKits. But that was not a solution, except for bachelors. With large hay baskets and hay bags (thanks to the model of David and Ruth Whitfield), in which the big pots can be put, integrated cooking is now being introduced.
April 2007: Gnibouwa Diassana of W.V.I. International reports on a project designed to improve the lives of women in the village of Nara in the west of Mali, not far from Mauritania. His organization brought 40 cookers to this area is in the deep Sahel with acute shortage of firewood. They report designing a special cooking vessel for couscous made with millet or corn, which is the local staple.
November 2006: J.P. Martin-Vallas of Montpellier, France recently traveled with his partner to Mali. They took two solar cookers — a box-type cooker based on a design by Gnibouwa Diassana of Bla, Mali and an SK-14 parabolic-type cooker.

The pair visited several experienced solar cooker promoters: Diassana; Bernard Ledea Ouedraogo of Burkina Faso, who assembles SK-14s; and Maï Kamate, who works with carpenters to make solar box cookers based on a Bolivia Inti design. They also met with solar cooks and led a few solar cooking demonstrations at hotels and markets they patronized. Martin-Vallas saw several locally made and imported solar cookers, but many were in poor condition or seldom used. During the trip, Martin-Vallas inquired how much people spent on firewood. Prices from one city to another varied greatly depending on scarcity. Free firewood collection is still possible in some rural villages, particularly in the north. Contact: J.P. Martin-Vallas
Summer 2006: Solar Household Energy's first bulk delivery of HotPots arrived this summer in Mali, West Africa. The container of 1,000 cookers was purchased by a Malian energy services company which has promoted solar cooking in Mali for a number of years and will be a regional distributor of HotPots. To learn more about our West Africa programs, go here.
August 2006: Gnibouwa Diassana of Bla won a "2006 Ashden Award for Sustainable Energy" worth 2,500 pounds sterling. The funds will enable his project Sun for All to increase production of cookers and to reach out to more women's groups and other community organizations. Diassana has built a variety of solar cookers, plus a solar food dryer and solar water heater. Most of the 95 solar cookers he has built are of the box type with three reflectors, based on a design by the Swiss organization Group ULOG. He has found homes for most of the cookers with organizations of artisans, nonprofits, women's groups and individual families. He reports that the cookers have been adapted for Mali and can be constructed with locally available materials and tools, even in remote areas. To facilitate getting cookers into the hands of people who need them, Diassana has sold cookers at half price or on credit. He has been able to follow up directly with most of the users and observes that they are using less conventional fuel. He estimates that about 950 people have directly benefited from his cookers, while 10,000 more have witnessed solar cooking at his exhibitions and demonstrations. Radio and television coverage has spread the word further. Diassana reports that the effects of deforestation have become increasingly visible near Bla in the past few years, and that his work with solar cooking is meant to address this problem while also helping women save money and time and reduce their exposure to smoke. His project has received some outside support, but his personal donations have sometimes exceeded 40% of the project's budget. He credits Roger Bernard of France and Angela Calvo of Italy as his main solar cooking influences. With his new funds from England to promote Swiss-designed cookers, Diassana illustrates the international connectivity in solar cooking.
Community content is available under
CC-BY-SA
unless otherwise noted.