Jurassic World: Dominion Dominates Fandom Wikis - The Loop
Play Sound
Last edited:
30 April 2018
Marc Ayats Plana is experimenting with many cooker types to find good one for Spain. He seeks collaborators.
News
[
]
November 2011: Marc reports since his organization began teaching in 2005, they have introduce over 1000 people to solar cooking in Spain and The Gambia. They have begun to also teach the Integrated Cooking Method.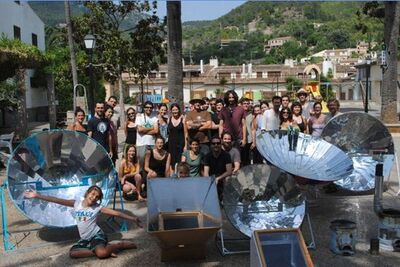 July 2011, 10th: The Second Solar Cookers Meeting in Mallorca. It was very successful, with plenty of food for 45 people have a good and solar lunch!
July 2011: now I am experimenting with efficient stoves (rocket and wood-gas stoves), as I realized solar cookers are only a piece of the Integrated Cooking System.
June 2011: two people of our NGO spent 25 days living in a little community in The Gambia, to test how the Integrated Cooking Method fits with local gastronomy. We built solar box cookers, rocket stoves and heat-retention baskets. You can follow the project here.
Summer 2010: see photos of the First Solar Cookers Meeting in Mallorca.
Juny 2008: The "Solar cooking workshop" at the Environmental Day.
March 2006: Marc Ayats made a parabolic solar cooker by purchasing an umbrella, covering the inside with ordinary aluminum foil and cutting off the handle (because the handle would be at the focal point of the reflector — where you must put your cooking pot). He used ordinary white adhesive to glue the reflective sheet to the umbrella's cloth. He says it is a very simple cooker to make because umbrellas are normally parabolic in shape. He also says it is easy to move — it folds up like a regular umbrella. The pot is held in place with a wire frame used for holding flower pots.
External links
[
]
Contact
[
]
Marc Ayats Plana
C/Joan Alcover nº14 baixos
Santa Maria del Camí
Illes Balears 07320
Spain
Tel.: +34 620335775
Email: marquitusus@hotmail.com
Web: http://cuinessolars.jimdo.com -