Last edited:
23 October 2014
This article is about an entity that either no longer exists or that may no longer be active in solar cooking promotion. It is retained here for archival purposes.


On May 14, 2008 a seminar was arranged by the Cosmopolitan Women Club (of which I am the Hon. Secretary). My initial aim was to do the workshop for the club members only. They then decided to involve others.
Government agencies, NGO's, Women Organizations, Schools, and multinational organizations, and a few banks were invited to attend. The venue was at the Air force officer's mess at Kofo Abayomi Street, Victoria Island. The hall had 250 sitting capacity, and we did not expect to fill all the seats. Surprisingly, the whole seating arrangement proved inadequate, and we had to bring in over a 100 more seats. Even then people were still standing outside, and in the hallways. It was so well attended that more organizations are now clamouring for a repeat of the workshop.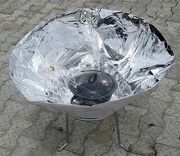 My office had prepared over 1000 Cookits, and Cone Cookers. The cone cookers I find best suit the need of the Nigerian women. Most people live in flats with balconies; the structure of the balconies will shade the CooKit and make a shadow. The Cone Cooker being placed on a stand has the advantage of elevation and the stand can be moved about without disturbing the cooking.
We also displayed the original Solar Cookers International (SCI) CooKits which were much smarter than our home made ones. Only one was sold because of the high cost.
Two banks (Stanbic IBTC, and Bank PHB) and one organization (Global Energy Company) supported us financially and we were able to provided packed lunch for the students in attendance and Cone Cookers to majority of the participants, at very reduced rates. The cone cooker each cost about Naira 4000.00 (£20.00) to construct using Mylar. One was sold for about £12.00. Each school was given 5 Cone Cookers, and 1 CooKit free of charge, and instructions on how to make sun cookers (copied from SCI pamphlets).
Our CooKits are this expensive because I decided to use Mylar as opposed to aluminum foil. Aluminum foil in the hands of rural folks will tear if care is not taken, but Mylar is durable and will not tear, unless torn. Again I had to cover the back of each cookit, or cone cooker with a water repelling plastic sheet to give the cookers longer shelf life, until people know how to handle it. I made cloth bags also into which to put the folded cooker, after use, and hang some place safe.
A practical demonstration was arranged in the compound with about 5 Cone cookers and 3 Cookits. Food items cooked were two different types of rice, beans, assorted meat stew, fresh fish stew, mixed vegetable soup, yam, and boiled eggs.
The use of tyre cookers was also demonstrated using inner tyre tubes. This was used only to boil water. It was not very successful as the pot was higher then the cooker. We could not dig under the tube because the floor was concrete. In any case the water was hot but did not boil.
Mention was made of using sun energy to generate electricity with solar panels and batteries, but since I already said my main aim was directed at women and cooking, I did not dwell much on this aspect. This will be for a later workshop for students and teachers only.
I am open to new ideas on how best to sensitize people, and how better to arrange the workshop. The Commissioner for Women Affairs of Lagos State Government wants me To arrange another 2 day workshop for all the Lagos State Local Government Areas. The 2nd day being for practical and training the trainers.
Recent news and developments
Edit
October 2013: Margaret Koshoni reports that their recent work has been foccussed in the village of Dokundji, located in the Republic of Benin. With no electricity and little vegetation, most of the residents are using solar cooking to prepare meals. They have devised a method to be able to cut up a single aluminum windshield shade to produce two solar cookers.
Margaret Koshoni
Tel: 08033146931
Email: magkosh@gmail.com
Community content is available under
CC-BY-SA
unless otherwise noted.