Last edited:
30 April 2018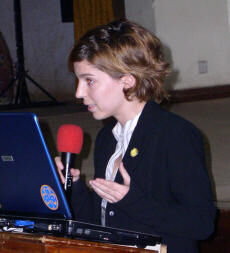 Marta Pahissa has been the Director of Terra Foundation since 2009, and was the director of the 2006 Solar Cookers and Food Processing International Conference, organized by the Terra Foundation and Solar Cookers International in Granada Spain from 12th-16th July 2006. She is in charge of solar cooking projectes and activities related to solar cooking in Terra Foundation.
Dr. Pahissa has studied institutional solar cookers with Wolfgang Scheffler and ICNEER in India.
She was coordinating the project "The Sun Factory" [see pictures gallery] developed in 2007-08 in the archipelago of Zanzibar (Tanzania). This international technological transference project of Scheffler reflectors was a project by Terra Foundation (Spain) and Solare Brücke (Germany) jointly with SolarAfrica.Network (Tanzania) and the Department of Commercial Crops Fruits & Forestry (Zanzibar Government), with the sponsorship of Foundation CAN "Tú eliges, tú decides" (Caja Navarra).
She was also coordinating the project "Cocinas solares para mujeres contra la pobreza" (India, 2008), with parabolic solar cookers. More details at [more details, in Spanish]
Terra Foundation
Avinyo, 44
E-08002 Barcelona
Spain
Phone: +34 936 011 636
Fax: +34 936 011 632
Email: marta@terra.org
Community content is available under
CC-BY-SA
unless otherwise noted.