Last edited:
11 July 2014
The article below is about a solar cooking promoter who is now deceased. This information is maintained here as a tribute to the important work done by Matthew Rollins.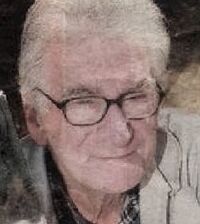 The late Matthew Rollins was a retired technician and inventor of several things used today worldwide. One of the projects he worked on involved observing the varying performance of a parabolic when it is moved various distances from the 'heating target'. This provided groundwork for a version of a parabolic solar cooker that uses an easily movable reflector to maximize efficiency.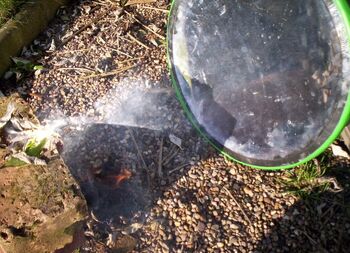 News archive
[
]
July 2014: Matthew Rollins passed away on July 10, 2014, leaving behind his wife Estelle, sons Gary, Jeremy and Adam, and many family members and friends in Coventry and around the world. The solar cooking world mourns his passing. Read Matthew's obituary at Applied Green Technology and in the Coventry Telegraph.
November 2013: Matthew Rollins continues to be quite active encouraging sales of his solar cooker in both established and emerging global markets - A.G. Karim, chairman of The Lady Fatemah Trust, based in the United Kingdom, has agreed to finance several thousand solar cookers designed by Matthew Rollins of Applied Green Technology, to be delivered to Africa, Iraq, and Lebanon. Matthew has also arranged for Andreas Fasoulides, living in Cyprus, to visit Pakistan to lay the ground work for future solar cooking training workshops, to enable them to supply 100,000 solar cookers currently on provisional order. He also wants to explore sales possibilities in Latin America. Matthew is close to releasing his new solar cooker design developed from the basic CooKit solar panel cooker. It will feature the ability to be able to be adjusted to suit sun orientation at any latitude location on the globe. He states that with the ability to better gather and focus the light, it can often be used without the need for a cooking bag, subject to weather conditions.
March 2013: Matthew Rollins has announced the formation of a new company, Applied Green Technology, which will include plastic specialists and business management advisors. They are interested in providing low cost cooking and electrical lighting solutions for developing countries, and up –market "Green" products for quality retail markets. One goal is to find a replacement for the typical cooking bag used with panel cookers and metal cook pot with healthy heat resistant plastic alternatives. They are also examining new ideas for wind driven electrical generation.
December 2012: War weary citizens in Iraq to receive solar cookers - During a recent visit to villages in the Najaf-Karbala region of Iraq, a trustee of The Lady Fatemah Trust found that villagers were using two methods for cooking: The majority of families, living in abject poverty, use open fuelwood fires for cooking, heating and lighting, while a slightly more affluent minority uses appliances fueled by kerosene. In the first phase of this project, LFT intends to provide families living in the villages surrounding Karbala: Barakat al-Zahra district, Al-Mahdiyeh Village One and Two, the al-Nedhal and al-Wala' neighborhoods, as well as to families living on isolated desert farms with solar cookers. About 7000 solar panel cookers will be needed to provide every family in the region with a cooker. The cookers are an improved version of the standard Cookit solar cooker. They made from plastic fluteboard, and are being manufactured by Matthew Rollins. Total project cost will therefore amount to £105,000.00. Consider being a donor. More information...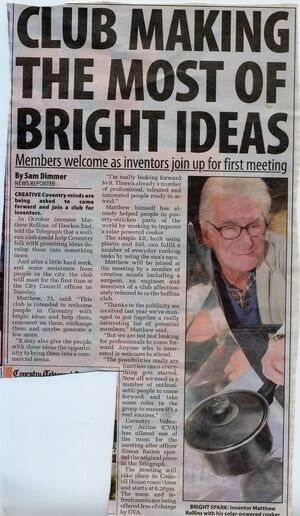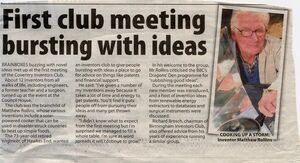 January 2011: Matthew Rollins, a resident of Coventry, England, has been featured in the local newspaper, the Telegraph, promoting the formation of a local inventors club. Their inaugural meeting will take place in City Council offices. Professional physicists, as well as anyone interested in the inventing process have been encouraged to attend. Rollins for his part, has helped to refine the design of a type of solar panel cooker that can be used in areas of the world facing limited fuel supplies, and suffering respiratory disease from indoor air pollution, as well as, working on a movable reflector for the parabolic solar cooker shown above. Also, with two interviews with the BBC, they are on their way to establishing the club.
See also
[
]
Contact
[
]
Matthew Rollins