From: http://www.HeavenSentFood.com
Ol' Sol Meatballs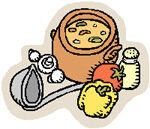 1 pound ground chuck
1 egg
1/4 teaspoon nutmeg
1 8-oz. can tomato sauce
1/2 cup chopped onion
1/4 teaspoon granulated garlic
salt and pepper to taste
Mix all ingredients (1/4 cup tomato sauce) so mixture sticks together in walnut-sized balls. (If mixture is too sticky, add bread crumbs, oatmeal or crushed crackers.) Place meatballs in 9-inch dark round roaster or an amber glass dish; pour remaining tomato sauce on top. Cover. Bake in solar oven approximately 1 hour.
Hawaiian Supper
1 1/2 pounds ground chuck
1 teaspoon salt
1 egg
1/2 cup bread crumbs
1/4 teaspoon pepper
1/2 cup milk
2 tablespoons margarine
2 cups tomato juice
1/2 chopped medium onion
2 tablespoons flour
3/4 cup barbeque sauce
1 13-oz. can pineapple chunks
1/4 cup sliced olives (optional)
1/2 cup cheddar cheese, shredded (optional)
Combine meat, salt, egg, bread crumbs, pepper, and milk and shape into small balls. Place in a 9-inch dark roaster pan. Melt margarine in saucepan and add flour. Stir well. Add tomato juice, barbecue sauce, onion and pineapple chunks. Pour mixture over meat balls. Cover roaster and place in preheated solar oven. Cook approximately 2 1/2 hours. If desired, olives and cheddar cheese may be added during the last 30 minutes of cooking time. Serve over rice.
Hawaiian Shish Kabobs
1 pound shrimp
1 pound fish chunks, pineapple chunks, onions, lemon or lime. Any of your favorite seafood can be substituted.
Place your ingredients in a bowl, add garlic powder, red pepper, dill weed, salt 1/4 teaspoon of rice vinegar. Add a 1 cup of pineapple and coconut juice. Let it set for 2 hours in the refrigerator. Then place shrimp, pineapple chunk, fish, onto a skewer until it is full. Heat up your solar oven to 300 degree's. Place seafood skewers onto a cookie sheet, then put into your solar oven for 35-45 minutes. After, the meat is done, squeeze lemon or lime and enjoy.
Sunshine Chili
1 pound small red beans (dry)
1 pound ground chuck
2 medium onions
1 small green pepper
1/2 cup fresh parsley, minced
dash of salt and pepper
1 28-oz. can tomatoes (may be blended first)
4 cups V-8 juice
1 tablespoon chili powder
Soak red beans in water overnight. Brown ground chuck, onions, green pepper, parsley, salt and pepper. Drain well after about one hour. Add tomatoes, red beans, V-8 juice and chili powder. Cover and bake about 4-5 hours in solar oven; serves 10. You may add more V-8 juice as cooking proceeds.
Swedish Meatballs
1 pound ham (ground)
1 1/2 pounds fresh pork (ground)
2 cups bread crumbs
1/2 cup vinegar
2 eggs
1 cup milk
1 teaspoon dry mustard
1 cup water
1 tablespoon flour
Mix together the ham, pork, bread crumbs, eggs and milk. Shape into balls about the size of an egg. Place in round dark roaster pan. Combine the dry mustard, bread crumbs, vinegar, water, and flour. Pour over the meatballs. Cover and bake in solar oven 3 to 4 hours or until meat is done.
Pork Chops
1/2 cup chopped celery
1 clove garlic
1/2 cup onion, sliced
6 to 8 mushrooms
1 bell pepper, sliced
1 can mushroom soup
4 pork chops
Combine ingredients except pork chops. Make a thin layer on the bottom of the pan. Place pork chops on top of the ingredients. Pour remainder of ingredients on top of meat. Cover and cook 2 to 3 hours. Pour off juice and save for gravy. Add mushroom soup, cover and cook 1 hour longer. Gravy may be thickened by adding flour.
Pot Roast with Vegetables
2 to 3 pound chuck roast (1 1/2 to 2 inches thick)
3 to 4 carrots, cut in 3-inch lengths
3 to 4 potatoes, peeled and cut in 1/2 inch lengths
2 tablespoons water
1 package dry onion soup mix
Place vegetables in bottom of dark granite pan and sprinkle with water. Put meat on top and sprinkle with package of soup mix. Cover and bake 3 to 4 hours or longer. Thicken gravy if desired.
Meatloaf
1 1/2 pounds ground beef
1/4 pound crackers, crumbled
1 package onion soup
2 eggs
1 teaspoon Worcestershire sauce
3 slices of bacon (optional)
Mix together meat, crumbs, soup mix, eggs and sauce. Shape into a loaf and place in a dark loaf pan. Top with bacon slices. Put loaf pan inside a dark roaster, cover and bake for 3 hours.
Monica's Moussaka
1 pound lean chili meat
1 pound ground lamb
3 large or 4 medium eggplants
1 medium onion, chopped
3 or 4 cloves of garlic, minced
ground cinnamon to taste
ground cloves to taste
salt to taste
1 6 oz. can tomato paste
1 tablespoon olive oil
fresh ground black pepper to taste
Slice eggplants crosswise (excluding ends) into round slices about 1/2" thick and place in a pot with heavily salted water. Let eggplant soak in the salted water to draw out bitterness. While eggplant is soaking, heat olive oil in a skillet on high heat, then brown onions and garlic. Lower heat to medium and add chili meat, lamb, cinnamon, and clove, and cook until browned, then turn off heat. Rinse eggplant and place in a dark cooking vessel, 3 1/2 to 5 quart capacity. Place meat on top of eggplant, then top with tomato paste. Place cooking vessel in solar cooker and cook at about 250F for 2 to 4 hours. When done, add salt and pepper and stir contents to blend ingredients and flavors. Makes 8-12 servings.
Moussaka was cooked in CooKit using a dark blue 5 qt. enamel clad steel pot with a glass lid. Cooked August 21st, 1PM-4PM, in San Antonio, Texas (29.5 N). The city is about 300-350 ft. above sea level Weather: Few clouds, very light winds, high humidity. Air temperature 95-98F.
Tamale Pie
1 pound ground beef
1/2 cup onion, chopped
1 envelope taco seasoning mix
1 cup corn, frozen
1 8-oz. can stewed tomatoes (drained) or fresh tomatoes
3 eggs
1 1/3 cups milk
2/3 cup Bisquick baking mix
1/3 cup yellow cornmeal
Place ground beef and onion in dark pan. Cover and cook for one hour. Drain. Add seasoning mix, corn and tomatoes. Beat together the remaining ingredients and pour over the ground beef mixture. Cover and bake for 1 1/2 hours. Optional: 1 8-oz. can of dark olives, 3 tablespoons of taco sauce and 1 cup cheddar cheese may be added.
Pork Spareribs
3 pounds pork spareribs, cut into serving size pieces
Salt and pepper to taste
1 jar barbeque sauce
Cover and bake in preheated solar oven 4 hours. Coat with barbeque sauce and cook for another hour.
Solar Stew
1 pound beef stew meat
1 medium onion, chopped
3 potatoes, diced
3 carrots, diced
6 to 8 ounces stewed tomatoes (or vegetable liquid or tomato juice)
Seasoned flour
1 bay leaf
1 parsnip
1 green pepper
fat for browning
Indoors, using conventional stove top, heat "Dutch oven" or other suitable browning/stewing utensil that has a dark exterior. Mix seasonings with flour and shake onto meat. Place fat in "Dutch oven", add meat and brown on all sides. Add onions and carrots. Turn heat off. Combine the remaining ingredients and pour over meat. Cover and cook in solar oven for about 3 hours.
Roast Beef
2 1/2 pounds top round roast
Garlic
1 can mushroom soup
1 medium onion, sliced
1 cup celery, chopped
Slit roast and put garlic cloves into slits. Place in a dark pan, cover and bake 3 hours. Pour off liquid and save for gravy. Add remaining ingredients, cover and cook 1/2 to 2 hours longer.
Monica's Baby Back Ribs
1/2 slab baby back ribs (about 10 ribs)
Chili seasoning
Rub the chili seasoning on the ribs. Place the ribs in a plastic bag. Place the plastic bag with the ribs in solar cooker. Cook at 275F-300F for 2 1/2 to 3 hours.
This recipe was used in a Sun Oven for 2 1/2 hours at 300F between 12 Noon and 2:30PM.
Conditions: Clear, Temp 85F, Wind N 5-10, humidity 61%.
Shish Kabobs
1 pound of boneless rib meat
1 onion
1 bell pepper
Mushrooms or Tomatoes optional
Cook for about 30 minutes on the Solar Fryer or until done in the cooker of your choice. Add a little rice and enjoy!
Ribeye steaks and bacon wrapped chicken breasts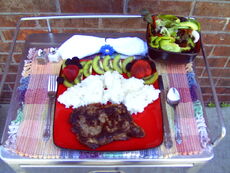 The aroma of steaks cooking on a grill is a memorable experience. The fact that a solar cooker is harnessing the free energy from the sun makes the cookout all the more satisfying.
2 - 12 ounce ribeye steaks
4 - chicken breasts
4 - slices of bacon (optional)
basil
lemon pepper
mayonnaise
horseradish
Cook until each side of the steak is darkened. The time will vary according to conditions and the temperature of your cooking surface. Season the ribeye to taste with steak seasoning. Wrap a slice of bacon around each chicken breast and stick a toothpick through the bacon to hold it in place. A flavorful alternative to bacon is to brush the chicken breast with olive oil and sprinkle with lemon pepper and basil. For a dipping sauce, mix together equal amounts of mayonnaise and prepared horseradish.
Sunny Fiesta Pork Stew
1 med. onion, chopped
3 large cloves garlic, minced
2 lbs. boneless pork, cut into 1" chunks
¼ cup cornmeal
2 teaspoons ground cumin (fresh ground is best)
1 teaspoon oregano
½ teaspoon salt
1 teaspoon chicken stock concentrate or 1 bouillon cube
1 can (15-16 oz.) chili beans in sauce (undrained)
1 can (14-16 oz.) diced tomatoes with green chilies
1 can (14-16 oz.) canned corn, (undrained)
1 small can green chillies (opt. – leave out if you want it very mild)
2 tablespoons quinoa (opt.)

Put onion and garlic in round roaster or other solar pot that holds about three quarts. Top with pork. Mix dry ingredients; sprinkle over pork and mix well. Add beans, tomatoes, corn, and green chillies (if using); mix well.
Cover pot, bag or clear-cover if needed, and set out to cook early. Give it a gentle stir at midday, breaking up any clumps of pork chunks. If you want a less soupy mixture, add 2 tablespoons quinoa (or rice) at this time. Give it another stir an hour or two later and let it sit and cook and tenderize until temperatures start to drop. The longer it simmers, the better it gets! Haybox while still very hot if you're not ready to eat when it's done.
Notes: This recipe would work very well in the HotPot and could be doubled if you're feeding a crowd or want to make extra to freeze for another night (get big batches out early!). If you'd rather use frozen corn, measure two cups the night before to thaw and add 3/4 cup water or chicken broth (in which case you can skip the stock concentrate or bouillon). The cornmeal used as a thickener gives it a lovely subtle sweetness. Great with cornbread or warmed tortilla. You can add more vegetables if you like. Bell peppers and sliced carrots could be good additions.
Ham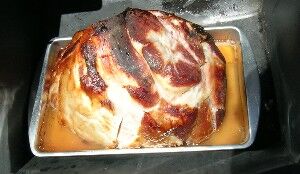 For Easter I cooked a delicious ham in the Global Sun Oven, and decided to try another to see if I had just been lucky with the first, or if ham cooks better in a solar oven, like everything else. The second one was so delicious too. Both hams were ultra tender, not at all salty, and juicy. Here are some hints for baking ham in a solar oven:
Put it in a cooking bag. The juices don't evaporate and you can use the juice to make delicious split pea soup. I had to toss lots of juice because I couldn't get the pan out without spilling it all over. I've baked tons of hams in the oven, and never had a spec of juice. The juice in the bottom of my pan was an inch deep! What a mess it made in the GSO.
Buy a ham that will fit in the GSO and in a pan that you have. Since the pan sizes are limited in the GSO, this could be a challenge. Buy a smaller ham.
If you have a shallow oven, buy one of the boneless hams. You are guaranteed to be delighted with the results.
Stuffed Grape Leaves (Dolmades)
1 jar grape leaves
1 lb. ground beef
1 lb. ground lamb
seasoning to taste (between 1 teaspoon and 1 tablespoon Greek seasoning)
Remove grape leaves from jar and place in a large bowl of cold water to rinse. Mix beef, lamb and seasoning. Use about 1 tablespoon of beef/lamb mix per grape leaf, rolling as usual for dolmades. Place rolls on a trivet in a Dutch oven or roaster, then place cooking vessel in a baking bag or insulating box and place the whole setup in a CooKit for about 3 hours at 250F. Remove from cooker, allow to cool a bit, and enjoy. An interesting effect of using a glass lid is that the surfaces of the grape leaves which were exposed to sunlight will turn purple, while all other surfaces turn dark green.