August 2014: TrinySol built and installed a series of reflectors in El Sauz, Mexico. The cookers are either 10-square-meters or 16-square-meters and can cook for up to 60 people, said Gregor Schäpers. More info...
September 2013: In conjunction with the Municipal government of Tapachula in Chiapas, Mexico, the Rotary Club of Tapachula Centenario has sponsored a number of solar cooking workshops in 2012 and 2013. Forty-four new instructors were trained in how to present solar cooking workshops back in their home communities. Restaurant staff was introduced to solar cooking in Santo Domingo, and at the Universidad Valle del Grijalva, City and Tapachula, culinary students were also introduced to solar cooking. On-site Experimental INIFAP "Rosario Izapa" trained twenty-seven people as users of alternative cooking systems.
November 2012: GloboSol annual report: Switzerland/Germany - Partner-meeting "Skillshare" - As a "première", some of our closest friends and solar colleagues from various foreign countries were invited to visit Globosol with Michael Götz. In the course of a manifold study and sight seeing program, they also became acquainted with parts of Switzerland and southern Germany. Unfortunately only two guests were able to participate: Lorena Harp from Oaxaca, Mexico, the co-organizer of the project "Food-stalls in Mexico", and Sourakatou Ouro-Bangna, head of the solar center "Solasol" in Sokode,Togo. It was a stimulating event that nevertheless raised questions and unfortunately required significant administrative expense.
November 2012: GloboSol annual report: Mexico - Solar energy for food stalls - This project, beginning in autumn 2009, has been characterized by a particular dynamic. Often typical of the bureaucratic planning process in Mexico, decisions can be made very spontaneously and without forethought for the future, a big challenge for the project's manager, Michael Götz, who is continually evaluating the possibilities and finding new ways of improvising for project success. Central to Phase 3 of the project, which ran from November 2011 until May 2012, were further improvements to the Taqueria Poncho, solar street vendor equipment, extension of the food stalls to small restaurants and food processing businesses, construction of a gastro-steamer for a canteen, and building a demonstration center website, Cocina Solar Mexico.
August 2012: FMCN involved in Proyecto Olla Solar that involved distribution of a modified CooKit called the Xuni. Read more...
May 2012:Volunteers from the Rotary Club of Fresno, California, led by Wilfred and Marie Pimentel, teamed up with the Rotary Club of Tapachula Centenario, Mexico, to host a five-day integrated cooking workshop in Tapachula. This is the tenth grant project completed in Mexico by the Rotary Club of Fresno. Although only twenty students were expected to attend, ninety-one arrived on opening day to participate—a clear indication of the desperate need for affordable fuel-saving cooking devices in this region. Local instructors and expert solar cooks from Torreon and Oaxaca led the workshop. Participants learned to build three types of rocket stoves: mud and chopped grass, five gallon tin can, and sixteen brick, which were used to make tortillas. Students cut out cardboard sheets and glued them to pieces of aluminum foil to make solar panel CooKits. A variety of meat, vegetable and egg dishes were prepared with the CooKits along with desserts like pineapple upside down cake. Students also learned how to use WAPI's to pasteurize water with a CooKit. Finally, the instructors showed their ninety-one students how easy it is to make a retained heat cooker with a pillowcases and crumpled newspaper stuffed into a woven basket. Read more about the event and see more photos...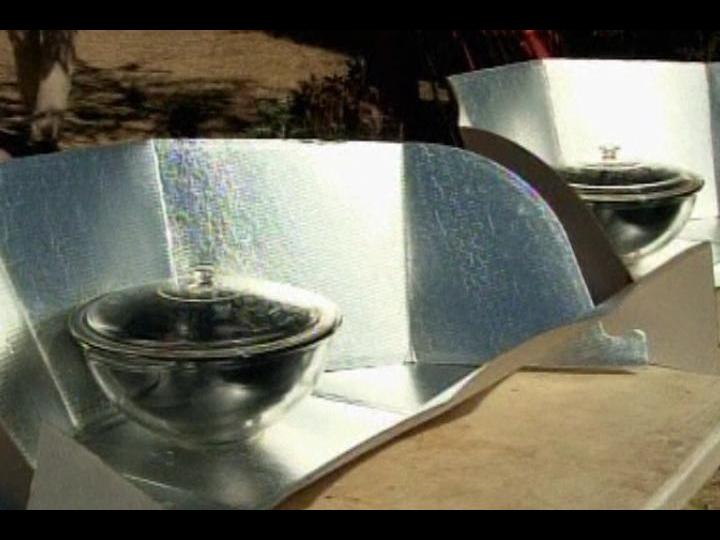 December 2010: Solar cooking is growing in popularity in both the rural and urban areas of Mexico. The video features a roadside street vender in Oaxaca who has realized substantial savings by converting his cart to solar cooking.
April 2010: While travelling in Mexico late last year, Tom Carter taught a class on solar cooking and water pasteurization for local nongovernmental organizations (NGOs). The nearly 40 students in attendance learned how to conduct and read simple water tests, and how to make biologically contaminated drinking water safe by heating it in a solar cooker to pasteurization temperatures as indicated by a Water Pasteurization Indicator (WAPI). The class built about 15 simple solar cookers based on Solar Cookers International's CooKit. Carter modified the design by removing most of the curves and by joining multiple cardboard panels together instead of using one solid piece. The product is somewhat easier to build and reduces the amount of cardboard needed. "This pattern … is easier to make," says Carter. "It requires three boxes of approximately the same size or perhaps only two if they have nice tops or bottoms." The solar cookers and a number of water testing kits and WAPIs were left with the NGO representatives.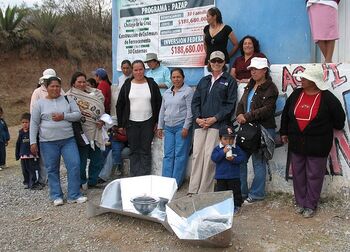 April 2010 S. Greegor of Idaho has been working through the Peace Corps to introduce solar cookers to rural Mexico. She has a goal of introducing solar cookers to 500 families before leaving Mexico.
March 2010: Teens construct their own solar ovens for the school hot lunch program. Utilizing the enthusiastic energy of teens, Peter Edmunds is introducing a solar-powered school hot lunch program into an economically disadvantaged Mexican middle school. The dream that the dusty border town of Palomas will become "the most solar conscious town in Mexico" is closer to reality with four student-constructed solar ovens in place and in use. Edmunds, 71, a New Mexican retiree, founded the nonprofit organization Border Partners to address poverty in the desolate US-Mexico border area of Columbus, NM and Palomas, Mexico last year. Teens construct solar ovens
August 2009: The Technological University of San Juan del Rio presented a solar oven for cooking food to Casa Conciencia, a "green demonstration home" located in Leon, Guanajuato. This project was developed by the teachers of the university to help find solutions to prevent health problems faced by people of limited means who use wood or coal for their energy. For more information, go to Diario Rotativo: Líder en Querétaro.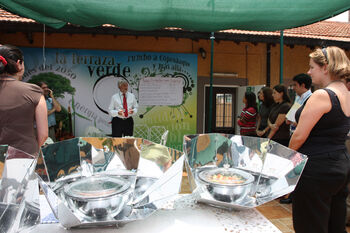 August 2009: The British Embassy in Mexico has instigated an ambitious project to reduce its carbon footprint and save money. Over the past 2 years steps have been taken including purchasing more efficient cars, recycling paper and toner cartridges, and increased use of tele and video conferences to reduce travel. This year they have embarked on a new phase with a new goal to further reduce emmissions and main energy costs by 20%. They anticipate reducing the embassy's use of butane gas by at least 80% through the use of solar heaters and better management of hot water. They plan to institute more efficient recycling, to solar heat shower water, to install and use solar coffee makers and solar ovens for people to cook their lunches, to recycle water, to relamp inefficient lighting fixtures, and to turn-off hot water to the toilet room sinks. To be effective, all staff is encouraged to buy in to the projects and to contribute their ideas. To facilitate this, they have created a Green Terrace which doubles as an additional meeting room. The Terrace has a solar powered coffee maker, solar oven, and water purifier. For more information, go to the UK embassy in Mexico website.
July 2009: Solar Household Energy, Inc.'s Richard Stolz reports that 400 HotPot solar cookers were provided to victims of the floods that ravaged the southern state of Tabasco in late 2007. "In addition to the devastation caused to homes, the floods knocked out Tabasco's electricity and gas distribution plant. As a result, even after flood waters had receded, many residents had no means of cooking food, particularly when firewood was unavailable." The HotPots were made available by two of Solar Household Energy, Inc.'s partner organizations, the Mexican Fund for the Conservation of Nature, and International Logistics Solutions, which manufactures HotPots in Mexico.
November 2008: Mexico's Federal Government Department of Social Services SEDESOL helped launch the biggest solar cooking demonstration to date in Coahuila, Mexico. Over 120 HotPot solar ovens cooked lunch in Torreon's Ecological Park. Torreon's Mayor who was present acknowledged that "Torreon has 300 days of sunshine."
April 2007: El Sudcaliforniano, newspaper of La Paz, recently reported on a small solar cooking project started by Mercedes Gorrete Solis Lucero, a local biochemical engineer. Thus far, 20 demonstration solar cookers have been constructed -- eight parabolic-type, six box-type and six panel-type. The purpose of the project is to make solar thermal technology available to the community at low cost while contributing to an ecological culture. The state of Baja California Sur enjoys more than 260 sunny days per year, suffers from scarcity of firewood and is home to people who tend to put new technologies into practice, the newspaper says. Gorrete Solis Lucero demonstrates the cookers at events such as the state government's women's exposition She says most people become interested, show enthusiasm and ask questions, and she has a special method for dealing with doubts. "I make pastries," she says.
January 2007: The International Relations Center, a nonprofit organization whose mission is to provide information and analysis that increase social and economic justice throughout the world, recently cited the HotPot as an example of an effective solar cooker that is both produced and sold in Mexican communities. Mexico is currently working to structure a national training program to help individuals understand the utility of solar and wind power in cost effectiveness for health and the environment. Read more here.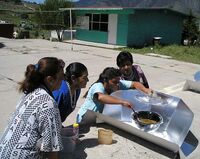 March 2006: One thousand Mexican families buy solar cookers
March 2006: Kathy Dahl-Bredine, who works with the Nino a Nino organization, reports that solar cooking is taking hold in the state of Oaxaca. She gave nine workshops in her first year and helped about 150 people learn to make and use solar cookers. In the workshops, new solar cooking students are given homework — to teach others how to make and use a CooKit-style solar panel cooker. Ms. Dahl-Bredine reports that many of her students have done their homework and taught others. She has also taught solar cooking skills to Indian development promoters who are spreading the idea to many other families. She writes, "It sounds like a great many of the cookers are getting used. … One woman I work with said, 'Now I know that I don't have to worry about whether I've turned the beans off when I leave the house, because if they are in the solar cooker, I know they are fine.' … One woman I know here in Oaxaca City told me about a certain dish she makes, a particular chicken enchilada, that her 10-year-old son never especially liked, but the first time she made it in her solar cooker … her son said, 'Wow, this is delicious. What makes it so different?'" Ms. Dahl-Bredine reports that the major motivation for using the solar cookers is that people have little income, and benefit from reduced fuel costs. The CooKit-type solar cooker is practical because it is inexpensive and can be made by the families themselves. She emphasizes follow-up visits with new learners, because people don't always get everything they need to know from one workshop. When people are learning, she says, "you want all the conditions to be right to succeed at first." After people have some experience, they can try more challenging cooking problems. She believes that experienced solar cooks can use their solar cookers most days even during Oaxaca's rainy season, by starting early in the day and planning carefully.
Community content is available under
CC-BY-SA
unless otherwise noted.