Jurassic World: Dominion Dominates Fandom Wikis - The Loop
Play Sound
Last edited:
15 February 2016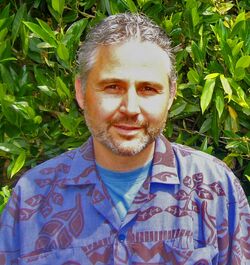 English
[
]
Ph.D. in technical sciences (photovoltaïcs)
Project leader at the Institute of Microtechnology of the University of Neuchâtel
15 scientific publications as first author (29 as co-author)
Director of the Centre Neuchâtelois de cuisine solaire for 10 years
Mandates for the photovoltaïcs industry (including projects for ESA)
Three research projects for the Swiss energy department
Manufacturing of hundreds of solar cookers
R&D in easily transportable solar cookers for travellers
Participant (and then head) of the 'crêperie solaire' during 11 summer seasons
Professor for the Swiss Tropical Institute in Basel and for the 'Universités populaires' of Neuchâtel and Fribourg
Ex-webmaster of http://www.cuisinesolaire.com
Personal consulting service for NGOs and development project leaders
Participation in development projects in Indonesia, Brazil, Mauritania; visiting of projects in Mali, India, Togo
Solar trainings for Greenpeace in Switzerland, Cameroon, Brazil, RSA, Mexico
Since 2008: Director of ExSol - expertise en cuisine solaire
Since 2009: Solar cooking project in Mexico: Cocina Solar Mexico
Français
[
]
Doctorat es sciences techniques (photovoltaïque)
Chef de projet à Institut de Microtechnique de l'Université de Neuchâtel
15 publications scientifiques en tant qu'auteur principal (29 en tant que co-auteur)
Mandats pour l'industrie photovoltaïque (dont projets de l'ESA)
Directeur du Centre Neuchatelois de cuisine solaire durant 10 ans
Trois projets de recherche pour l'Office Fédéral de l'énergie
Fabrication de quelques centaines de fours solaires
Développement de cuiseurs solaires transportables
Collaborateur (puis gérant) de la 'crêperie solaire' durant 11 saisons d'été
Enseignant pour l'Institut tropical Suisse de Bâle et les Universités populaires de Neuchâtel et Fribourg
Ancien Webmaster du site http://www.cuisinesolaire.com
Service de conseils personnalisés pour des porteurs de projets dans les pays du Sud
Participation à des projets de développement en Indonésie, Brésil, Mauritanie; visites de projets au Mali, en Inde, au Togo
Depuis 2008: Directeur d'ExSol, expertise en cuisine solaire
Depuis 2009: Projet de cuisine solaire au Mexique: Cocina Solar Mexico
News
[
]
Spring 2013: New food stall for Taquería Poncho in Oaxaca.

Spring 2013: Solar kitchen steamer for Tierra del Sol, a permaculture centre near Oaxaca
Spring 2013: Opening of the 'oficina solar', the office and demonstration centre of the project Cocina Solar Mexico
November 2012: GloboSol annual report: Switzerland - The Rolling Solar Kitchen - Michael Götz reports that the GloboSol mobile kitchen has been used five times: First, as a provision-kitchen during the anti-nuclear demonstration in Kleindöttingen, then at the Permaculture Days in Rüfenacht, the summer-camp of Greenpeace in Trub, and as a Crêperie at the music festival "Hors Tribu" in Môtier and the "Fête de la Terre" in Cernier, Switzerland. Even though the operational accounting closed with a modest profit, it is regrettable that the cooks and the sellers hardly had time to explain solar cooking to interested guests, or to inform them about the work of GloboSol. Therefore we are looking for volunteers, who would like to participate at one or several of these events, to help spread the word about GloboSol. You can inquire at: http://www.globosol.ch
November 2012: GloboSol annual report: Switzerland/Germany - Partner-meeting "Skillshare" - As a "première", some of our closest friends and solar colleagues from various foreign countries were invited to visit Globosol with Michael Götz. In the course of a manifold study and sight-seeing program, they also became acquainted with parts of Switzerland and southern Germany. Unfortunately only two guests were able to participate: Lorena Harp from Oaxaca, Mexico, the co-organizer of the project "Food-stalls in Mexico", and Sourakatou Ouro-Bangnahead of the solar center "Solasol" in Sokode,Togo. It was a stimulating event that nevertheless raised questions and unfortunately required significant administrative expense.
November 2012: GloboSol annual report: Mexico - Solar energy for food stalls - This project, beginning in autumn 2009, has been characterized by a particular dynamic. Often typical of the bureaucratic planning process in Mexico, decisions can be made very spontaneously and without forethought for the future, a big challenge for the project's manager, Michael Götz, who is continually evaluating the possibilities and finding new ways of improvising for project success. Central to Phase 3 of the project, which ran from November 2011 until May 2012, were further improvements to the Taqueria Poncho, solar street vendor equipment, extension of the food stalls to small restaurants and food processing businesses, construction of a gastro-steamer for a canteen, and building a demonstration center website, Cocina Solar Mexico.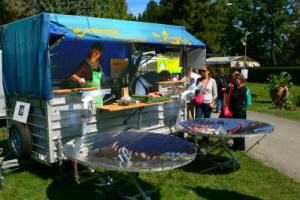 July 2009: Ulrich Oehler's pioneering work in the 1980s inspired a wave of Swiss solar cooking promoters. For many years, Oehler's house in Basel even served as the country's main solar cooker information center, maintained by the ULOG group. From 1997 to 2007, the Centre Neuchâtelois de Cuisine Solaire (CNCS) in the small town of Neuchâtel served as the country's information hub. Visitors could see a variety of solar cooker models or ask questions of the centre's leader, Michael Götz. In addition to this resource, ULOG group and GloboSol maintain a travelling solar crêperie in which they prepare solar pancakes for music festivals and ecology fairs throughout Switzerland. 2008 was a year of changes and new opportunities. The information center moved to a prominent location in the international city of Geneva. Götz is thrilled with the location. "Finally we have a room with a shop-window, only a few steps from Geneva's train station!" Alain Cassani, Annick Steiner, and Yves Ronchetti of the association SOLEMYO manage the shop and information center, conduct solar cooker construction trainings, and schedule solar crêperie events, while Götz, operating as ExSol, works on consulting, education, technical development, and other projects.
Conference presentations
[
]
Documents
[
]
See also
[
]
External links
[
]
Contact
[
]
ExSol
15, rue des Gares
CH-1201 GENEVE
Switzerland
Email: exsol@cuisinesolaire.com
Web: http://www.cuisinesolaire.com/exsol http://www.cocinasolarmexico.com.mx