Last edited:
1 December 2009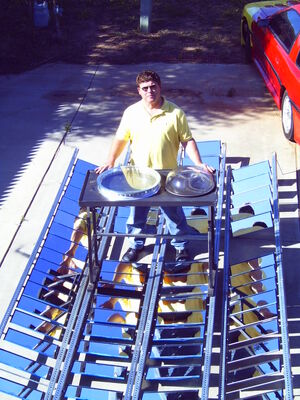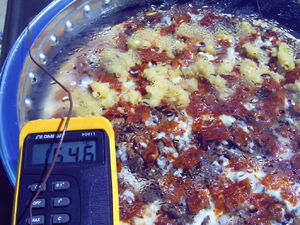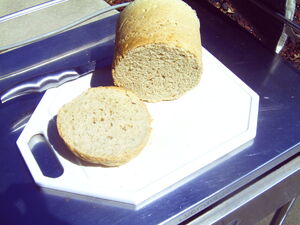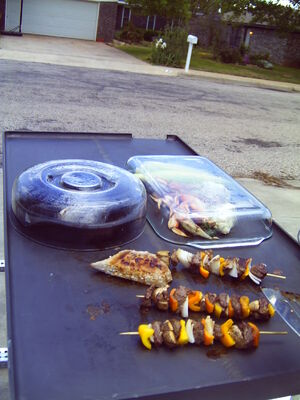 Mike Pool has lived in Canyon, Texas (latitude of 35 degrees north and 102 degrees west longitude) for the last 12 years with his wife and family. He has had an interest in solar energy since 1975. His first solar cooker was a design based on the Beth and Dan Halacy Parabolic Cooker. The book, which has detailed plans, is still popular today and may be purchased here: Order this book from Amazon.com A few years later, Mike made a cooker with a bit more collector area, similar to, but not as nice as the Solar Griddle design. He bought some 1 foot square mirror tiles that a hardware store had in a clearance basket and was found some a half used spool of wire in a junk yard. The wire was about twice as stiff as clothes hanger wire. He cut segments of the wire to make croquet hoops and hammered some iron rods into the ground to make a stand for an electric griddle. Mike took the plastic handles off of the griddle and painted the bottom of the griddle with black spray paint. He pressed 40 hoops into the ground around the griddle and leaned a mirror against each hoop so that a noon day sun would reflect to the bottom of the griddle. Mike would angle the mirrors by raising a corner of the mirror off of the ground, as neccessary, so that the reflection from the mirrors would line up in a square as much as possible on the bottom of the griddle. With a bright shining sun at least 60 degrees above the horizon, a layer of cooking oil on the griddle would begin smoking in about 1 minute. This cooker could cook a meal with one setting of the mirrors, but for extended cooking, the focal point would gradually move and the mirrors would have to be readjusted.
Mike still uses mirrors with the Solar Fryer. The reflection from the mirrors is not nearly as precise as a true parabola. The focal point is spread out more and makes the Solar Fryer easier to use. A sunny summer day can provide at least an hour of great solar cooking as the mirrors' reflection moves across the bottom of the grill. A piece of low iron glass was cut to fit a motorcycle wheel and be used to cover a pizza when cooking on the grill. Pictures of a pizza cooking on the solar cooker can be seen on the Solar Fryer article.
See also
[
]
Since the weather is hard to predict, the Yellowfin tuna is a risk free option. If the weather is not good enough for solar cooking, you can always make sashimi.
Contact
[
]
Mike Pool
Email: solarcookingman@gmail.com