Last edited:
4 August 2019
| | |
| --- | --- |
| | In October 2014, Solarama Energy & Services held a solar cooking demonstration in Morocco attended by government ministers and the President of the country. |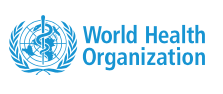 NEW: 

Webinar:

Wednesday, 16 June 2021, 14:30-16:00 CET, 12:30-14:00 GMT: Clean Cooking Data and Pathways to Achieving Progress - The World Health Organization sponsors this webinar on data tracking to assess global progress in the quest for sustainable, affordable energy. To also include a discussion on finding pathways to accelerating progress to clean cooking. More information & free registration...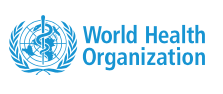 NEW: 

Webinar:

Wednesday, 30 June 2021, TBD: How Behavioral Science Can Help Increase Uptake and Sustained Use of Clean Energy in Developing Countries - The World Health Organization sponsors this webinar on finding behavioral change solutions, which is influenced by societal factors, individual biases, and mindsets. More information & free registration...

NEW: 

Webinar:

Sunday, 4 July 2021, 13:30 - 15:30 GMT: CONSOLFOOD - Baking bread in your solar cooker - Videos have been collected, and those selected will be compiled in a YouTube playlist for ease of presentation during the webinar. If you would like to attend this meeting please register by 2 July at the latest. Send an email to cruivo@uaig.pt mentioning your name, country, email address, and phone number. You will receive a link to access the platform by email.
23-30 June 2021, 17-23 December 2021: Solar Cooking Awareness Week - A loosely organized bid to acknowledge the fun and benefits of solar cooking. Show someone how to solar cook and share a meal.
See also: Global Calendar of Events and past events in Morocco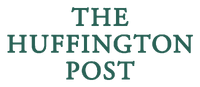 September 2013: The new Marrakesh firm P-Solar industry designs and mass-produces parabolic solar cookers. The founder's goal is to help preserve Morocco's forests, which are vanishing at a rate of 30,000 hectares per year. His second goal is to reduce the cost of fuel for Moroccan families who buy LPG, since the Moroccan government has recently announced that it will end subsidies for cooking gas. P-Solar's website notes that Moroccan women and girls in the High Atlas spend half their days gathering wood instead of attending school or tending to household chores.
May 2013: A new company (P-Solar industry) was founded in Marrakech in order to design and mass-produce parabolic solar ovens. The creator had a purpose to allow the dissemination of this type of cooking to preserve Moroccan forest loses 30,000 hectares per year and reduce the weight of gas prices that do not stop climbing. The recent statement concerning the Moroccan government stop any subsidy in the price of gas will definitely boost this technology. This type of cooking is the latest in Morocco and Africa who really need it. P-Solar industry is the name given to the company whose website is www.marocsolaire.com, a real e-marketing strategy the aim is to enable wide dissemination of this type of cooking.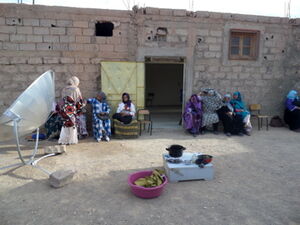 April 2013: Cooking demonstration with the ladies of the Association pour le Development Rural in Agdez, Morocco with SOLAR KITCHEN, Austria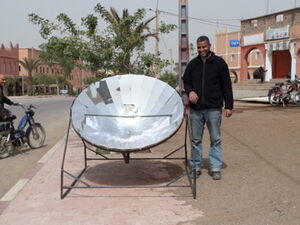 March 2013: In collaboration with eg-solar, Germany, and SOuLAR KITCHEN, Austria, Mohamed Gourari in Skoura, Ouarzazate, Morocco did build his first solar cooker and is now able to produce and sell the solar cooker SK 14.For more information write to schmihe@gmx.at
May 2012: The Agencia Española de Cooperación Internacional para el Desarrollo (AECID) has provided 150 solar parabolic cookers to the people of Ouffi Ait – a small, sunny village southeast of Marrakech in Morocco. The introduction of these solar cookers has reduced the amount of time girls must spend collecting firewood, giving them more time to attend school. Working with the Foreign Association XXI and ADMR from Morocco, AECI targeted women as protagonists of a cleaner, more equitable future in their Morocco Solar Cookers for Rural Families project. Read more...
August 2008: Operation Friends of the Sun. NGO Youth Volunteers for Environment and Development Committee of the District of Casablanca have the honor to invite you to the opening ceremony and closing of an activity called, 'Operation Friends of the Sun' (OAS) to be instead of Monday 04 August 2008 to Friday 08 August 2008 in the district of Casablanca, on the public plaza in front of the bar MIKOUNOUNOU. The activity will be in effect the production of solar cookers (boxes) by youths in the area who will be trained for the occasion. Indeed, three years ago that JVE runs in collaboration with NNV, a Norwegian NGO, a draft pasteurization solar water in the prefecture Vo. Objectives: To provide drinking water, strengthen the capacity of women and fight against desertification. The impact and enthusiasm generated by this project require constant availability of solar cookers, what the 11 women's groups with whom we work, unable to satisfy. This justifies the raison d'etre of this operation intended to educate more people on the need to switch to solar and behave respectful of our fragile environment. Thus, there was success for 5 days of training, production, demonstrations, solar dishes, football games etc… according to the attached program. Having no doubt about your support for everything related to sustainable development, and hoping to count on your presence, please accept Sir / Madam, the assurances of our highest consideration.
Touria Dafrallah
The Ministry of Energy and Mines of Morocco became interested in solar cooking through involvement of an employee, Touria Dafrallah, the recipient of an award for one year of study in the United States under the auspices of the Hubert Humphrey Fellowship Program. She studied at Cornell during that year, and came to know of solar cooking.
During a practicum period spent in Washington, D.C., Touria spent a share of her time working with Solar Household Energy, Inc., becoming a proficient cook and conferring with SHE personnel on establishing a project in Morocco.
Upon her return to Morocco, Touria began to lay the groundwork for a project. Experienced project staffs associated with the French, NGO Solar Inti, were made available to work with her in planning and piloting the project. The device chosen was the ULOG type box cooker, used in Solar Into projects in other countries. It could be made in Morocco.
Morocco was also interested in learning more about, and perhaps acquiring a large solar cooker called the Villager, a product of Sun Ovens International and Rotary International.
Later reports of progress in Morocco indicated that work continued on the project but progress was slow.
Archived articles
Construction plans in Arabic
[
edit source
]
July 2017: According to the Morocco World News, the international environmental advocacy group Greenpeace said that an initiative aims to create a "network of solar ambassadors" to catalyze "the deployment of decentralized solar energy in the kingdom to complement macro scale energy development." Read more about the projects: Greenpeace Launches Solar Energy Education Project in Morocco - Morocco World News
The entities listed below are either based in Morocco, or have established solar cooking projects there:
Manufacturers and vendors
[
edit source
]
Educational institutions
[
edit source
]
Community content is available under
CC-BY-SA
unless otherwise noted.