Last edited:
4 August 2019
| | |
| --- | --- |
| | |
Events
[
]
NEW: 

15-17 September 2021: Climate Chance Summit Africa 2021 - Registration is open to attend the virtual 3rd edition of the Climate Chance Africa Summit. Three days of sessions on key themes and sectors of climate action hosted by non-state actors engaged in climate change in Africa. There is no charge for attendance, but registration is required
NEW: 

Friday, 17 September 2021 (10:30am CDT, 15:30 GMT): Homeschool program on solar cooking - The Syracuse-Turkey Creek Township Public Library, in Syracuse, Indiana, USA, offers online programs for homeschool students on Fridays at 10:30am. This program is described as learning to build and use a solar cooker. Read more...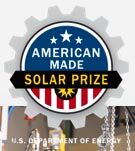 NEW: 

5 October 2021: American made solar competition - The U.S. Dept. of Energy is sponsoring a a multi-part competition to spur solar manufacturing, develop innovative solar solutions and products, and create domestic jobs and opportunities through public-private partnerships. The contest is open to U.S. residents, and the final phase is still open for submittals until 5 October 2021. Much of the attention has been with photovoltaic solutions, and this last phase is structured with two tracks that focus separately on hardware and software components. Solar cooking equipment should qualify as hardware solutions. Read more about the competition...
NEW: 

22-26 November 2021: 2nd National Congress for Solar Drying and Cooking Food - An affiliated group of universities in Mexico will host an online conference relating to solar food drying and cooking, as well as, food safety and energy savings realized with minimal environmental impact. Participants can register to view the presentations, or apply for presentation consideration. The conference will be in Spanish. Registration information... - (English version)
17-23 December 2021: Solar Cooking Awareness Week (Southern Hemisphere) - A loosely organized bid to acknowledge the fun and benefits of solar cooking. Show someone how to solar cook and share a meal.
24-26 January 2022: Fourth International Conference: Advances in Solar Thermal Food Processing - CONSOLFOOD Chairman, Celestino Ruivo, has announced an extended call for abstracts for the upcoming conference in January 2022, which is now planned to be an online event. Advances in solar cooking as well as solar food processing will be considered for inclusion. The event schedule and submission requirements are in CONSOLFOOD 2022 conference information.
See also: Global Calendar of Events and past events in Mozambique
News
[
]
November 2010: The African Millennium Foundation has organized The Apron Project to help the women of Maputo, Mozambique, as their pilot project to help introduce solar cooking to the area.
July 2010: Solar Cookers for Africa: Solar Caravan 2010 - SunFire is a NGO in South Africa that has partnered with Solar Cookers for Africa to create the Caravan as a way to reach the portions of the population that live in areas typically difficult to reach. It will be a convoy of knowledge, experience, and partnerships in the area of sustainable household and community technologies and practices. The Caravan will start in Mozambique, to eventually cover most of Southern Africa. Far from relying in the knowledge and resources of a few, the Caravan will link experts, product suppliers, communities and funders. Starting in August 2010, a core team of 4 people from 3 countries will start traveling from Johannesburg, South Africa, towards Beira, Mozambique. In each community the Caravan visits, its members will be presented with a flexible curriculum of applied introductory workshops and demonstrations about the core topics and technologies. One fixed workshop module concerns clean energy; another food security, waste management and nutrition. To learn more, see how your experience may be of value, and offer to financial support see: Solar Cookers for Africa: Solar Caravan 2010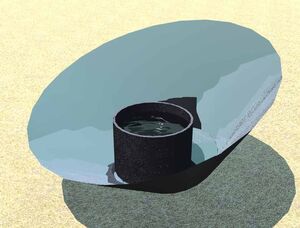 July 2009: John Tillman and Drew Durbin, both recent graduates of Brown University, learned about solar cookers while building and testing biogas stoves in Tanzania. They were inspired, and in 2008 formed SolarCycle, an organization that develops low-cost solar cookers and water pasteurizers that reduce environmental damage and health problems associated with cooking smoke and contaminated drinking water. According to SolarCycle, Tillman and Durbin designed a "revolutionary material" consisting of three layers: a substrate of fused recycled plastic grocery bags, a reflective layer of postindustrial metalized packaging film, and a transparent protective layer. The material can be used to build durable, inexpensive solar cookers and pasteurizers that "turn an urban trash problem into a potential solution for diarrheal illnesses and respiratory diseases." SolarCycle's cooker is stamped out of a sheet of SolarCycle reflective material and assembled into the shape of an inverted cone with a flat bottom. The cone is 3 feet in diameter at the top, 9 inches in diameter at the bottom, and stands two feet tall, while the sides are angled 30 degrees from vertical. The cooker is expected to cost about $5. The SolarCycle team has entered social entrepreneurship business plan competitions at numerous universities and has been extremely successful, winning first prize at Rice, Colorado State University, Georgetown, and the University of Wisconsin, as well as beating out over 1,000 entries for the Chartered Insurance Institute's "Big Idea" competition.

SolarCycle's winnings — in excess of $70,000 — have enabled it to open an office and purchase industrial machinery. SolarCycle is currently field testing its solar cookers and methods in Pemba, Mozambique.
March 2009: Mozambique Association for Urban Development (AMDU) conducted a number of solar cooking courses and exhibits over the past several months, according to reports from AMDU President Maria dos Anjos Rosario and Dutch volunteer Anneke Hudig. Among its many accomplishments, AMDU conducted a series of three-week solar cooker construction and training courses in Maputo for 50 impoverished youth. These courses coincided with public solar cooking exhibitions, and were covered by local television media. A series of public demonstrations in Maputo drew large crowds, witnessing dozens of different solar cookers on display. At the 5th Mozambican Exhibition of Science and Technology, AMDU presented a 10-day workshop that taught youth how to make solar cookers out of recycled materials and how those cookers can efficiently use solar energy to cook food. More recently, AMDU has introduced an alternative energy program in three neighborhoods of Mocuba and 10 rural villages in the province of Zambezia. An early component of these programs was a solar cooker competition involving 40 participants from the various program areas. Solar cooking confidence was apparent among the contestants. The AMDU resource center in Hulene suburb of Maputo has been converted into an alternative energy center where youth can learn, experiment, and teach others about solar energy and recycling programs.
April 2007: Maria dos Anjos Rosario taught a solar cooking class to 11th and 12th grade students at the Secondary School of the Superior Institute of Science and Technology. The class included discussion of how solar cookers work, construction of several models of solar cookers, solar cooking practice, analysis of the activities, and discussion of how to spread solar cooking. Rosario is president of the Mozambique Association for Urban Development, which promotes solar cookers, heat-retention cookers, and paper briquettes - a firewood and charcoal substitute. Contact: Maria dos Anos Rosario
History
[
]
Little is known of solar cooking activities in Mozambique, other than the efforts of a faculty member at Eduardo Mondlane University, who had taught an American volunteer about the technology. The volunteer, Miho Kobashi spent six months in a remote village, working as a teacher, and while there taught a number of villagers to make and use solar cookers. This small experiment used the CooKit that people made for themselves. As is usual, villagers were unwilling to believe that food could be cooked with a piece of cardboard, and were amazed to see the results of their experiment. (Solar Cooker Review, July 2003)
Archived articles
Climate and culture
[
]
Solar Cookers International has rated Mozambique as the #16 country in the world in terms of solar cooking potential (See: The 25 countries with the most solar cooking potential). The estimated number of people that will be living with fuel scarcity, but ample sun, in 2020 in Mozambique is 3,800,000.
See also
[
]
Resources
[
]
Possible funders
[
]
Reports
[
]
Articles in the media
[
]
External links
[
]
Contacts
[
]
The entities listed below are either based in Mozambique, or have established solar cooking projects there:
SCI Associates
[
]
NGOs
[
]
Manufacturers and vendors
[
]
Individuals
[
]
Government agencies
[
]
Educational institutions
[
]
See also
[
]
References
[
]