Last edited:
24 August 2009

We are the teachers of Turgut Reis Technical High School .We did a project and product that we called Multifunctional Solar Oven or MUFSO. We designed and made this Project. At the and we got a product that is an oven. We did some experiments with this product and we got the temperatures below at our two different experiments:
| | | | |
| --- | --- | --- | --- |
| Date | Hour | Ambient Temperature | Oven Temperature |
| March 10, 2006 | 13:00 | 11 C | 200 C |
| April 7th | 11:00 | 17 C | 230 C |
What can we do with this oven?
[
edit
|
edit source
]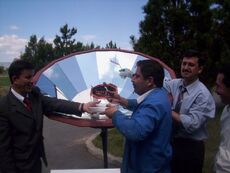 We want to make its different sizes of this oven by this sizes we can solve all kinds of buildings following problems with cheapest energy source, solar energy:
we can cook, grill, fry or boil all kinds of food with this oven
we can also bake all kinds of baker products
we can get boiling water that is necessary for all kinds of buildings
we can also use this water for heating purposes for all kinds of buildings
getting steam and making electric energy by turbines
we can also get hoot air to use all kinds of drying appliances
and also by making all sizes of this apparatus we can use every kinds of buildings:
maybe while small kinds of MUFSO is using at houses, its big sizes are using in big industrial institutions.
In this century, a great deal of energy is acquired from hydraulic and nuclear fuels. Fossil based fuels are extracted in small amount from the point of percentage. It is also known that our country is not rich in hydraulic sources. nuclear energy requires developed technology and it causes environmental and ecological problems. It is obvious that we have to hand in our profit, millions of dollars owing to the fact that we are depended upon after countries. For this reason, we created the MUFSO.
The sun is an eternal source of energy and friend environment, having no environmental damages. As our country is in a Mediterranean river basin, its proportion of getting sunlight is quite good. It can be used as an alternate energy source in the 6 to 9 months every year. By making small, medium and big sizes of mufso, we can make cooking process for all kinds of buildings, we can do all works based on hot water, and also all heating systems also works by this project. Furthermore we can also get electricity from our project by using steam turbines. We can also use all these things for all institutions and buildings. We, the team of mufso project, believe that it is an important and useful project.
NAME OF THE PROJECT: Multifunctional Sun Oven (MUFSO)
SUBJECT OF PROJECT: Turning Into Sun Lights To Heat Energy
AIM OF THE PROJECT: To Make Our Students And Public More Conscious Of Benefiting From Kinds Of All Alternative Energy
PRACTISING AREA OF THE PROJECT: All Of The Services Related To The Heating, Cooking, Heat Water In The Houses, All Industrial Foundations, State Intuitions, Formal Institutions, Green Houses Etc.
PECULARITIES OF THE PROJECT: This system can be used in every area where sun appears, easily: it is open to extra functions,(environmentalist!), it is also economic: (no cost of using)
TARGET OF THE PROJECT: Doing an oven that does not cost very much and is not harmful for the environment by benefiting from the sun energy that is clean and endless energy source.
PROFITS OF THE PROJECT: After MUFSO project is completed, it will be really useful in getting need of cooking, heating, very hot water in the boiling degree, that are necessary for the houses, industrial foundation by using endless and environmentalist sun energy source. the function of the project: producing an oven that can get nearly 250 c degree by benefiting from sun energy, getting boiling water by adding some apparatus, making a heating system(maybe an air conditioner)by using heated air, and getting electricity by a steam turbine.
TECHNICAL PROPERTIES OF THE PROJECT: BODY: multi 20*20*1 PROFILE, 2 mm DKP TIN CARRIER LEG: 2 mm PIPE FIXED ON 40*60*3 PROFILE MOBILE HEAD COLLECTORS: FLOTAL MIRRORS OVEN: IT IS MADE BY 1 mm CR-Ni STEEL TIN WITH HEXAGONAL BODY
Turgut Reis Technical High School
Eskişehir
Turkey
Veysel San - veyselsan@hotmail.com
Ali Duman - aduman28@hotmail.com
Community content is available under
CC-BY-SA
unless otherwise noted.