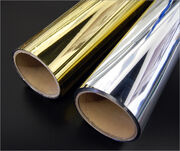 Mylar is a brand name used by the DuPont corporation to identify thin polyester plastic films that it makes. Actually, DuPont and a Japanese company have created a joint company called DuPont Teijin Films to handle the polyester film business.
It also appears that many large companies in different parts of the world produce similar products. Some companies may buy the polyester film from companies such as DuPont and then add the aluminum coating themselves before distributing to consumers. In other words, there may be dozens, scores or hundreds of companies that sell polyester films with aluminum coating.
Community content is available under
CC-BY-SA
unless otherwise noted.