Jurassic World: Dominion Dominates Fandom Wikis - The Loop
Play Sound
Last edited:
26 August 2019
Events
[
]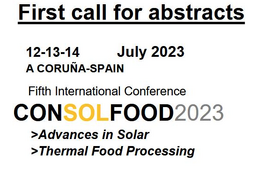 NEW: 

12-14 July 2023 (A Coruña, Spain): CONSOLFOOD2023 - Organizers have released a first call for abstracts to participate in the Fifth International Conference, taking place in Spain in 2023 as an in-person conference. The deadline for submission is 15 December 2022. More submittal information...
See also: Global Calendar of Events and past events in Namibia
News
[
]
December 2016: Sustainability project comes to a close in Nambia - NaDEET held a celebration at the close of their three year sustainability project at the end of October. Participants in the program came from the communities of Rietoog, Uibes and Gochas. The project provided training in many aspects of sustainable living, with solar cooking an important component of their comprehensive approach. More information...
January 2016: NADEET reports that in 2015 it distributed 122 solar cookers and served 200,000 solar-cooked meals.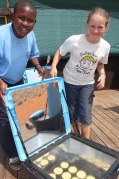 November 2013: Informal survey leads to new directions - Project leaders surveyed young workshop participants and community leaders regarding their satisfaction with solar cooking. Overall, both urban and rural based learners viewed solar cooking positively despite perceived disadvantages around slower cooking times amongst urban users and the financial ability to acquire cookers for rural users. Both groups showed a good understanding of the benefits to the environment.
September 2013: To increase ownership of alternative energy equipment in rural communities in southern Namibia, the Namib Desert Environmental Education Trust (NaDEET) has this year invited representatives from the Rietoog, Aranos and Maltahöhe communities as well as students from the Agricultural Training Centre in Krumhuk to attend the NaDEET environmental education program. Sixty-eight participants earned solar cookers through NaDEET's voucher testing system. This year one hundred parabolic solar cookers have been distributed to communities.
February 2013: More from Nailoke's Solar House - Nailoke Niingungo summarizes the approach of the organization, NaDEET, used for solar cooking promotion in Namibia. Morning meals are cooking over Fuel-efficient woodstoves and meals later in the day are prepared with solar cookers. Hay baskets are primarily used for keeping food warm until dinner is served. Beside instruction in using solar cookers, workshop participants are trained in their construction as well. They are also shown how to make recycled paper firebricks for use in the Rocket stoves. Moreover, program attendees receive vouchers for purchasing solar cookers at a reduced price if they show they have successfully completed the training program.
November 2012: GloboSol annual report: Namibia - Nailoke's Solar House - Nailoke Niingungo is a woman who puts considerable effort into improving living conditions and protecting the environment in the area where she lives in Namibia. Her means to do that is to promote solar ovens by partnering with GloboSol. To make people aware of solar cooking, she bakes bread on a daily basis and roasts peanuts, which are then sold, providing a modest income. Currently, the solar ovens are built at two different locations, which is working, but needs to be improved. Likewise, the sales of the solar ovens have not yet met their expectations of the potential market.
September 2011: The Namib Desert Environmental Education Trust (NaDEET), a non-profit Namibian trust geared towards protecting Namibia's natural environment through educating citizens how to live sustainably, has to date donated about 70 solar cookers to almost 150 people in the South. In 2010 NaDEET expanded its youth orientated programmes to include adults, in order to expand knowledge about solar cooking and related issues, such as climate change. A survey done prior to the training found that 57 per cent of the adults did not know about climate change. Viktoria Keding, director of NaDEET, explained there is a misperception that children are the primary target, whereas adults are just as eager to learn and adapt, especially when the benefits are clear. Read more...
April 2011: Jon Maravelias of the NGO, NaDEET, traveled to five communities in Namibia to evaluate the results of previous solar cooking workshops conducted by the organization. The areas are mostly rural and poor. He reports; In general, it seemed that the poorer you were, the more you relied on solar cooking since it meant you did not need to collect firewood for the day. He visited several women who use the solar cooker and fuel-efficient stoves to heat their bath water and to cook all of their meals. The most successful communities were the ones with a traditional power structure. Both the communities of Maltahohe and Bethanien were under the leadership of two elder women. NaDEET also has been active in planting new trees in this mostly barren area.
July 2010: Students learn how to cook on solar. The final 20 students from a group of 60 received their certificates last week for successfully completing a training course on the use of alternative energy to help rural communities create conditions for sustainable living in Namibia. The project is possible through NaDEET, an NGO funded from the Small Grants Programme of the Global Environment Facility.
June 2010: The Ministry of Mines and Energy is promoting and encouraging communities to make use of solar stoves and cookers to save firewood, electricity and other fuels. Speaking recently in Windhoek, Selma-Penna Utonih, Director of Energy in the Ministry of Mines, commended the Dr. Frans Aupa Indongo Primary School for its efforts working with students and their parents distributing solar cookers.
January 2009: Miriam Kashia reports that 60 recent Peace Corps volunteers were provided with solar cookers manufactured in Namibia. They each took these to their villages for use there. More information.
August 2006: A solar cooker project in Ongwediva won an "Inspiration Lives in Africa" award from Namibia's Standard Bank in April. Ongwediva's Solar Stove Project, now in its eighth year, introduces solar cooking to women to combat deforestation and to provide employment opportunities like solar bakeries and catering. The award, worth 50,000 Namibian dollars, will be used to increase marketing activities.
History
[
]
Workshops by Harald Schutt
At a meeting in Varese, Italy, in 1999, Harald Schutt, a solar cooking advocate, described his work of constructing and disseminating solar stoves in Namibia over a period of eight years in the 1990s. Mr. Schutt was first introduced to solar cooking in a workshop in Germany given by representatives of the ULOG group. Following that, he worked in Namibia, initially in a refugee camp and later in settled communities, teaching Namibians how to build wooden box cookers and how to use the devices. Female carpentry-trainers were taught the techniques of making the oven, and considerable experimentation was done to keep costs low while still producing quality devices.
After his work in Namibia concluded, Mr. Schutt's synthesized what he learned into the following elements of a successful solar cooking project:
Use a solar stove yourself before introducing the technology to others
Use schools as teaching sites
Create social clubs around solar cooking
Train builders to create high-quality stoves
Launch publicity campaigns to raise awareness, including demonstrations at sports events, supermarkets, clinics, and schools (Varese, p. 215)
Archived articles
Climate and culture
[
]
See also
[
]
Resources
[
]
Possible funders
[
]
Handbooks
[
]
Reports
[
]
Project evaluations
[
]
Articles in the media
[
]
Contacts
[
]
The entities listed below are either based in Namibia, or have established solar cooking projects there:
SCI Associates
[
]
NGOs
[
]
Manufacturers and vendors
[
]
Individuals
[
]
Government agencies
[
]
Educational institutions
[
]
See also
[
]
References
[
]