Last edited:
9 October 2013
The article below is about a solar cooking promoter who is now deceased. This information is maintained here as a tribute to the important work done by Nancy Crooks.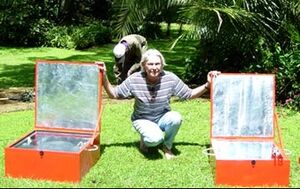 Nancy Crooks passed away in September, 2009. The Nancy Ellen Crooks Foundation has been started in her memory by family and friends to carry on the work she was devoted to. Providing educational opportunities, and promoting solar cooking for the women and children of Kenya, where she had spent much of her adult life.
Solar Cookers International tribute to Nancy Crooks
News archive
Edit
March 2008: Louise Meyer reports on a group of internally displaced persons that are students at the Culinary Institute of Africa. As part of their curriculum they are learning how to solar cook. Meyer sent photographs of several students taking "Masters of Solar Cooking" classes at the Institute's school in Juba, Sudan. Based in Lokichoggio, Kenya, the non-profit Culinary Institute of Africa is a community service division of the AFEX Group, which provides a number of management and catering services to camps throughout Kenya, Sudan, and elsewhere. The Institute began in 2004 when Terry Light, chief operating officer of AFEX, asked Nancy Crooks to train local Turkana with skills that could gain them employment at various camps and other institutions in the region. With technical assistance from Solar Cookers International (SCI), Crooks was able to incorporate solar cooker use and construction into the curriculum. The Institute offers an accredited, professional culinary education leading to a diploma in food production. SCI also provided training services and helped Crooks secure funding from the Lift Up Africa organization for a solar cooker project to teach Turkana women how to make and use solar cookers, heat-retention devices, and Water Pasteurization Indicators (WAPIs), as well as start a small solar cooker shop.
External links
Edit
Community content is available under
CC-BY-SA
unless otherwise noted.