Last edited:
31 December 2017
This article is about an entity that either no longer exists or that may no longer be active in solar cooking promotion. It is retained here for archival purposes.


The Nancy Ellen Crooks Foundation was started in 2009 by friends and family who admired the impact on the world by the late Nancy Crooks, a great lady full of energy and compassion. Nancy lived by the old adage, "If life hands you lemons, make lemonade". She was able to make the most out of every situation, however challenging, and made a difference in people lives, too many lives to count. Decades of living in Kenya exposed Nancy to the unique variety of hardships and shortfalls of basic human existence on the African continent. She embarked on a personal mission to alleviate pain and suffering and, through education, to improve the lives of those less fortunate than herself. The Nancy Ellen Crooks Foundation seeks to perpetuate her good works and expand the scope of her positive impact on the lives of women and children in impoverished areas.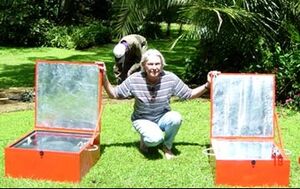 Although our foundation has identified many viable endeavors that will improve the lives of women and children in Africa, our initial focus is to support the two areas of concern that were most dear to Nancy Crooks - education and solar cooking. Providing one committed woman with the training and means to cook solar can be literally life-changing for her whole family - on average 8-10 people directly benefit from helping one woman. A larger project like bringing commercial solar cooking to a school that feeds hundreds of poor children or provides meals for a medical center is immeasurably important for community health. All solar cooking projects help improve health and financial security while reducing deforestation, environmental degradation, and desertification.
At present, we maintain a presence in both the United States and Kenya. In the United States, our foundation is a sponsored project of Lift Up Africa, a registered USA-based 501(c)(3) non-profit organization. In Kenya, we are finalizing all of the required documents to become a registered non-profit NGO (Non Governmental Organization) - approval should be granted shortly.
Above text from http://nancyellencrooksfoundation.org
Working together, solar cooking frees up time for women and children, providing more time for education.
Twitter feed
[
]
See also
[
]