November 2014: Sun and Ice reports that it has helped with the manufacture of 500 parabolic solar cookers in Nepal in 2014. They provided the reflector panels, and the support frameworks were built on-site in Nepal. The solar cookers are used by families on the outskirts of Pokhara, the second largest city in Nepal.
November 2013: PRINCE solar cookers packed for Solar Trek 2013 - The PRINCE - 15 and the PRINCE - 40 models of parabolic solar cookers, designed by Ajay Chandak, were taken along to prepare meals on the first ever Solar Trek through the Himalayas in Nepal.
October 2013: The Vajra Foundation Nepal reports that recently approximately one third of the Bhutanese refugees have left the camps and found new homes in the USA, Australia, New Zealand, and the European Union. They have left their solar cookers behind, thus freeing these up to be made available to the Nepali families who live around the camps. Devi Maya Kadariya, a resident of the village of Garamani, reports that she and her neighbors had seen the profile of the solar cookers in the distance and they knew that the refugees were able to cook with the sun. She now considers herself lucky to have a solar cooker for herself. She says she saves a lot of wood and especially saves the time that she used to spend gathering wood, and she feels that her life is better now.
August 2013: Partnering in Nepal to promote integrated cooking Solar Cookers International began a partnership with the Foundation for Sustainable Technologies (FoST), in Nepal in August 2013. Like SURE and FOTO, FoST benefits stressed families living in environments that are deforested. The FoST program empowers single mothers, and children in orphanages, in Kathmandu and Lalitpur with skills to make and use solar cookers, dry foods with solar cookers, retained-heat cooking, and the manufacture of fuels briquettes from biomass wastes to use when the sun isn't shining.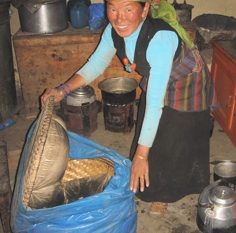 February 2013: Twenty years of Solar and Green Cooking in Nepal - Allart Ligtenberg, founder of the Friendly Appropriate Solar Technologies (FAST) volunteer network, reflects on the progress made with promoting different aspects of integrated cooking throughout Nepal. A further integrated approach of "Green" solutions offered complete health, energy, environment-friendly solutions by adding solar space heating, photovoltaic panels, efficient LED lighting, composting toilets, and biomass briquettes from waste for fuel. After joining the Rotary Club of Los Altos, California in 2002, Allart organized and participated in twenty-two Rotary Matching Grant programs in ten years (eighteen for Nepal, the others for Indonesia and Afghanistan).
February 2013: The Center for Rural Technology, Nepal (CRT/N) recently exhibited a parabolic solar cooker and other renewable technologies at the "Green Solution Fair", organized by ICIMOD, at Knowledge Park, Godavari, Lalitpur in December 2012. . The objective of the fair was to demonstrate various green technologies and raise awareness among students, researchers, and the general public. CRT/N demonstrated the parabolic cooker by boiling eggs and potatoes, which was found fascinating by the attendees. Similarly, CRT/N also participated in the two-day exhibition at Energy Week, organized by the Alternative Energy Promotion Center (AEPC), to demonstrate the parabolic solar cooker again, along with a number of other renewable technologies. The solar cooker drew the attention of most of the visitors.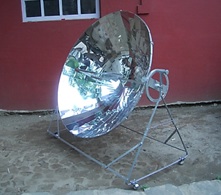 February 2013: the government of Nepal, working through the Alternative Energy Promotion Center (AEPC), has supported the promotion of about 600 solar cookers, mostly the SK-14 parabolic cookers, and has offered incentives to help with purchasing them. The Center for Rural Technology (CRT/N) in collaboration with its sister concern, manufacturing company Gramin Urha Tatha Prabidhi Sewa Kendra (RETSC), have taken a lead role in this promotion and dissemination of cookers. With this assistance, they hope to able achieve the project goals. Similarly, AEPC/NRREP with the support from stakeholders is planning to disseminate a number of solar cookers, in the newly formed NRREP, over a five year period by conducting workshops, seminars, and demonstrations.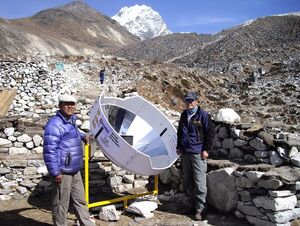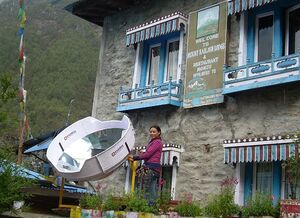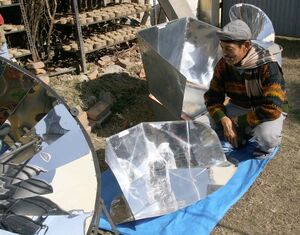 March 2008: The BBC's annual World Challenge competition honors individuals and organizations that make a difference through enterprise and innovation at a grassroots level. The top 12 projects were promoted on the television program BBC World and in Newsweek magazine, followed by a public voting period. Solar cooker promoter Sanu Kaji reports that his organization, Foundation for Sustainable Technologies (FoST), was a top three finalist, winning $10,000 for its Cooking Without Gas project. The project was selected over nearly 1,000 others. Kaji Shrestha is grateful for the votes and support from the solar cooking community. In a letter to Solar Cookers International, he wrote, "Part of the credit goes to you and your solar cooking network for lobbying, and untiring support in our efforts." Congratulations to Kaji Shrestha and FoST for this well-deserved honor!
December 2007: FoST of Nepal is one of the 3 finalists in the World Challenge 2007! As runner up FoST has won $10.000 in the global competition organized by BBC World, Shell and Newsweek.
July 2007: Foundation for Sustainable Technology (FoST) celebrated its fifth anniversary in April. FoST designs, develops and disseminates low-cost, adaptable products that improve the quality of life of Nepal's rural and urban poor. FoST is among 12 finalists, selected from a pool of nearly 950 applicants, for the "World Challenge 2007." The selected FOST project is called "Cooking without Gas" and is summarized on the World Challenge Web site as follows: "In 1995, Sanu Kaji Shrestha ran out of cooking gas. So too did nearly everyone else in Kathmandu, as a countrywide shortage set in. Demand was so great Sanu had to take three days off work to queue up for more fuel. This first-hand experience of his country's dependence on external energy supplies set Sanu thinking. He began to look into sustainable energy technologies for the domestic market, researching existing designs and adapting them for the Nepalese market. In 2001 he retired from his day job to concentrate on bringing low-cost, high-efficiency energy technologies to Nepal's rural and urban poor. Measures developed to date include simple yet ingenious solar cookers and briquette presses to make smokeless fuel from waste materials." The World Challenge competition honors individuals and organizations that make a difference through enterprise and innovation at a grassroots level. The finalists will be featured on BBC World television and in Newsweek magazine. The winner will receive a $20,000 prize. An excellent new documentary film by Gorp Productions showcases the work being done by FOST, with a focus on its efforts to promote smokeless briquette cook stoves and solar cookers.
April 2007: The government of Nepal has adopted a rural energy policy aimed at reducing rural poverty and protecting the environment. The government hopes to encourage local organizations, nongovernmental organizations and cooperatives to develop a variety of new energy sources such as micro hydro, wind and solar. According to solar cooking promoter Sanu Kaji Shrestha, the government has recently increased its subsidy for some parabolic-type solar cookers to 4000 rupees per unit, while there also is a 50% subsidy on some solar box cookers. However, he says it is difficult to fulfill the government's criteria for receiving subsidies. He estimates there are about 2500 solar cookers distributed in rural communities so far.
March 2006: Vajra Foundation Nepal (VFN), in partnership with United Nations High Commissioner for Refugees (UNHCR), will receive over $850,000 from Dutch Postcode Lottery to expand its solar cooker program to six additional Bhutanese refugee camps. VFN's first project, launched in 1998, has benefited over 2,000 families in Beldangi refugee camp. The expanded program will allow refugees to make nearly 7,500 solar cookers, to be used on a shared basis by over 14,000 families. Each family will also receive two cooking pots and a retained-heat cooker. Stichting Vluchteling and Vajra Foundation Holland helped procure funds.
Community content is available under
CC-BY-SA
unless otherwise noted.