Last edited:
5 August 2019
Events
[
]
NEW: 

15-17 September 2021: Climate Chance Summit Africa 2021 - Registration is open to attend the virtual 3rd edition of the Climate Chance Africa Summit. Three days of sessions on key themes and sectors of climate action hosted by non-state actors engaged in climate change in Africa. There is no charge for attendance, but registration is required
NEW: 

Friday, 17 September 2021 (10:30am CDT, 15:30 GMT): Homeschool program on solar cooking - The Syracuse-Turkey Creek Township Public Library, in Syracuse, Indiana, USA, offers online programs for homeschool students on Fridays at 10:30am. This program is described as learning to build and use a solar cooker. Read more...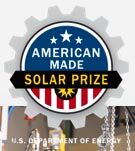 NEW: 

5 October 2021: American made solar competition - The U.S. Dept. of Energy is sponsoring a a multi-part competition to spur solar manufacturing, develop innovative solar solutions and products, and create domestic jobs and opportunities through public-private partnerships. The contest is open to U.S. residents, and the final phase is still open for submittals until 5 October 2021. Much of the attention has been with photovoltaic solutions, and this last phase is structured with two tracks that focus separately on hardware and software components. Solar cooking equipment should qualify as hardware solutions. Read more about the competition...
NEW: 

22-26 November 2021: 2nd National Congress for Solar Drying and Cooking Food - An affiliated group of universities in Mexico will host an online conference relating to solar food drying and cooking, as well as, food safety and energy savings realized with minimal environmental impact. Participants can register to view the presentations, or apply for presentation consideration. The conference will be in Spanish. Registration information... - (English version)
17-23 December 2021: Solar Cooking Awareness Week (Southern Hemisphere) - A loosely organized bid to acknowledge the fun and benefits of solar cooking. Show someone how to solar cook and share a meal.
24-26 January 2022: Fourth International Conference: Advances in Solar Thermal Food Processing - CONSOLFOOD Chairman, Celestino Ruivo, has announced an extended call for abstracts for the upcoming conference in January 2022, which is now planned to be an online event. Advances in solar cooking as well as solar food processing will be considered for inclusion. The event schedule and submission requirements are in CONSOLFOOD 2022 conference information.
See also: Global Calendar of Events and past events in Netherlands
News
[
]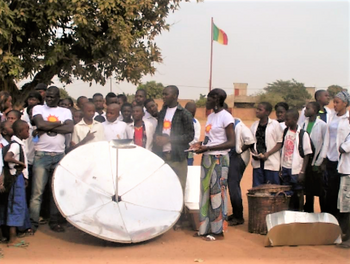 May 2017: Solar Cooking KoZon (SCK) stimulates ISC private enterprises - In 2014, Solar Cooking KoZon granted Togo Tilé, a Mali-based solar cooking business run by Seydou Coulibaly, an initial subsidy of EUR 13,300. Two years later, it's a thriving business with 30 staff members, five points of sale nationwide and an average monthly business volume of EUR 9,000. The environment constitutes an important incentive: at sales demonstrations, at schools and universities, close attention is paid to the environmental aspects of solar cooking. For Seydou a contribution to the environment does not end with the sale of the product. Togo Tilé continues to support its customers for some time after the sale, to ensure that the products are truly integrated in daily cooking, to provide a lasting positive contribution to the environment. After extensive analysis of the business, Togo Tilé was selected by a government programme in Mali focused on stimulating private enterprise. A business expansion plan was established that included the construction of a bigger workshop and the acquisition of a saw and a welding machine. Expenses: close to EUR 47,000. Togo Tilé paid EUR 5,000, and the Mali government and Solar Cooking The Netherlands KoZon paid half each. Now Togo Tilé can meet the increasing demand for solar cooking appliances in Mali.
September 2016: In July 2016, Solar Cooking KoZon was given the opportunity to present themselves at a meeting in the Ministry of Economic Affairs (EZ) in The Hague, Netherlands. Read more...
June 2013: Solar Cooking The Netherlands - KoZon at a glance, read more in SCN Annual Report 2012
In Uganda the market increased and the sale of sustainable cooking appliances went up in Mbarara. A Solar Cooking distribution and training centre was started in Kampala in 2012.
In Ethiopia plans advanced for the construction of 20 Sustainable Energy Centres, within the framework of an important EU project coordinated by HOAREC/N . The recruitment and training of employees is well under way. During 2 working visits SCN provided advice on the centre's business approach. In the Awra Amba community, an Integrated Solar Cooking centre is under construction and the coordination, production and training employees were selected and trained. Soon the production and distribution will get started. Its business approach is fully in the line with the objectives of this very special community. In 2012, serious efforts were made to transfer SCN knowledge to East Africa. In march SCN recruited a staff member in collaboration with HOAREC/N. The ultimate objective is to create an ISC Knowledge and Service Centre in Addis Ababa that has advisory and training capability for East Africa countries.
July 2012: Fikirte Regassa Beyene is working as representative for Solar Cooking Foundation the Netherlands (SCN) on HOAREC/N's team for the Integrated Solar Cooking Project Officer in Addis Ababa. She has been assigned to the project for several months to oversee SCN's role as advising and providing technical assistance.
History
[
]
Archived articles
Climate and culture
[
]
Resources
[
]
Possible funders
[
]
Documents
[
]
Articles in the media
[
]
Contacts
[
]
The entities listed below are either based in Netherlands, or have established solar cooking projects there:
SCI Associates
[
]
NGOs
[
]
Manufacturers and vendors
[
]
Individuals
[
]
Government agencies
[
]
Educational institutions
[
]
See also
[
]
References
[
]