February 2012: The first National Project Steering Committee (NPSC) organised by HOAREC/N took place in Addis Ababa. The NPSC has the overall responsibility on quality control, development and - assurance related to the objectives of the European Union RET / EE project for Integrated Solar Cooking in Ethiopia in three areas. The target group is 10,000 households. Solar Cooking Foundation the Netherlands (SCN) is Associated Partner in this project and member of the NPSC.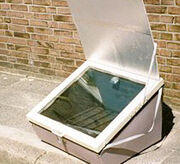 February 2012: The workgroup Solar Cookers Sliedrecht receives a yearly donation from a recycle shop in Sliedrecht in order to build and promote solar cookers. The group is still promoting the Dierkx type box cooker. They offer workshops to people who want to produce and introduce box cookers anywhere in the world. Initially, they help them to start the project by providing those who have attended the workshop with money and materials to build five box cookers. Whenever Solar Cookers Sliedrecht receive a positive response and when people seem to be willing to cook with the help of the sun, in the second phase they help them by providing money for building another 10 cookers. After that, they judge if the project can be continued autonomously. An important condition for the help given by the workgroup is that during the manufacturing of the box cooker and the use of it, there must be a possibility of daily e-mail contact. Questions will be answered within 24 hours.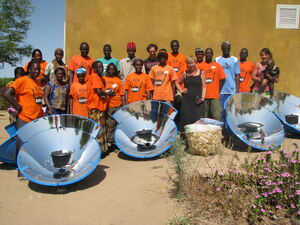 December 2011: Solar Cooking NV and Sol Suffit ship 630 solar cookers to Senegal - The project is a joint venture between Solar Cooking NV in the Netherlands, and Sol Suffit, a long time promoter of solar cooking in Senegal. The SolarCooker Eco3 cookers will be introduced in Dakar and in eight villages next to Djoudj National Park. Local volunteers participated in workshops, and will be training others in the surrounding villages. Trainees were also made familiar with the method of heat retention cooking. They found it quite easy to make good quality hay baskets with inexpensive baskets(locally made) and empty rice bags filled with dry hay.
November 2011: At the beginning of this year, Horn of Africa Regional Environment Centre and Network (HoA-REC/N) invited Clara Thomas and Henk Crietee to provide training in various locations in Northern and Southern Ethiopia. Representatives of participating NGO's, mainly women, learned about the Integrated Cooking Method, public promotion, and project planning, as well as how to create a small production enterprise. Mesfin Kinfu, from HoA-REC/N, accompanied Clara and Henk and acted as translator and co-trainer. In October Clara and Henk attended a workshop in Ethiopia at the start of the large renewable energy project. Their contribution was important and highly appreciated by the participants.
Febuary 2011:KoZon Foundation and Solar Cooking Foundation the Netherlands (SCN) wrote a manual ""How to use the CooKit, Heat-retention basket, Fuel saving stove and WAPI. You can view more info here.
October 2010: Solar Cooking Foundation the Netherlands (SCN) restructures and makes a change to business approach.
For over 6 years, SCN has supported solar cooking projects in East Africa, i.e. Eritrea, Ethiopia (PISDA), Somalia, and Uganda (SCA). Initially, SCN projects roughly adhered to the folowing scenario: Local NGO's submitted requests to SCN. Upon approval by the Board, SCN started the fundraising process. During all these years, Wild Ganzen added a financial support of 70% gross to all donations obtained by SCN.
The woman in the projects buy CooKits, wood-saving cooking appliances, and hay baskets at subsidised prices. At the monthly cooking meetings, led by locally chosen female instructors, women learn the "new cooking methods". The NGOs handle public promotion so that support is increased in the various regions.
Even though the NGOs were enthusiastic about the results of solar cooking as a solution to the consequences of deforestation, SCN gradually recognized that in no way did it produce a fully sustainable approach. Indeed, the NGO in the project country remains financial dependent. SCN faced the challenge of reaching a business approach together with its local partners. This must lead to a financial independent position. For SCN this means a change from a charitable, coordinating and counseling approach to an advisory, supporting role.
The solar cooking projects did already have quite a lot of experience with production, marketing, information and education, a sound basis for a business approach. This paved the way to integration into the local economy. Women's central position in all local economy activities grows steadily as well. This enables SCN to reduce its financial support over a period of 3 to 5 years! SCN's support for all new projects focuses on a business cost-covering developement.
Solar cooking Foundation the Netherlands SCN is pleased that Prof. Dr. Herman Wijffels , Professor of Sustainability and Social Change has accepted ta act as our Foundation's patron. Some quotations:
"Development cooperation is in fact assisting people to increase their own standard of living"
"In the 21st century we face the chalange of using durable resources such as the sun, wind water and biomass to generate energy."

May 2010: KOZON and SCN had an enjoyable workshop in Kortenhoef. Members of the staff worked together to learn how to make a CooKit and a WAPI. The teachers were Jacomine and Jolien, who are responsible for the workshops each September and January for project-starters. As the sun was shining a solar box cooker and CooKit were both used to make a two different cakes (one with chocolate and one with olives and tomato). After the work was done the cake were ready, they were a real treat with the soft-drinks and wine.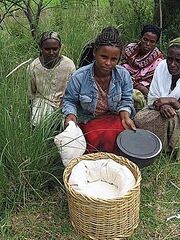 November 2009: Initial pioneering work by Ato Guillilat, executive director of Partnership for Integrated Sustainable Development Association, led in 2007 to a small-scale integrated solar cooking pilot project with Solar Cooking Foundation the Netherlands (SCN) in villages around Debre Zeit. According to SCN Chairwoman Clara Thomas, initial results were promising. In 2008, plans were developed for a regional production and promotion center for integrated solar cooking and water pasteurization. The center, which opened in March 2009, includes space for training, assembly, sales, and cooking demonstrations. In the pilot project, approximately 1,500 households across four villages have adopted integrated solar cooking methods, maximizing their cooking fuel savings by using solar CooKits whenever possible, fuel-efficient stoves (based on a design by GTZ) when necessary, and retained heat devices to continue cooking after food is removed from either heat source. Janny Poley, first secretary for environment and water for the Royal Netherlands Embassy in Addis Ababa, was impressed by the project and introduced it to Horn of Africa Regional Environmental Centre and Network (HOAREC/N) at Addis Ababa University. Under Poley's leadership, HOAREC/N held an integrated solar cooking workshop in March 2009 with participants from Ethiopia, Sudan, Kenya, Somaliland, Puntland, Djibouti and the Netherlands. Solar Cookers International's Margaret Owino was among the key speakers. With technical support from SCN and KoZon Foundation, HOAREC/N will plan and coordinate an ambitious 3-year program to spread integrated solar cooking and solar water pasteurization in the region. Clusters will be created to benefit three districts in Ethiopia and communities in Djibouti, Puntland, and Somaliland. Clusters for people with physical and visual challenges, as well as institutions, research and development agencies, and the health sector, will be formed. Ultimately, each cluster will have a production and promotion center, a project manager and a female master trainer. Field trainers will be selected by master trainers, who will teach them promotion, monitoring, and evaluation skills and help them lead monthly collective cooking meetings. Reported in the November 2009 Solar Cooker Review.
November 2008: It was reported in the November 2007 Solar Cookers Review that a retained-heat device could be fabricated from two (or more) empty plastic rice bags insulated between with wool or cotton and covered with a third insulated bag, making a container that will keep a pot of food at cooking temperatures long after it is removed from a heat source. Wietske Jongbloed of the Dutch charity KoZon Foundation reports that these work well, but over time the rice bags can develop tears and holes. One of her Niger colleagues, Moustapha Maman, suggests that replacing the outside rice bags with jute bags may add durability, and that millet chaff can be used as an alternative insulation. How did Maman find out about the millet chaff? He used to be a teacher in several villages in Niger. In a fairytale-like story, one day he came across a goose brooding on several eggs. A snake attacked and killed the goose (and the goose fatally injured the snake). Maman put the eggs in a basket filled with millet chaff in hopes that it would keep the eggs warm, which it did. Several days later, eight goslings hatched. Maman says that everyday when he came home from school the goslings recognized their "mother" and followed him.
Community content is available under
CC-BY-SA
unless otherwise noted.