Last edited:
19 March 2020
| | |
| --- | --- |
| | |
Events
[
]
NEW: 

15-17 September 2021: Climate Chance Summit Africa 2021 - Registration is open to attend the virtual 3rd edition of the Climate Chance Africa Summit. Three days of sessions on key themes and sectors of climate action hosted by non-state actors engaged in climate change in Africa. There is no charge for attendance, but registration is required
NEW: 

Friday, 17 September 2021 (10:30am CDT, 15:30 GMT): Homeschool program on solar cooking - The Syracuse-Turkey Creek Township Public Library, in Syracuse, Indiana, USA, offers online programs for homeschool students on Fridays at 10:30am. This program is described as learning to build and use a solar cooker. Read more...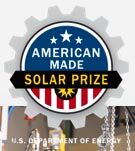 NEW: 

5 October 2021: American made solar competition - The U.S. Dept. of Energy is sponsoring a a multi-part competition to spur solar manufacturing, develop innovative solar solutions and products, and create domestic jobs and opportunities through public-private partnerships. The contest is open to U.S. residents, and the final phase is still open for submittals until 5 October 2021. Much of the attention has been with photovoltaic solutions, and this last phase is structured with two tracks that focus separately on hardware and software components. Solar cooking equipment should qualify as hardware solutions. Read more about the competition...
NEW: 

22-26 November 2021: 2nd National Congress for Solar Drying and Cooking Food - An affiliated group of universities in Mexico will host an online conference relating to solar food drying and cooking, as well as, food safety and energy savings realized with minimal environmental impact. Participants can register to view the presentations, or apply for presentation consideration. The conference will be in Spanish. Registration information... - (English version)
17-23 December 2021: Solar Cooking Awareness Week (Southern Hemisphere) - A loosely organized bid to acknowledge the fun and benefits of solar cooking. Show someone how to solar cook and share a meal.
24-26 January 2022: Fourth International Conference: Advances in Solar Thermal Food Processing - CONSOLFOOD Chairman, Celestino Ruivo, has announced an extended call for abstracts for the upcoming conference in January 2022, which is now planned to be an online event. Advances in solar cooking as well as solar food processing will be considered for inclusion. The event schedule and submission requirements are in CONSOLFOOD 2022 conference information.
See also: Global Calendar of Events and past events in Niger
News
[
]
May 2018: New food product wins prize - At the Fair SAHEL 2018 in Niamey Sahara Sahel Foods has won the prize of the Prime Minister with the innovation of Dania cookies. Those cookies are made from the nuts of the Dania tree (Sclerocarya birrea). It is another product made from the treasures of Nigers' bush.
April 2015: The social enterprise Sahara Sahel Foods (SSF) offers two models of solar cookers for sale: the Dierkx box cooker and the Blazing Tube cooker. SSF is based in Zinder, Niger.
October 2011: An NGO called Aridité Prospère trained new carpenters in building solar box cookers, this time based on the Dierkx model, with support from Solar Cooker Workgroup Sliedrecht NL. The carpenters were located in Zinder and Niamey. In collaboration with Tahoua Import, a workshop was organized in Niamey, training early adopters from the Niamey and Agadez regions in the use of Dierkx box cookers and CooKits. The cookers were further displayed and sold at the SAFEM international fair in December.
November 2008: It was reported in the November 2007 Solar Cookers Review that a retained-heat device could be fabricated from two (or more) empty plastic rice bags insulated with wool or cotton and covered with a third insulated bag, making a container that will keep a pot of food at cooking temperatures long after it is removed from a heat source. Wietske Jongbloed of the Dutch charity KoZon Foundation reports that these work well, but over time the rice bags can develop tears and holes. One of her Niger colleagues, Moustapha Maman, suggests that replacing the outside rice bags with jute bags may add durability, and that millet chaff can be used as an alternative insulation. How did Maman find out about the millet chaff? He used to be a teacher in several villages in Niger. In a fairytale-like story, one day he came across a goose brooding on several eggs. A snake attacked and killed the goose (and the goose fatally injured the snake). Maman put the eggs in a basket filled with millet chaff in hopes that it would keep the eggs warm, which it did. Several days later, eight goslings hatched. Maman says that every day when he came home from school the goslings recognized their "mother" and followed him.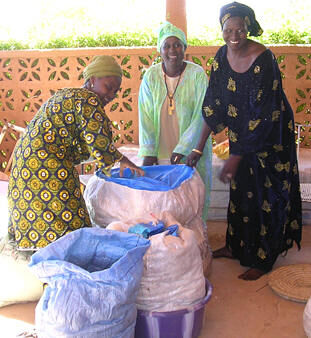 November 2007: At the 2006 International Solar Cookers Conference in Spain, Wietske Jongbloed of the KoZon Foundation learned a useful trick from David and Ruth Whitfield: a heat-retention cooker can be made from empty rice bags. The Whitfields advised that two large rice bags, with insulation such as wool or cotton in between, make a sack that will keep a pot of food at cooking temperatures long after it is removed from a heat source. KoZon introduced the idea in Tahoua, Niger, where cooking pots are typically very large — 12 to 16 liters. For these pots, four rice bags are needed to surround the pot, and a fifth bag stuffed with insulation covers the top. Of this five-bag system, Jongbloed says, "It is named 'Idadafoua' and works marvelously." Jongbloed writes that women in the Sahel cook meals for families of 10 to 12 or more people. The KoZon project in Tahoua teaches the use of three cooking devices — fuel-efficient wood stoves, heat-retention cookers, and solar CooKits. CooKits are used on sunny days for meat or fish sauces, eggs, sweet potatoes, and groundnuts, and for cakes that are sold by the slice to earn money.
November 2006: Solar Cooking The Netherlands - KoZon three and four the sun started to shine. Peanuts and sweet potatoes were cooked in solar CooKits and shared with five visiting directors of ministries. The directors praised the solar-cooked food, along with the dishes prepared with the other devices. Jongloed recalled, "They asked where the cooked peanuts were, which I thought were meant for the children, and just ate the peanuts up and praised the CooKit in which the peanuts were cooked and made speeches telling us that they would help in all ways if the women of Tahoua could all be taught to use these complimentary devices." On the final day, several banana cakes were baked in CooKits, as were a couple dozen eggs. After the 14 women gain more experience using the three complimentary devices, several of them will be chosen to lead future trainings. The goal is to train close to 200 women, and to provide them each with a CooKit. Affordable purchase plans for the fuel-efficient stoves and heat-retention cookers are being explored. Contact: [[Solar Cooking t
History
[
]
Niger's solar cooking experience started early, with the well-known professor Abdoul Moumouni. He was a pioneer in solar energy, constructing amongst other things concentrator based cookers. The country's second president, Seyni Kountché created a research center for him called ONERSOL (Office Nigérien de l'Énergie Solaire). Later, ONERSOL was restructured and renamed CNES, the (Centre National de l'Énergie Solaire).
A representative of the Department of Social Development, Population, Promotion of Women and Welfare of Children, Government of Niger, made a presentation at the conference in Varese in 1999. Outlining the situation in Niger, the Minister, Mme Foumakoye Nana Aicha, discussed the energy situation, highlighting the use of wood in 90% of all households and the serious consumption of forest resources that use represented, as well as the amount of carbon emissions released to the atmosphere. The nation has strived to both preserve its already fragile environment (around 1% forested land) and to reduce its dependence on imported fuels. A variety of renewable technologies has been proposed, including solar cooking. The National Solar Energy Center (CNES) conducted experiments with parabolic cookers and boxes, for large-scale dissemination (up to 40,000 cookers). The minister's speech illustrated a good understanding of the importance of the topic, in terms of global environmental circumstances (Varese, p. 57).
KoZon Foundation
Against that large vision for Niger, a smaller scale endeavor was launched by the KoZon Foundation, which has also worked in Burkina Faso and Mali. The inexpensive solar cooking device, the CooKit, was introduced in the Niger town of Kirkissoy, in connection with other local agencies in 2002. No further information is available on the progress of that work, which was only beginning.
Hasken Rana
In 2004, a local NGO named Hasken Rana trained a local carpenter in Zinder to manufacture solar box cookers similar to the ULOG model, and marketed these. They were based on a model used in a Bolivian project. The NGO closed after a few years.
Aridité Prospère
The NGO Aridité Prospère started selling Dierkx model solar box cookers in Niamey and Zinder in 2011.
Archived articles
Climate and culture
[
]
Solar Cookers International has rated Niger as the #15 country in the world in terms of solar cooking potential (See: The 25 countries with the most solar cooking potential). The estimated number of people in Niger with fuel scarcity in 2020 is 4,800,000. It is estimated that 90% of all households cook with wood.
Northern part of the country: Desert (Sahel). Southern part of the country: Sunny, little firewood, and populated.
A NASA study from 2007 concluded that the sunniest place on earth, oceans excluded, was near Agadem in eastern Niger.[1]
See also

Resources
[
]
Possible funders
[
]
Facebook groups
[
]
Reports
[
]
Articles in the media
[
]
External links
[
]
Contacts
[
]
The entities listed below are either based in Niger, or have established solar cooking projects there:
SCI Associates
[
]
NGOs
[
]
Manufacturers and vendors
[
]
Individuals
[
]
Government agencies
[
]
Educational institutions
[
]
See also
[
]
References
[
]