This article is about an entity that either no longer exists or that may no longer be active in solar cooking promotion. It is retained here for archival purposes.


Last edited:
18 November 2009
Non-Conventional Energy Development Corporation of Andhra Pradesh Ltd., (NEDCAP) formerly known as Agro Pumpsets & Implements Ltd., (APIL) is the Nodal Agency implementing non-conventional energy programmes sponsored by both the State and Central Governments. The corporation was incorporated on 21.10.1969 and was renamed as NEDCAP on 10-5-1986.
NEDCAP's objectives are
To survey, develop and implement renewable energy programmes of the State and Central Government.
To generate electricity through renewable sources like wind and solar on decentralised manner.
To conserve energy in rural areas.
To import and adopt viable technology and machinery in the areas of Non-Conventional energy sources and ensure post installation service.
To impart training and to promote research and development in the field of Non-conventional energy sources.
To provide technical consultancy services in implementation of power projects through renewable energy sources.
[Text for this topic was taken from http://www.aponline.gov.in/apportal/departments/departments.asp?dep=05&org=58.]
News and recent developments
Edit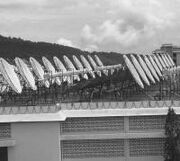 March 2006: Representatives from hotels and educational institutions gathered recently in Tirupati, Andhra Pradesh, to learn about solar concentrating systems for steam generation that can cook thousands of meals daily. Representatives from other industries that could benefit from solar steam generation also attended. The meeting was organized by the Non-Conventional Energy Development Corporation of Andhra Pradesh (NEDCAP) and sponsored by the Ministry of Non-Conventional Energy Sources (MNES). Mr. Deepak Gadhia, Managing Director of Gadhia Solar, detailed how solar concentrating systems work and mentioned several industrial uses in addition to cooking: incineration, waste water evaporation, solar desalination, solar air conditioning and solar space heating, to name a few. Two testimonials were provided. First, Mr. Malliah, Vice President of Sanghi Employee Welfare Association, told of how he attended a lecture by Mr. Gadhia a few years earlier and was convinced that his organization needed to install such a system, given that they are always looking at ways to reduce costs, improve efficiencies and protect the environment. Their system, which cost about $12,500 after a 50% government subsidy, is working well. Costs were recouped within two years. Next, Mr. Kachwaha told of a system that was installed in a silk processing plant. Not only did this system reduce energy costs, but it also reduced noise and air pollution within the plant, resulting in a better work environment and greater productivity. The system has since been repurposed from solar steam generation to solar water heating, with a daily capacity of 1600 liters. After the gathering, participants toured the world's largest solar steam cooking system at Tirumala Tirupati Devasthanam. The system is comprised of 106 rooftop-mounted parabolic concentrators that generate steam for cooking up to 30,000 meals daily. The gathering was covered in a number of newspapers and appeared on television news stations. Contact: Jagadeeswara Reddy
Corporation of Andhra Pradesh (NEDCAP)
5-8-207/2, Pisgah Complex, Namapalli
Hyderabad - 500001
Andhra Pradesh
India
Tel : (+91) 040-23202391, (+91) 23203692 , (+91) 23203376
Fax : (+91) 040-23201666
Email: nedcap@ap.nic.in
Community content is available under
CC-BY-SA
unless otherwise noted.