Last edited:
5 August 2019
| | |
| --- | --- |
| | One Earth Design vil revolusjonere energibransjen. |
Events
International conferences
NEW: 

2-13 December, 2019 (Madrid, Spain): COP25 - The United Nations Framework Convention on Climate Change (UNFCCC) is hosting the twenty-fifth session of the Conference of the Parties (COP25) has been scheduled to take place in Feria de Madrid in Madrid, Spain from 2-13 December, 2019. More information...

22-24 January 2020 (Faro, Portugal): CON

SOL

FOOD

2020

- To be held at the Institute of Engineering, Universidade do Algarve, Campus da Penha. The conference will focus on solar thermal food processing. The deadline for receipt of abstracts was 15 June 2019. More information... 
See also: Global Calendar of Events and past events in Norway
News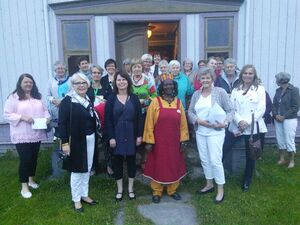 June 2015: On June 10, Faustine Odaba gave a presentation on solar and fireless cooking to a women's initiative in Ringsaker, Norway after being invited by several NGOs.
October 2014: Norwegian start-up tackles heat storage for solar cookers - Guro Seim, CEO of Morpho Solar, announced a breakthrough in the heat storage capabilities for solar cookers. They hope to have a production model ready within a year and a half. The breakthrough was recognized with a $8,000 USD award from the Norwegian Ministry of Petroleum and Energy this past August. The company will begin selling the cooker in Europe, and under an agreement with Cambridge, Mass.-based One Earth Designs in the United States. Read more...
September 2013: Climate and Clean Air Coalition High Level Assembly Announces Ambitious Agenda - Norway's Minister of Environment and Minister of International Development served as co-hosts of the Assembly and made a significant announcement early. "We want to see other countries act," said Bård Vegar Sohjell, Minister of Environment. "We want to enable those with the will, but not necessarily the resources, to act. Concrete efforts in developing countries are important. We are pleased to announce that Norway, in addition to strengthening our efforts at national level for this year and next year collectively, will contribute an additional 110 million Norwegian kroner (approximately 20 million US dollars) to reduce emissions of short lived climate pollutants, with a main focus on efforts in developing countries." While not directly solar cooking related, it is encouraging to see the level of commitment countries are making to address environmental pollutants. Read more..
June 2007: Every year all school children in Norway are invited to take part in a great science competition called årets nysgjerrigper (The curious parker of the year). There is one main prize, but also 5 different prizes focusing on various aspects of the project. One of these prizes is the energy prize. A group of 13 pupils from 11 to 12 years old received the energy prize of 5000 kroner (about 500 pounds) for their solar cooking project in May 2007. The pupils go to the local public school, Byremo barneskole, in the county of Vest-Agder in Norway. At the moment, they are working hard at translating the whole project report to English. When they are finished, the report will be published here.
History
Archived articles
Climate and culture
Resources
Possible funders
Reports
Articles in the media
External links
Contacts
SCI Associates
NGOs
Manufacturers and vendors
Individuals
Government agencies
Educational institutions
See also
Community content is available under
CC-BY-SA
unless otherwise noted.