Last edited:
31 December 2017
This article is about an entity that either no longer exists or that may no longer be active in solar cooking promotion. It is retained here for archival purposes.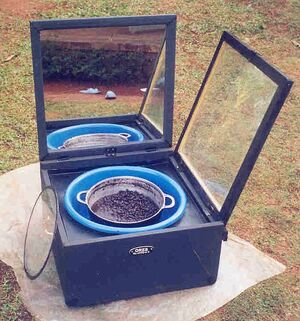 The Organisation for Rural Education Simplicity (ORES) is a charitable organisation for the promotion of basic education and child-centred development based in Cameroon. We are pleased to announce that after 12 months of research, we have succeeded to produce the ORES Free Energy Cooker, a solar oven which we think should meet the needs of many communities in Cameroon. Apart from what we know about the box cooker, it employs the pressure pot principle to cook food above ordinary boiling temperatures. When in operation one can actually hear the hissing noise of the pressure pot, though to a lower degree. This is certainly its unique feature which goes to improve on the cooking speed. The highest temperature attained is 130° C.(see its photograph at the bottom of this page)
Our cooker can cook enough food for five persons. It is well adapted for local meals. It is good for boiling, example dried beans as one can see in the photograph, dried corn, yams ,rice, plantains, achu coco, etc. It can bake bread and cakes. It is portable and durable. Market price for it is 75000 francs .CFA or about US$150. This price is also negotiable. Remember when you buy our cooker you support our work with the people you see in our website. The other photos at the top of the page reveal how we started the research. All along, we used locally available materials so that the cooker could be reliable, durable and affordable to ordinary people.
Energy for cooking in Cameroon, is becoming more and more out of reach with continual increases in petroleum products. Poverty level in my country, despite the odds, is growing at an alarming rate. What seem to be the first casualty is education. More and more kids, though enrolled, do not have the most basic requirements for school. It is our belief that the cooker could enable people save money which could help them acquire more school amenities. It is our dream to tie successfully the proceeds of using the solar cooker to better schooling. This research shows ample proof of the fact that us in Africa even with our meager resources can research into our problems and give appropriate solutions. It is our hope that the product would sell and thus generate badly needed funds for our charity organisation.
My gratitude goes to you people of SCI. There's no way this research could have attained this level without the knowledge I got from the Solar Cooking Archive. I pray that you continue with the good work.
Julius Shenga - Physics High School teacher and Secretary General of ORES
November 2007: The Organization for Rural Education Simplicity (ORES) has been carrying out solar cooker research for several months. After experimenting with parabolic cookers, which they found difficult to keep focused on the sun as it moves, they chose to develop a solar box cooker that can cook for five people. The box can be closed to keep water warm overnight. Glass and mirrors are the only cooker materials that are not produced locally. Production cost is about $150 per cooker. Although ORES is based in Bamenda, in the western part of Cameroon, ORES hopes to promote the cookers in northern Cameroon where the Sahara Desert is encroaching and where the sun shines nine months per year.
November 2012. This at last is the solar cooker that breaks the records. The ORES FREE ENERGY COOKER. Here is a request for sponsorship . Funds will go to enhance the research to make it attain undreamed of performance , reduce cost of production and market the product world wide.( A request for patent is underway. Here is the concept note:
CONCEPT NOTE
NAME: ORES FREE ENERGY COOKER
SPECIFICATION: WEIGHT 16 KG, DIMENSION: 49X28.5X49.5 cm
THEORY BASED ON THERMODYNAMICS PRINCIPLES.
MADE IN CAMEROON
ACCESSORIES: 3 beer corks,1 black hot plate,1 plastic dish 1 black dish, 1 transparent dish cover, 1 opener, 1 keeper, 1 padlock (not provided),1 Dunlop (not provided)
MATERIALS: locally constructed from glass, iron, aluminum, wood, plastic and glue.
PERFORMANCE:Can attain maximum temperature of 130deg centigrade when empty, 102 deg with water in it I.e. above water's boiling temp.
Can bake cakes/bread, (it takes about 45 minutes). Can cook rice, cocoyam, plantains and many others. Can cook beans and cook dry corn from 5 to 7 hours, can be used for canning. Can be a continuous supply of hot water. It can also be used as a flask.
It is portable and the energy is free. It can be used both in the rainy season and in the dry season. Production cost is about 25000frs or about 50$ but can go down to 8000frs or about 16 $ on mass production. It is easy to use, and as durable as the plastic vessel in it. With proper maintenance the equipment could go well over 10 years.
STATEMENT: WITH CAREFULLY CHOSEN MATERIALS and mass production, production cost could go as low as 5000 FRS or 10$.Performance will be enhanced, the cooker will be universally used and be as common as the ordinary pressure pot. It could fry and cook things as hard as bone with the free energy coming from the sun.
CALL FOR PROSPERTIVE SPONSOR AND /CO –PRODUCER (PATENT RESTRICTED)
Funds needed for the enhancement of the research, mass production, and marketing
Contact: JULIUS SHENGA TCHESHIE
SECRETARY GENERAL, Organisation for rural education simplicity (ORES) TEL (237)91245152 email jshenga@yahoo.com
This product could revotionalise solar cooking and cooking as a whole world wide.
JULIUS Shenga T. Secretary General ORES
Community content is available under
CC-BY-SA
unless otherwise noted.