Last edited:
28 June 2019
Organizing solar cooking events can be as simple as displaying solar cookers at a market, community, or government gathering, and hand out information about solar cookers at these events. Below are other ideas for making solar cooking known to more people.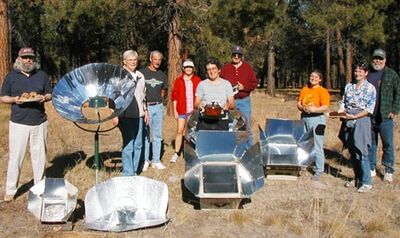 Contacting the Press

[

]
Let your local or regional press know about your solar cooking event. Press releases should be clearly and simply written, never forgetting the four W's: Who (who is sponsoring and who to contact for further information), What (details about what will take place), Where, and When. Also include a memorable quote and photographs.
Advertizing Your Event

[

]
Many newspapers and newsletters have community calendars that list community events, often at no charge. Many radio stations also announce community events at no charge. Include the four W's (as noted above) and also include the city, state, and possibly even the country: remember that people in your town may know where "Riverside Park" or "Upside Hall" is, but word of your event can travel beyond your own town and farther than you realize.
Facebook and other social media platforms, as well as traditional email, are other ways to network your event. You can generate a list of networkers and contacts by having people sign up at your events. Word of mouth is very important too. Talk to people about your event every chance you get. If you can make small handouts to give people when you talk to them that hit the highlights of your event (aim for six or eight highlights to a page), they will be more likely to remember to add your event to their calendar when they get home. And make sure you request that your event be added to our Calendar of events.
To help people find the global solar cooking community, include information about Solar Cookers International.
Types of Events

[

]
Solar Cooker Construction Workshops
[
]
Depending on where you live, many companies will help with some materials for solar cooker construction workshops if you are willing to let people know who helped with the materials by posting a sign, along the lines of "Sponsored by ... ".
Try asking a lumber yard if they will donate some wood or metal sheeting, etc. Explain that you are working to promote the use of their products to construct these solar cookers and will be having a demonstration event.
This author has personally asked for donations successfully, which helped with the costs of the supplies for an event.
Next, you can contact local groups such as 4-H or similar and ask if they would be interested in assisting with the event. Many of these groups will enjoy participating in something like this. If you have access to a copy machine you can offer printed certificates on participation in solar energy workshops to those who help. This is a great incentive, plus participants will learn about a skill that can help so many people.
In the USA there are school groups such as Future Farmers of America (FFA) that would enjoy participating in construction workshops, since they are learning that kind of thing anyway. Construction workshops can be solo or involved with other groups. Why not get a group to sponsor a solar cooker and send them to a country who needs them most, or to an area of your country that could use solar cookers? These are just a few ideas to consider.
Solar Cooking Demonstrations
[
]
One of the best ways to increase interest in solar cooking is to give people an opportunity to see foods cooking in solar cookers and then taste the food. If possible, it is ideal to showcase both homemade and commercial cookers, to give people an idea of some of the ranges of possibility.
Cornbread, whether homemade or from a mix, is another winner, since it does well in solar cookers, can be served in small sample portions, and most people like it. People like samples of sweets too, so consider one or more of the cakes, rice puddings, or other treats from Desserts, if you don't already have favorites of your own. For solar cooking demonstrations, it is best to use recipes or mixes that you have used before and are already familiar with.
It is important to pay good attention to sanitation when you are feeding samples to lots of people. If you won't have running water handy for frequent table-wiping and hand-washing, be sure to have antibacterial hand wipes and counter wipes available. The primary cause of food poisoning is from dirty hands handling the food. Be especially careful to wash hands (or use wipes) before and after handling raw meat, and never use utensils that were used on raw meat or poultry for anything else until they have been thoroughly washed.
Indoor Presentations About Solar Cooking
[
]
Clubs, churches, and organizations that have a humanitarian or environmental focus are good possibilities for indoor presentations. Is there a church in your community that is looking for a new humanitarian focus? Or a Rotary Club that is not yet involved in promoting solar cooking? Or some other service club that might want to follow Rotary's lead in promoting solar cooking to make a difference in the world? Perhaps an environmental group that has not yet focused on this wonderful technology? These are all good possibilities for arranging solar cooking presentations, but many of these presentations will be indoors.
Presenting solar cooking indoors is more challenging than presenting it outdoors in the sunshine. Set up some cookers anyway, even though they won't be working, so people can see what they look like. If possible, include both commercial and homemade models, so people can see some of the various means by which it is possible to cook with sunshine. Try to include one of the ultra-easy homemade cookers, such as an SPC or ROB or Windshield Shade Cooker, so your audience can see that solar cooking can be accomplished very simply. Since you can't show food actually cooking, try to include video or slides that show cookers working and show solar-cooked foods. If your presentation is slanted towards the humanitarian or environmental aspects of solar cooking, make sure your visuals also include some pictures of women in deforested areas carrying big bundles of wood and/or pictures illustrating indoor smoke from cooking. If at all possible, have some sort of solar food for people to sample, even if it is just small tastes of soup or small pieces of bread or cake. Make sure you have a handout telling people where they can go online to learn more. Try to find out what the standard of dress is for the organization's meetings and aim for the neat, clean middle. You want people to concentrate on your presentation, not on your too-casual or too-dressy outfit.
See also: Presentations
Solar Cooking Contests
[
]
Plays, Skits, or Other Performance Arts Incorporating Solar Cooking
[
]
The Integrated Solar Cooking video, Rays of Hope, includes some marvelous footage of singing and dancing to honor solar cooking.
Visual Displays About Solar Cooking
[
]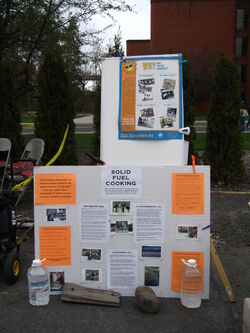 Visual displays can be great for piggybacking onto another event. For example, you might easily get permission to set up a small display concerning solar cooking in the lobby of a theater showing an environmental film or documentary. A small table (or even a TV tray) can hold a presentation board with posters, fact sheets, graphics, etc., and you can have brochures or other information for people arranged on the table to take.

Selling Solar Cooked Foods as a Fundraiser for Solar Cooking
[
]
Youth Projects
[
]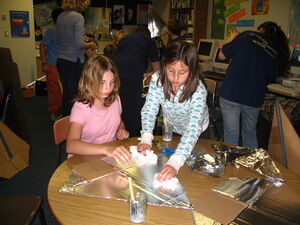 The EZ-3 Solar Cooker is an ideal design for youth projects, since it is relatively easy to make and works very well. SharonID's Solar Project Soup, from the Soup section of Recipes, was designed for youth projects with the EZ-3.
Youth projects can be fun and rewarding, and some of those young people will be doing things like volunteering for the Peace Corps or other service organizations in a few years. If solar cooking is already second nature to them, this will be a very good thing for the spread of this excellent technology. Young people are fascinated to learn that it is possible to cook foods with sunshine. They like gadgets, so if your demo materials include some digital thermometers, especially the kind where you just point it at the object from close by, this will further help to catch their interest and prove that these things are really getting hot. If the time period or setting does not allow for constructing cookers and you are just giving information and a general demonstration of the technology, the Windshield Shade Solar Cooker, which can crank out a plate of nachos or a quesadilla in 10 minutes, makes a big impression. If they will be viewing cookers in action, either request that they bring sunglasses or start a collection of inexpensive loaners (some businesses, after a certain length of time, will give away non-prescription sunglasses that pile up in their lost and found).
See Also
[
]