Last edited:
25 February 2014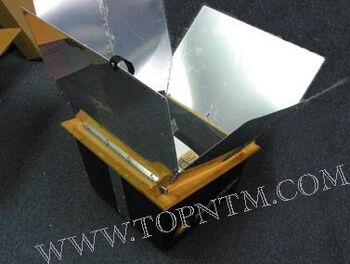 The PSO-10 is a box style solar cooker.
Specifications
Edit
Internal Dimensions: 14" x 14" x 12" to 8" tilt-down shelf.
External Dimensions: 19" by 19", an average depth of 11".
Reflector: Anodized aluminum (no oxidation, no rust, non-corrosive)
Shell Layer: ABS plastic
Internal shell: Aluminum (brush with non-toxic powder coating)
Tempered glass lid
Internal and external aluminum shell between the plastic shell: thick cotton and food-grade glass fiber insulation
The average temperature: 140 °C (284 °F) - 175 °C (347 °F)
Maximum temperature: 230 °C (446 °F)
Other components: Installation of an automatic leveling device for the interior shelf.
External links
Edit
Ms Cui
Sales Manager
Qingdao Qingdao Lingding New Energy Co., Ltd
NO.579 Qianwan road
Economic and development zone Qingdao, China
Tel: +86 (532) 86058388
Fax: +86 (532) 86058377

Email: info@lingdinggroup.com
Mobile:+86 13335077898
Skype:lingdinggroup.info
Msn:info@lingdinggroup.com
Trademanager:cn202584015

Community content is available under
CC-BY-SA
unless otherwise noted.