Solar Oven Lasagna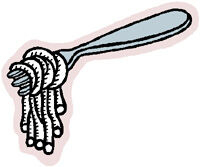 1 32-oz. jar spaghetti sauce
1 pound ricotta cheese
1 pound mozzarella cheese, shredded Parmesan cheese
8 oz. package of lasagna noodles
Spread 1 1/2 cups of sauce over bottom of dark roaster. Coat uncooked noodles with ricotta cheese and layer over the sauce. Add half of the mozzarella cheese. Repeat layers of sauce, noodles and cheese. Top with remaining sauce. Sprinkle Parmesan cheese over the top. Cover and bake for 3 hours. Optional: 1 pound of ground beef cooked in a separate dark pan may be added to the sauce before preparing the lasagna.
If ricotta cheese is unavailable, fat free cottage cheese can be substituted.
Rice
When cooking rice in a solar cooker, one uses less water than on a conventional stove since none of the water is lost during the cooking process.
2 cups Rice
3 cups water
Cooking white rice in unsalted water is common in South-East Asia and keeps the flavour of the rice. Take 2 cups of rice and wash it (if your rice needs washing. White rice sold in the USA and Europe should not be washed.) Heat 3 cups of water until small bubbles appear (approx. 90 degrees C). Put the washed rice into the water. Leave it in the solar cooker for 10-20 minutes. Take the pot out of the solar cooker and keep it warm, e.g. in an insulated box or covered with many blankets. Ready to serve after another 10 to 15 minutes.
The mentioned amounts are to be taken by volume, not weight. This means for example 2 cups of rice to 3 cups of water for about 6 persons. Or: 1 cup of rice to 1 1/2 cups of water to feed about 3 persons. Recipe works best in a box cooker; the rice could stick on the walls of the pot if a powerful parabolic cooker is used. It is useful to take a heavy pot instead of a light one because of the heat storage in the metal.
Cook brown rice using the same proportions. Just add the rice to the cold water. Heat until boiling in the solar cooker. If you want to use heat-retention cooking, keep the rice in the solar oven for 10-15 minutes before putting the pot into an insulated box. Otherwise keep the rice in the solar cooker until it is done.
(Thank you to Bernhard Müller)
Lentils & Rice
Soak lentils in water during the night
In the morning, cook in oil on a gas burner:
1 chopped onion
1/2 chopped bell pepper
2" chunk of salami cut into small pieces
1 clove garlic
2 chopped tomatoes
1 chopped carrot
In the hot skillet, add enough water to cook the lentils and bring to a boil. Put in a beef bouillon cube and pour into the pot with the lentils. Cover and place in solar oven.
(Thank you to Kay Tarble)