Last edited:
30 April 2017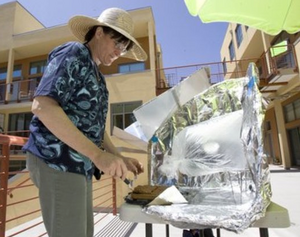 Pat Browne is a resident of Camarillo, California, USA. She began giving solar cooking demonstrations in 2008.
Pat has expressed interest in having solar cookers included into the California Health and Safety regulations so that large cooking entities can have conditional permitting routinely, and function with a cheaper, cleaner resource for cooking. She is also interested in cooker testing standards and the creation of a certification system for solar cookers to help educate consumers.
Pat Browne
437 Appletree Court
Camarillo, California 93012
USA
Email: Pat@wyvernheights.com
Community content is available under
CC-BY-SA
unless otherwise noted.