Jurassic World: Dominion Dominates Fandom Wikis - The Loop
Play Sound
Last edited:
26 April 2022
Patricia McArdle, a member of Solar Cookers International's Global Advisory Council, is an advocate of sustainable, renewable energy, and an international promoter of integrated solar thermal cooking technology. Her award-winning novel Farishta, inspired by the year she spent in northern Afghanistan was published by Penguin/Riverhead Books on June 2, 2011. Farishta won the Amazon Breakthrough Novel Award Grand Prize for General Fiction and the San Diego Book Award.  
McArdle served as the editor of the Solar Cooker Review, a board member with Solar Cookers International and Solar Household Energy. She continues to promote solar cooking on a volunteer basis by demonstrating, writing and speaking publicly about the benefits of this technology. In her lectures and demonstrations she explains that the widespread use of this simple technology will dramatically improve the lives of the hundreds of millions of women and children who travel miles from their villages to gather wood every week. Using solar cookers in combination with fuel efficient stoves and retained heat cookers (integrated cooking) will also dramatically reduce deforestation and CO2 emissions. Cooking and pasteurizing water with the sun can prevent millions of deaths each year from diseases caused by drinking contaminated water and by inhaling the smoke of cooking fires. McArdle has more than thirty years of international and public affairs experience.
Background
McArdle served as a Peace Corps volunteer health educator in Paraguay '72-'74. She joined the U.S. Navy in 1974 and attended Officers Candidate School in Newport, RI.  She then spent three years as one of only two female military officers at a remote Naval communications base in Morocco.  McArdle is a graduate of the University of New Mexico and has an MBA from Thunderbird School of International Management.  After 27 years as a U.S. diplomat, she left government service in 2006. Her last overseas assignment was as the Department of State's senior representative with a British Army Provincial Reconstruction Team in Northern Afghanistan.  It is there that she began her involvement with solar cookers.
Here in her own words is the story of her "solar cooker epiphany".
"I had heard of solar cookers before I went to Afghanistan, but I knew little about them or their incredible potential to save forests, reduce household air pollution and improve the lives of millions of women.
My solar cooker epiphany occurred on a cold but sunny March day while on patrol in the Hindu Kush with a NATO military observation team. During my travels around northern Afghanistan, I noticed that there were almost no trees and little ground-cover. Locals said the trees had been cut down for firewood or to make charcoal. As we drove one morning up a narrow trail to a remote village in the foothills of the Hindu Kush, we passed a group of young (five to seven year old) children leading donkeys down the trail.
After our meeting with the local leader, the soldiers and I were given a tour of the village. He showed us the one remaining "forest" in the area, a small grove of cedar and pine growing just above the village. It was guarded night and day to prevent the trees from being cut down for firewood. He explained to us that if his village lost their "forest," the next big rain would wash them away. I was also invited into one of the family compounds and introduced to a women who was cooking lunch over a smoky fire fueled with what looked like tumbleweed stacked in a huge pile next to the mud-walled hut.
At the end of the day, we drove down the mountain, and again passed the children, who were on their way home. They were struggling to carry enormous bundles of the same brush I had seen the woman cooking with. As we headed west into the glare of the setting sun, I suddenly remembered a solar cooker I had made out of a cardboard box when I was a Girl Scout many years ago. "Someone should tell these people about solar cookers," I thought.
That night, back at our fortified camp in Mazar-e Sharif, I trolled the Internet for information on solar cookers and found the Solar Cooking Archive, managed by Solar Cookers International. I spent the next few evenings learning about this remarkably simple technology. Eventually I downloaded several plans, and asked the British Army field kitchen staff for some old cardboard boxes, aluminum foil and flour to make paste. With the help of the soldiers, I constructed five different box- and panel-type solar cookers. I took them up to the roof of our compound and, over a period of several weeks, tested them and measured the results. The solar CooKit won the competition.
It was clear to me that there was a great potential in Afghanistan for the widespread distribution of solar cookers to:
Reduce the amount of time children spend foraging for fuel
Reduce erosion caused by a lack of ground cover (and the resulting flooding)
Cut down on the amount of smoke that women are exposed to while cooking
I hoped to return eventually to the village that had inspired me to learn about solar cookers, demonstrate the CooKit, and see how the people would react to this remarkable technology. Several months later, we went back.
It was another cool, sunny day. A small group of men standing in front of the governor's compound stared in silence as we arrived for our meeting. (Women are not allowed out in public unless the gathering is all female). Before going in to see the governor, I poured a bottle of water into a black pot, put the pot inside a transparent oven (turkey) bag, placed the bag in my homemade CooKit, turned the CooKit to face the sun and went inside with the soldiers.
When we came out of the meeting 90 minutes later, the pot was steaming and the crowd had swelled from 10 to about 40 men. They were scratching their beards, pointing at the CooKit and trying to figure out how this piece of cardboard covered with shiny paper was able to boil water. Where was the fire? It looked to them like magic even after I explained how it worked. The pot was clearly very hot, but the cardboard and aluminum foil were not. How could this be? They all insisted on coming up to touch the very hot pot and then the cool foil-covered cardboard to confirm what they were seeing.
One of the men exclaimed, "We could make our tea with this!" The others nodded enthusiastically. Another said he would be able to find cardboard, but "where," he asked, "do I get that shiny paper?" They all looked at me in silence, waiting for an answer. I wasn't certain how to reply, because I knew that aluminum foil was not sold anywhere but Kabul, which was more than 100 miles to the south over the Hindu Kush.
Another man smiled, reached into his back pocket and took out a pack of cigarettes. He pulled up the inner foil liner and shouted, "We could use this!" The other men nodded, and several more pulled out their own cigarette packs to examine the foil liners. A remarkable and almost instantaneous technology transfer had just taken place. Within five minutes, these men had figured out a use for solar cookers and they had discovered a way to manufacture them using a locally available resource. None of them suggested that their wives might be able to cook meals with this technology, but I was still very impressed with their positive and creative reaction to my very brief demonstration. If they only used the CooKit for heating tea water, they would still dramatically reduce biomass consumption in their village.
I began inquiring about solar cooker projects in Afghanistan and found that Kabul residents Gordon Magney and his wife, who had taught Afghan women to use several thousand SPORT solar box cookers, were two of the very few people in Afghanistan involved in the promotion of solar cookers. (I learned later that Sun Ovens International had, several years earlier, also distributed solar cookers in Afghanistan.) Magney gave me a detailed proposal for another solar cooker project. I tried to generate support for his project within our embassy and U.S. Agency for International Development (USAID) mission, but, sadly, was not successful. There have been a few other dedicated individuals including Grace Magney who have promoted solar cooking in Afghanistan. Grace assisted me with a report I prepared in 2008 titled Promoting Solar Cooking in Afghanistan. I also created a YouTube video on solar cooking in Afghanistan. Please see Afghanistan for additional information on solar cooking projects in that country. Another is Sabur Achtari founder of the Afghan Bedmoschk Solar Center.
I have told this story and given solar cooker presentations many times at the U.S. State Department, the Peace Corps, USAID and elsewhere since my return from Afghanistan. In 2007, colleagues from DC-based Solar Household Energy and I set up a demonstration with several types of solar cookers and prepared typical refugee dishes of dried beans and peas in the courtyard of the State Department's Bureau of Population, Refugees and Migration in 2008. PRM's assistant secretary Ellen Saubry ate a plate of our solar cooked food and stated in an AP video report that this was an important technology which should be used. We're still waiting for some support from the State Department and USAID.
The Partnership for Clean Indoor Air, a now closed branch of the U.S. government's Environmental Protection Agency, funded solar cooker projects in Mexico, Bolivia and Kenya. In 2009 I helped coordinate an issue of an EPA PCIA on-line bulletin that focused exclusively on solar cooking.
For several years, the Defense Department showed some interest in solar cooking, The The STAR-TIDES group at the National Defense University invited solar cooking reps to participate in their first week long outdoor TIDES expo in 2007. I organized the solar cooking demos during TIDES for the next six years. Until 2016, TIDES demos took place at the National Defense University and the Pentagon. Their annual expo is now held at George Mason University in Virginia.
DOD's SouthCom sent me twice to Honduras and once to Guyana to demonstrate solar cooking to military personnel, civil defense officials and university students, as part of annual disaster preparedness simulations.
U.S. military officers serving at Provintial Reconstruction Teams in Afghanistan have worked with local Afghan craftsmen to build and promote the use of solar cookers. As a former Naval Officer and the daughter of a career Marine officer, I am grateful for and very supportive of the interest shown by the U.S. military in this technology. I only wish I could convince my civilian government colleagues to show the same degree of enthusiasm for this zero emission, renewable energy technology. Every Peace Corps volunteer going to an energy-starved, sun drenched country should receive training in solar cooker technology. In 2021, I was asked to write the solar cooking section for the Peace Corps Improved Cookstove Handbook. In I remain hopeful that future administrations will give greater support to the spread of this simple, green, technology that uses earth's most abundant source of energy." --Pat McArdle
News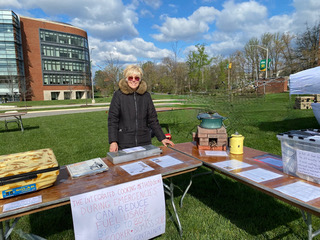 April 2022: Pat McArdle hosted an exhibit on solar/integrated cooking at the STAR-TIDES expo on the grounds of George Mason University in northern Virginia, USA in mid-April. The purpose of this civ/mil entity is to identify low-cost, sustainable solutions for supporting distressed populations damaged by disasters, war, or poverty and to share this knowledge openly with anyone, including military, government, non-government, and civilian agencies. She built a sixteen brick rocket stove and made a retained heat container using a plastic storage bin and some blankets. In spite of the windy weather, solar and other integrated cooking concepts were successfully presented. From 2013 to 2020 the U.S. Army sent Pat three times to Central America to teach solar cooking during military disaster exercises. She used the Cookit for all of those exercises since it was the lightest and most portable solar cooker at that time.
May 2021: Unique solar cooking techniques - Patricia McArdle organized the first Zoom discussion for members of the Solar Cookers world Network. Presenters discussed unique ways to solar cook. Some focused on foods, some on techniques and others on technology. Here's the link to today's discussion: Unique solar cooking techniques
August 2016: Patricia McArdle has drafted a detailed report covering the history and present state of refugee camp solar cooking programs. Read the report...
January 2012: Workshop on the construction of Scheffler Community Kitchens in Dhule, India: Read report.
June 9, 2011 Girl Scout profile on solar cooker promoter
October 2011: Patricia McArdle, of Solar Cookers International, demonstrated solar cooking with Afzal Syed and volunteers, Sherry and Cecily, at the TIDES exhibit on the campus of the National Dense University. Afzal brought several pots of raw ingredients for Pakistani dishes that were prepared by his wife Samina, including: masoor dall, spiced potatoes, okra, and chawal rice. Patricia baked a loaf of banana bread, which was consumed in less than five minutes. They used the parabolic SK10 (similar to the SK12), purchased from Deepak Gadhia several years ago, to keep a pot of water boiling from 9 a.m. in the morning until the event ended at 5 p.m. There were a number of senior military visitors from other countries. Several have expressed an interest in learning more about solar cooking technology and how it can be used in their countries. The most surprising visit yesterday was from a Vietnamese general, the most senior Vietnamese military officer to visit the U.S. since before the war with Vietnam started in the sixties. Several 'very important people' who came to the demonstration assumed that it would take us 10 to 12 hours to cook food in a panel or box cooker. They were astounded that the food was cooked in less than three hours--in October-- in

Washington D.C.

--which is 40 degrees north of the equator.
May 2010: Utah-based Adopt-a-Native Elder asked McArdle to join one of their food runs to the Navajo reservation to make a series of presentations on solar cooking. She discovered that in the winter when roads are closed by deep snow and propane runs out, many Navajos cut down trees for firewood. In the summer when it's too hot to cook indoors, it is common to light a wood fire outside for cooking. Sunshine is abundant and despite "no cutting down trees" warnings in the national parks, she saw hillsides that had been stripped of their trees and thousands of acres formerly covered with juniper and pinyon trees that are now barren desert. The Navajos who saw the solar cookers and ate her chili and corn bread were intrigued by these devices. Twenty volunteers took the different models home and agreed to keep a one month log of solar cooker use. A family of sheepherds took several Cookits, which are light enough to strap to their saddles for long trips into the mountains. Adopt-a-Native-Elder has already heard from one satisfied customer, a Navajo rug weaver, who slaughtered a sheep for a family event and roasted a chunk of the meat in his Sun Oven. McArdle met a group of Navajo students at White Horse High School in Montazuma Creek, Utah, who have constructed a fresnel lens solar cooker for making fry bread. They were finalists in the national Spirit of Innovation Award. Their science teacher Paul McCarl is hoping to manufacture more of these cookers that his students can demonstrate at local gatherings during the summer.
April 2010: For the second year in a row, Google has invited solar cooker promoters to host an Earth Day demo and display at Google headquarters in Mountain View, California.
Oct. 7, 2009 DOD expo at War College features solar cookers
October/November 2009: McArdle was invited by Tchad Solaire to join an international team that assessed the Tchad Solaire cooker project at a Darfur Refugee Camp in Touloum, Eastern Chad. During their three week trip they interviewed several hundred refugee women in their homes. Their findings and recommendations are included in a report for which McArdle was the principal drafter. It has been shared with UNHCR, USAID and the Department of State.
October 2009: McArdle hosts another week-long outdoor working demonstration of solar and retained heat cooking devices at the TIDES exhibit, National Defense University, Washington, D.C.
April 2009: Mark Aubin, the co-founder of Google Earth invites McArdle to organize a working solar cooker display at Google headquarters in Mountain View for Earth Day.
February 2009 Audio interview with Patricia McArdle
December 2008: McArdle traveled to New Delhi to make a presentation at the Women's Refugee Committion Fuel and Firewood Conference on the integrated solar cooking project at three Darfur Refugee Camps in Eastern Chad sponsored by Jewish World Watch. From there she traveled to Langtang National Park in Nepal to work with local World Wildlife Fund personal and conduct training sessions on the use of the solar Hot Pot in several remote villages. Thanks to funding from TIDES she was also able to attend the Solar Food Processing Conference in Indore, India in January 2009.
August 2008: McArdle showed the 24 members of Boy Scout troop 684 in Mt. Vernon, Va, how to make a Larry Winiarski-designed sixteen brick rocket stove, how to make a Cookit from a cardboard box and and how to make a hay basket using a black plastic garbage bag and crumpled newspaper. They baked cakes and roasted chicken and vegetables. They pasteurized water in the Cookit using the WAPI. The boys were enthusiastic learners and their Marine Corps dads were astounded at the simplicity of these powerful technologies. The boys will be demonstrating their new integrated cooking skills at the upcoming national scout jamboree.
August 2008: McArdle hosted the third of four all-day solar cooker demonstrations at the U.S. Botanic Gardens with Dave Chalker (who distributes the Tulsi Hybrid in the U.S.) They were given a primo location right in front of the entrance. Several thousand people walked by their exhibit (Chalker cooked chicken and McArdle baked six cakes). They were able to talk to several hundred people from countries all over the world.
October 2007: McArdle hosted a two-week working demonstration that featured a variety of solar cookers, fuel-efficient stoves and heat-retention devices during the Transportable Infrastructures for Development and Emergency Support (TIDES) exhibit at the National Defense University (NDU) in Washington, D.C. Several hundred military and civilian officials from area agencies visited the exhibit, which was held at Fort McNair. McArdle demonstrated the three types of solar cookers: panel, box, and concentrator. The exhibit included posters on solar cooker technology and displays of Dr. Bob Metcalf's Portable Microbiology Laboratory and SCI's Water Pasteurization Indicator (WAPI). She tested Anacostia River water and used an AquaPak™ to solar pasteurize the contaminated water. As often occurs at solar cooker exhibits, visitors had to burn their fingers on the steaming pots before they could believe what they were seeing! The weather was excellent, and food was solar cooked and served to visitors every day. On two partly cloudy days, fuel-efficient wood stoves and retained-heat devices were used to finish the cooking of chicken stew, rice, and beans begun in the solar cookers. The TIDES exhibit was repeated for two days in early November at the Pentagon. Cloudy weather unfortunately made it impossible to solar cook. At both exhibits, McArdle explained to visitors the principles of integrated solar cooking: use solar cookers whenever the sun is out, save precious fuel for nights and cloudy days when fuel-efficient stoves are the appropriate technology, and in either case use heat-retention devices to maintain cooking temperatures in pots that have been removed from their heat source. Under the overcast skies at the Pentagon, she was able to cook chicken tajine, lentil stew, and couscous with a fuel-efficient stove, a heat-retention device, and a few small twigs gathered on site. The TIDES exhibit is an effort by Dr.

Lin Wells

of the NDU to bring together a volunteer cadre of "experts" that can pool their knowledge of easily deployable energy efficient technologies that could be used in disaster and humanitarian situations.
September 12, 2007 Interview with USAID on solar cooking
Articles in the media
Audio and video
Videos produced by Patricia McArdle
Other audio and video
Audio interviews
July 6, 2011 Patricia McArdle was interviewed on the Kojo Nnambi Show by Rebecca Roberts to discuss her first book, Farishta, and her work bringing solar ovens to the rural poor in Afghanistan. Listen to the interview.
External links
See Also
Contact
Patricia McArdle can be contacted through an email form here: http://www.patriciamcardle.com