Jurassic World: Dominion Dominates Fandom Wikis - The Loop
Play Sound
Last edited:
25 April 2017
This article is about an entity that either no longer exists or that may no longer be active in solar cooking promotion. It is retained here for archival purposes.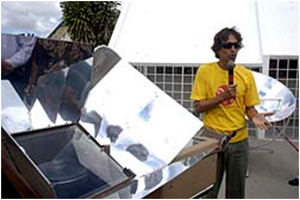 Paulo Araujo was featured in a national news broadcast on Globo TV in 2008 (which holds Brazil's largest audience) teaching solar cooking to people in the interior of his home state of Sergipein northeast Brazil. He was hired by the state government to introduce and show how to make and use cardboard box ovens. Paulo heads the Cozinha Escola Experimental Solar (currently not in operation), an experimental technology laboratory in Universidade Tiradentes in Aracaju, Sergipe. He has produced a DVD showing how to make and use solar box ovens, financed by the United Nations and intended for large distribution.
News
[
]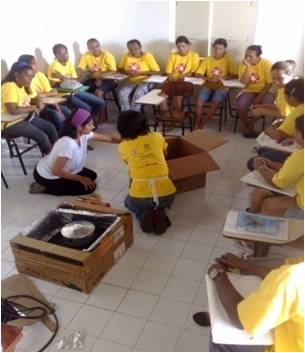 November 2012: An experimental solar cooking school has been established by the Energy and Materials Laboratory (LEM) at the Mechanical Engineering School of the Federal University of Sergipe in Brazil. The Project's Field research is being coordinated in a socially vulnerable community in Brazil by Dr. Paulo Mário Machado Araújo. The Energy and Material Laboratory was founded in 2001. It's situated in the Mechanical Engineering Department of the Federal University of Sergipe, and is coordinated by the professor Dr. Paulo Mário Machado Araújo. The laboratory works with applied research, focusing on social technologies and trying to improve the quality of life for people living in poor communities. One of LEM´s outstanding projects, the Experimental Solar Kitchen School, was innovational in creating a laboratory in a socially vulnerable community. There it was possible to experience the benefits of solar kitchens to guaranty nutrition, social inclusion, human health and environmental education, as well as the construction of solar ovens, and production of carbon credits. Another project developed at LEM is the SOLAGUA, which studies the disinfection of water using solar energy. A low cost water treatment pilot plant to be used in poor communities was studied, with results measured at 75 liters/day/m2 of water disinfected via solar energy. Other projects with solar energy that are being studied and tested include: dried fruits and vegetables; thermal treatment of concrete for accelerated curing; as well as the production of steam for the development of new solar kitchens or mechanical energy production. One of the most ambitious of LEM's recent projects is to try to make a solar restaurant at the university, to provide the 1,300 daily student meals. Another challenge is to improve the pilot plant for water disinfection via solar energy. LEM will also promote the development of techniques for the use of low cost materials in solar equipment. Fixed focus solar concentrators are being studied for application in solar kitchens. One objective in particular is to continue teaching how to build and use solar ovens made of cardboard boxes. Governmental institutions have supported some of LEM's projects, for instance, The Organization of the United Nations for Education, Science and Culture (UNESCO), The Foundation of Research Support and Innovation (FAPITEC), as well as the Secretary of Social Inclusion (SEIDES), the latter two in connection with the State of Sergipe.
August 2009 The CEES (Cozinha Escola Experimental Solar) was inaugurated for the purpose of working in poor communities to guarantee nutrition and provide education about basic food handling concerns, as well as the construction and use of solar ovens, and for scientific experiments with renewable energy to study the current efficiency of the CEES. The coordinator in chief of the project, Dr. Prof. Paulo Mário Machado Araújo is currently seeking partners that can ensure the continuation of the project.
July 2009: Jose Albano reports that a government-sponsored solar box cooker workshop conducted by Paulo Araujo was featured on a Globo TV national news broadcast.