Last edited:
23 October 2018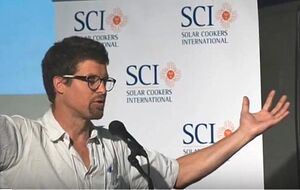 Pete Schwartz is an Associate Professor in the Physics Department at Cal Poly San Luis Obispo, California, USA. His involvement with solar cooking began in 2007, with particular interest in Scheffler Reflectors and other polar tracking heliostats. His hope is to empower people everywhere to build their own high performance solar concentrators.
He has helped organize a program at the university with the goal to build a simpler Scheffler system by laying up fiberglass parabolic reflector shells. Their tracking system employs tensioned strings that run vertically and horizontally accross the sun-gathering side. Additional study has been given to adding thermal storage to the system.
His research group published in an online library a design for a polar tracking concentrator: Redirecting Sunlight with Polar Tracking in Developing Countries and Elsewhere.
News
Audio and video
External links
See also
Contact
Pete Schwartz
1441 Iris St.
San Luis Obispo, California 93401
USA
Tel: +1 805-756-1220
Email: pschwart@calpoly.edu
Facebook: https://www.facebook.com/cpscheffler
YouTube: https://www.youtube.com/channel/UCq_ymV_bBqsqzUYUgPh6rPw