Last edited:
24 February 2021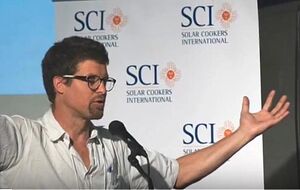 Pete Schwartz, Professor in the Physics Department at Cal Poly San Luis Obispo, California, USA.
In 2015, Pete Schwartz' students invented ISEC (Insulated Solar Electric Cooking), building the first prototype in three days before driving it to the Solar Cookers International conference in Sacramento, California to roast a chicken stew. Since then, they have continued to collaboratively develop and disseminate the technology, adding a USB charging port and Heat storage capacity with erythritol phase change material (PCM). Collaborations are often built through our appropriate technology classes and include a company that they started in Ghana in August 2019, funded by MECS. Read more at the ISEC research page.
Pete's involvement with solar cooking began in 2007, with particular interest in Scheffler Reflectors and other polar tracking heliostats, but changed to solar electric cooking after extrapolating the decrease in solar panel costs.
Insulated Solar Electric Cooking – Tomorrow's healthy affordable stoves? - T. Watkins, P. Arroyo, R. Perry, R. Wang, O. Arriaga, M. Fleming, C. O'Day, I. Stone, J. Sekerak, D. Mast, N. Hayes, P. Keller, P. Schwartz - Development Engineering 2 (2017) 47–52. See the associated video.
Hot Diodes!: Dirt Cheap Cooking and Electricity for the Global Poor? - Grace Gius, Matthew Walker, Andre Li, Nicholas Adams, R. Van Buskirk, P. Schwartz - Development Engineering, 4 (2019) 100044
Redirecting Sunlight with Polar Tracking in Developing Countries and Elsewhere (in an online library a design for a polar tracking concentrator)
Pete Schwartz
1441 Iris St.
San Luis Obispo, California 93401
USA
Tel: +1 805-756-1220
Email: pschwart@calpoly.edu
Facebook: https://www.facebook.com/cpscheffler
YouTube: https://www.youtube.com/channel/UCq_ymV_bBqsqzUYUgPh6rPw

Community content is available under
CC-BY-SA
unless otherwise noted.