Last edited:
19 February 2012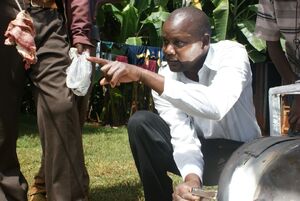 Peter Mwathi is an agricultural economist in Kenya, and also the inventor of a parabolic style solar concentrator, that he has made available for sale to local farmers. By focusing the sun's rays a few meters away, it is designed to be used as a way to sterilize soil in preparation for planting seedlings - a job usually done by burning wood on top of the earth. Farmers can also heat water or roast their produce, such as nuts or coffee beans. The system also incorporates a low voltage electronic sun tracker to efficiently maximize the solar energy.
He made a commitment at an early age to try to find a way to provide farmers an alternative using wood burning methods for preparing their soil. A current problem is that the solar concentrator costs approximately $250, around a third of the average income in Kenya. Although Mwathi allows farmers to buy in installment payments of $62 each, the cost is still a prohibitively large outlay for many. In the last seven months since Mwathi started producing the solar concentrators, just five farmers in and around Gichira village have bought one. Mwathi hopes to expand his project, and lower the costs, by training young people to make the solar devices. He has approached Kenya's Ministry of Youth Affairs to see if they will support the project.
News and recent developments
[
]
February 2012: Peter has also been developing an inexpensive solar water heating system, designed to provide warm water for domestic tasks. The water is stored below ground, and has stayed warm enough to use for as long as three days. It is not intended to be a water pasteurization system. He says a system costing Sh. 20,000 can heat water for up to 200 people, while another with measurements of 30 m. by 3 m. can heat water for 600 people. Read more...
Articles in the media
[
]
See also
[
]
Contact
[
]
Peter Mwathi
Kenya
Email: petermwathi@ymail.com