Last edited:
26 June 2018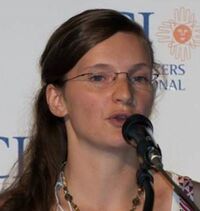 Pia Otte has a PhD in Political Science and a MPhil in Development Studies from the Norwegian University of Science and Technology (NTNU), located in Trondheim, Norway. The focus of her studies has been on the social adoption and the development effects of solar cookers (household/institutional) in the developing world. Within her studies Pia worked closely together with the NUFU Solar project. More information on this project can be found here: http://www.ntnu.no/ept/nufusolar.
November 2009: Published master thesis on solar cooking in Tanzania (VDM publisher) entitled "Cooking with the sun: An analysis of Solar Cooking in Tanzania, its adoption and impact on development"
The PhD research on solar cooking was financed by the NORGLOBAL program
Skype: argentana1505
Email: Pia.otte@bygdeforskning.no
Facebook: https://www.facebook.com/pia.otte.7
Community content is available under
CC-BY-SA
unless otherwise noted.