Jurassic World: Dominion Dominates Fandom Wikis - The Loop
Play Sound
Last edited:
11 March 2016
It's 2021 how can I buy a PML test kit.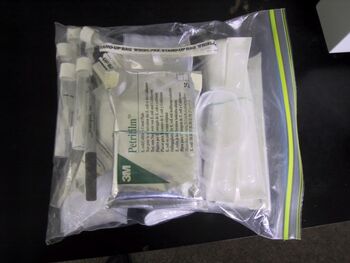 The Portable Microbiology Lab (PML) was designed with portability and ease of use in mind. Containing the best tests for E. coli that the water and food industries have to offer, each PML includes 25 water tests with sterile plastic pipettes, collecting bags and a portable UV light, all of which are carried in a gallon sized Ziplock bag.
Solar cookers and microbiology are two topics that Solar Cookers International (SCI) founding member Bob Metcalf has been passionate about for over two decades.
Using the principles and methods from food microbiology, which Metcalf teaches at California State University, Sacramento, he has developed the Portable Microbiology Laboratory (PML) for water testing and the Water Pasteurization Indicator (WAPI) to aid in the process of pasteurizing water with solar energy. Both these innovations have been incorporated into SCI's Kenya projects to improve public health.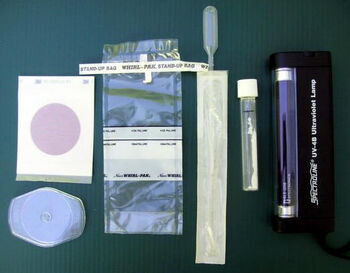 "By 1900, when it was understood that bacteria caused typhoid fever, cholera, and dysentery, it was recognized that it was not possible to test water for the presence of all potential disease-causing microbes," Metcalf explains. "It was determined that an indicator bacterium was needed, one that was always present in large numbers, didn't grow in the environment, survived as long as known bacterial pathogens, and was relatively easy to detect. E. coli was thought to best serve as the indicator bacterium and it remains so today."
According to World Health Organization guidelines, if there are 1-10 E. coli cells per milliliter of water, there is a high risk of disease. With more than 10 cells per milliliter, the risk is very high. This is the situation with the shallow wells and open water sources that are located throughout Nyakach, an area that is served by the SCI Sunny Solutions project.
Metcalf's Portable Microbiology Laboratory (PML) and WAPI innovations are working to address the water problems in Nyakach by empowering the local population to identify contamination and teaching them a method for making water safe to drink.
Metcalf is also excited that the PML helps demystify microbiology. "In doing the test, one sees how an invisible E. coli cell develops into a visible blue colony of a billion cells overnight," he explains. "This helps people understand how a few typhoid bacteria could grow explosively in their intestines in a similar way."
A simple, easy to use method for making water safe to drink involves heating water in the solar-powered CooKit, along with the wax-based, reusable WAPI. Metcalf and his students have demonstrated that heating contaminated water to 65 °C (149 °F) pasteurizes water, making it safe to drink, which the WAPI is designed to verify.
"Unsafe water invariably occurs where there is a lack of wood for cooking, as in Nyakach," says Metcalf. "SCI's CooKit addresses two fundamental problems people in villages face every day: no wood for cooking and contaminated water. The world needs to know about SCI's package. So please spread the news."
A slideshow of Metcalf's water testing/pasteurization work is available on-line at http://www.imageevent.com/bobmetcalf.
News and Recent Developments
[
]
November 2007: Solar Cookers International (SCI) will undertake a two-year pilot project to increase water quality awareness and introduce the Portable Microbiology Laboratory and the Safe Water Project to communities in western Kenya. The effort will be led by SCI founder and board member Dr. Bob Metcalf, professor of Biological Sciences at California State University, Sacramento. (More information.)
Obtaining a Portable Microbiology Laboratory
[
]
Contact Dr. Bob Metcalf, who assembles Portable Microbiology Laboratories to send to individuals. His cost for the PML is $70, with $10 for shipping Priority Mail within the US. In addition to the 25 Colilert tubes, 25 Petrifilms, 25 pipettes, 25 Whirl Paks and a battery-operated UV light (for the Colilert tests), he also includes a CD with informational materials in pdf format, and a PowerPoint presentation on steps to conduct the microbiology tests, and how they have been used in Kenya with Solar Cookers International projects.
Handbooks
[
]
See also
[
]
External links
[
]
Contact
[
]
See Bob Metcalf.