| | |
| --- | --- |
| | Professor Celestino Ruivo organizes numerous solar cooking demonstrations and workshops each year. |
24-26 January 2022 (Faro): Fourth International Conference: Advances in Solar Thermal Food Processing - CONSOLFOOD Chairman, Celestino Ruivo, has announced the first call for abstracts for the upcoming conference in Portugal in January 2022. Advances in solar cooking as well as solar food processing will be considered for presentation. The deadline for abstract submissions is 15 July 2021. The event schedule and submission requirements are in CONSOLFOOD 2022 conference information.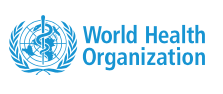 NEW: 

Webinar:

Wednesday, 16 June 2021, 14:30-16:00 CET, 12:30-14:00 GMT: Clean Cooking Data and Pathways to Achieving Progress - The World Health Organization sponsors this webinar on data tracking to assess global progress in the quest for sustainable, affordable energy. To also include a discussion on finding pathways to accelerating progress to clean cooking. More information & free registration...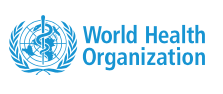 NEW: 

Webinar:

Wednesday, 30 June 2021, TBD: How Behavioral Science Can Help Increase Uptake and Sustained Use of Clean Energy in Developing Countries - The World Health Organization sponsors this webinar on finding behavioral change solutions, which is influenced by societal factors, individual biases, and mindsets. More information & free registration...

NEW: 

Webinar:

Sunday, 4 July 2021, 13:30 - 15:30 GMT: CONSOLFOOD - Baking bread in your solar cooker - Videos have been collected, and those selected will be compiled in a YouTube playlist for ease of presentation during the webinar. If you would like to attend this meeting please register by 2 July at the latest. Send an email to cruivo@uaig.pt mentioning your name, country, email address, and phone number. You will receive a link to access the platform by email.
23-30 June 2021, 17-23 December 2021: Solar Cooking Awareness Week - A loosely organized bid to acknowledge the fun and benefits of solar cooking. Show someone how to solar cook and share a meal.
See also: Global Calendar of Events and past events in Portugal
March 2018: Solar powered pizza oven with internal heat storage - At Tamera, a community in southern Portugal, there has been experimentation with large inflatable reflectors. Here, you can see six of them mounted on a frame. The whole device is an offset sun-tracking parabola. The reflector array rotates, and all of the reflected light falls on a stationary target. In this case, the target is a hole about 10 cm (4 in.) in diameter in the side of a very well insulated box. Inside the box there is room for four slabs of local black granite. These can be heated to over 600°C (1,112°F), but this is too hot for cooking, so instead, the team heats them to 400°C (734°F), and then cooks pizzas on them inside the box (takes about a minute) or they remove the slab and cook directly on it until it cools to around 200°C (367°F), after about half an hour, when it is then returned to the oven. The box is so well insulated, that a slab can be heated on one day, and used to cook breakfast on the next. All this gear is a bit cumbersome for a single household, but it shows that heat storage is possible in practice. The offset parabola was originally designed by Jurgen Kleinwachter, and taken up by Scheffler, who popularised it. Jurgen now works as the team mentor at Tamera. He is seen here demonstrating a set of musical pipes that are powered by sunlight. 
January 2016: The CONSOLFOOD 2016 conference took place in Faro. The papers that were presented are now available online.
October 2013: Celestino Ruivo, Doctor of the University of Coimbra 's academic and University of Algarve, Portugal, visited the Technical University Federico Santa Maria in Chile, invited by the Academic Department of Architecture, Pedro Serrano. Both belong to international solar cooking organizations. Dr. Ruvio has been developing new lightweight and portable solar cookers, and spent time with students to discuss innovation. Later they traveled to Villaseca to visit Delicias del Sol, the popular local solar restaurant.
February 2013: Solar cooking and processing workshops in India - Celestino Ruivo, of the Instituto Superior de Engenharia da Universidade do Algarve in Portugal, traveled to India at the end of January to attend the 1st International Solar Food Processing Network workshop at the Muni Seva Ashram in Goraj, Vadodara, Gujarat, India. He brought with him 50 kg. of solar cooking baggage: 8 black pots, 16 glasses of windows cloth washing machines, corrugated sheet metal, reflective foil and tools to make low cost and effective portable funnel cookers. Creatively, Celestino used his suitcase as the mold to construct examples of his solar funnel cooker in concrete. He also gave a lecture about solar cooking and how to construct a funnel cooker at the CT institute in Punjab for more than 300 students, as well teaching solar cooking for ladies in domestic context at Jalandhar. The eight funnel cookers were donated to friends in Hyderabad, Mumbai, Muni Seva Ashram, Vadodara, Jalandhar and New Delhi.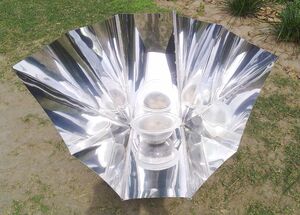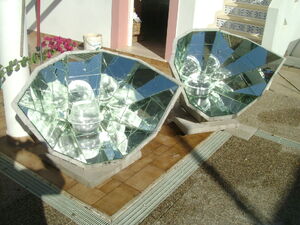 January 2013: The original funnel solar panel cooker was inspired by the CooKit. This efficient solar panel cooker was developed in 2007 using sheets of polypropylene. Recycled windows of clothes washing machines were used to create the greenhouse effect around the pot. A variation of the cooker made of concrete and common mirrors has been tested since 2009. Some of the main advantages of this solar cooker are: low cost reproduction in every part of the world using local available common materials, intuitive and practical use, water rain resistant and wind resistant and no risk for fire ignition. The useful heating capacity of this model was estimated around a value of 100 W. Read more at Experiences of solar cooking in Portugal during the last six years
August 2008: Since becoming "well contaminated with the virus of solar cooking" at the 2006 International Solar Cookers Conference in Spain, professor Celestino Rodrigues Ruivo has become an important advocate for solar cooking in Portugal and beyond. Ruivo credits Pedro Serrano, of Chile's Red Iberoamericana de Cocinas Solares (RECOSOL), and others for helping him overcome his initial skepticism. Ruivo learned to solar cook using a "CooKit" given to him by Solar Cookers International (SCI). He has since made and used several types of solar cookers, mostly "low cost apparatus using recycled materials." Over ninety percent of his meals are now cooked with solar energy. Ruivo started promoting solar cookers locally — at his home, in local schools and restaurants, etc. — and worked with local media. Then he broadened his scope to other regions of Portugal, and eventually to Brazil and Spain. He's even becoming known in Australia, where an interview with Ruivo (taped during a solar cooker workshop he conducted for about 70 Scouts) was broadcast on Australia's SBS television program "Dateline." Ruivo conducts numerous promotional activities. He has held several solar cooker conferences at the University of Algarve, with sessions on the evolution of solar cookers in Portugal, solar cooker distribution strategies, and solar cooker construction. He has also assisted with solar picnics and participated in solar cooking contests. According to Serrano, Ruivo has "developed an intensive process to diffuse the technology, [organizing] workshops, symposiums, courses, etc. — more than 20 activities in only one year." Though Ruivo admits to being somewhat tired, he says he will continue his efforts to "contaminate others with this solar cooking virus."
April 21-25, 2008: One class of eighth grade students from D. Paio Peres Correia Basic School, Tavira, Portugal will fly to Porto Novo, Cabo Verde, to facilitate solar cooking construction and use workshops. The workshops will be realized in Porto Novo's Technical School and in Social Centers of porto Novo, as part of a cooperation program, promoted by Centro Ciência Viva de Tavira, and will be part of the training of local students, teachers and social workers, to become solar cooking promoters. Source: Filipe Santos
June 18, 2007: O Concurso "Sabor Solar", decorreu dia 18 de Junho com muito sol e boa disposição no Chalé Dr. João Lúcio – Ecoteca de Olhão. Houve 26 participantes que nos surpreenderam pela originalidade dos fornos apresentados e criatividade na confecção das diversas receitas. O Júri atribuiu o primeiro prémio na Categoria A – até 15 anos – a Ana Betriz Ruivo, David Silva e Inês Soveral, que nos apresentaram um delicioso Bacalhau com Batatas à murro, confeccionado numa panela cheia de areia! O grupo da Escola E.B. 2,3 de Quarteira, recebeu uma menção honrosa. Na Categoria B – maiores de 15 anos – o Júri teve mais dificuldade em decidir, pois a diversidades de receitas era grande… O primeiro prémio foi atribuído a Sandro Bruno Giovagnoli, com o prato Couscous à Marinheiro. Foi ainda atribuída uma menção honrosa a Silvério Ventura. Esta foi uma iniciativa da Ecoteca de Olhão, que pretende estimular a utilização de fornos solares e proporcionar a partilha de saberes num ambiente de convívio, contribuindo desta forma para despertar o interesse da população pela Energia Solar. Source: Celestino Ruivo

March 2006: Armando Herculano reports that he leads solar cooking demonstrations and workshops for schools, nongovernmental organizations, and local agencies. He recently designed a panel-type solar cooker called Girassol ("sun flower"). Its pentagonal shape eliminates the need to reorient the cooker to track the sun's movement. With teacher friend António Serafim, Armando Herculano introduced the solar cooker to classes at National University of East Timor. This event was covered in local newspapers (Semanário 57 58; Timor Post) as well as on the 'TIMOR CONTACTO' portuguese international television (RTPi) program . Contact: Armando Herculano
Archived articles
June 2014: Um hotel de luxo em Vilamoura, no Algarve, decidiu demonstrar as potencialidades da energia solar na área da cozinha. No jardim do hotel, os turistas foram surpreendidos com uma caldeirada de peixe confecionada apenas com recurso à energia solar. Veja o video - TVI 24
The entities listed below are either based in Portugal, or have established solar cooking projects there:
Manufacturers and vendors
[
edit source
]
Educational institutions
[
edit source
]
Community content is available under
CC-BY-SA
unless otherwise noted.