Mediterranean Chicken Breasts

4 boneless, skinless chicken breasts
2/3 cup sun dried tomatoes, packed in oil
1 medium onion, sliced
3 cloves garlic, crushed
½ teaspoon dried basil
½ teaspoon dried oregano
1/3 cup kalmata olives
½ cup freshly grated Romano, parmesan, or asiago cheese or crumbled feta
Wash chicken breasts and put in bottom of solar pan. Spread the remaining ingredients (except cheese) on top of the breasts. Bake for an hour, add cheese, and finish cooking, until the pan juices come to a simmer. This creates a luscious broth, and must be served with crusty French bread for dipping into this delicious sauce.
Sample recipe from Heaven Sent Food
Spanish Chicken
1 chicken, skinned and cut in pieces
1/2 bell pepper
1 tomato, cut in 6 pieces
1 medium onion
2 gloves garlic
2 bay leaves
Ground pepper
5 to 6 chicken breasts, skinned
1 package Italian salad dressing mix
1 cup long grain white rice
2 cups water
1 tablespoon butter or margarine
Place chicken breasts in a roaster. Sprinkle package of Italian salad dressing mix over pieces of chicken. Cover. In another pot, place rice with water and butter or margarine. Cover. Place in solar oven at noon and remove at 5:00 p.m.
Chicken in the Pot
4 chicken breasts, halved and skinned
4 medium potatoes, quartered
2 large carrots, cut in 1-inch chunks
2 stalks celery, cut diagonally in 1-inch chunks
1 can Swanson's chicken broth
1/4 teaspoon pepper
pinch of basil
pinch of rosemary
Place chicken in a 3-quart pot or casserole. Arrange vegetables over the top. Sprinkle with seasonings. Add chicken broth. Cover and cook approximately 1 1/2 to 2 hours. Stir a couple of times while baking. You may substitute thighs for chicken breasts and add other seasonings.
Chicken Teriyaki
1 medium fryer, cut-up and skin removed
1/4 cup white wine
1 to 2 tablespoons sugar
2/3 cup soy sauce
1 clove chopped garlic
1/2 tablespoon ginger
Place chicken in a pot and add the remaining ingredients. Cover pan and bake 3 to 4 hours, turning chicken once or twice. Cook rice in another pan at the same time. In place of fryer pieces, you may use a half-chicken breast for each person to be served.
Soy Sauce Marinated Chicken
2 to 3 pounds chicken, cut-up into serving pieces and skinned
1/2 cup soy sauce or tamari
dash paprika
1/8 teaspoon garlic powder
3 teaspoons Tabasco, optional
1 1/2 teaspoons ginger, optional
Place all ingredients in a large bowl and add chicken pieces. Cover with foil and marinate in refrigerator overnight. Turn occasionally. Place chicken in dark casserole. Pour sauce over chicken. Cover and bake in solar oven about 2 hours. For additional flavor, add Tabasco and ginger.
No Peek Chicken
1 whole cut-up fryer or 4 chicken breasts
2 cans cream of mushroom soup
1 box Rice-a-Roni chicken mix
1 package onion soup
Preheat solar oven 30 to 45 minutes. Arrange chicken in a dark baking pan. Mix together the mushroom soup, Rice-a-Roni and onion soup. Pour the mixture over the chicken so it is completely covered. Cover and bake for 2 to 2 1/2 hours.
Barbequed Chicken
1/2 cup vinegar
2 tablespoons Worcestershire sauce
1 teaspoon dry mustard
1 teaspoon paprika
1 tablespoon sugar
1/2 cup catsup
1/2 teaspoon pepper
1 clove garlic, minced
cut-up chicken
Place chicken pieces in a dark pan. Combine ingredients and pour over the chicken pieces. Cover and bake in solar oven for 2 to 3 hours.
Chicken and Vegetables
Potatoes
Carrots
Onions
Turnips
Green beans
Any fresh vegetables
Chicken pieces
Salt
Pepper
Place cut-up vegetables in bottom of dark casserole. Rub chicken pieces with salt and pepper. Place chicken pieces, (fat side up) on top of vegetables. Bake about 2 to 2 1/2 hours.
Roast Turkey with Bread Stuffing
1 turkey, 8 to 10 pounds
14 cups bread cubes
2 eggs, slightly beaten
1/4 cup minced parsley
1 cup chopped onions
1 1/2 cups chopped celery
3/4 cup butter or margarine
1 cup slivered almonds (optional)
1 1/2 teaspoons salt
1/4 teaspoon pepper
Sautee onions and celery in butter. Add remaining ingredients. Mix well. Stuff turkey and place in black roasting pan; cover. Bake in solar oven for 6 to 8 hours (on a clear, sunny day). Bird is done when interior temperature reaches 180°F on meat thermometer.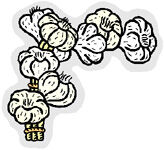 Chicken a La Melanie
1 cup brown rice
3 chicken breast halves, boned
1 to 2 cups cheddar cheese, grated
1 1/2 to 2 cups mushrooms, sliced
1 can of cream of mushroom soup, undiluted
Paprika
Garlic powder
Salt
Parmesan cheese
Place brown rice in bottom of dark roaster. Add chicken breasts. Layer with grated cheese, then mushrooms and pour soup over top. Sprinkle with remaining ingredients. Cover. Bake for 3 hours or longer.
Easy Solar Sweet & Sour Chicken
1 15-oz. can sweet and sour sauce
1 8-oz. can pineapple chunks or tidbits, drained
1 chicken breast or 2 chicken legs
If using chicken breasts, cut them in half and remove skin. Cut into small chunks. Place in dark pan. Add sauce and pineapple. Cover and bake for 2 to 3 hours. Serve over brown or white rice.
Roast Duckling
Duckling
Sweet-sour, orange or cranberry sauce
Onion or apple
Refer to a cookbook for the preparation of duckling. Rinse duck, put an onion or apple into the unstuffed body cavity, and then tie the legs together. Using a sharp fork, puncture skin 1/4-inch deep all over so the body fat will drip out. Place on a trivet as high as possible above the bottom of the roasting pan. Cover and cook all afternoon or for approximately 2 1/2 hours until internal temperature reaches 160°F-170°F.
Turkey Legs
Turkey legs
Sherry
Celery stalks with leaves
Sliced onions
Halved garlic cloves
Salt and pepper
Place turkey legs in a black enamel roaster with other ingredients to suit your taste. Cover and bake for 4 hours or more. When done, discard vegetables make gravy from broth.
Moroccan Chicken Tagine
1 chicken (small enough to fit in the HotPot)
8 cloves garlic
1 onion
1 tsp. salt, or more to taste
1 tsp. sweet red pepper
1 tsp. ginger
1 tsp. pepper
1 tsp. cumin
2 rounded tsps saffron
5 Tbsps. butter, two times
1/4 C. oil, two times
3/4 C. water
1 small bunch coriander and parsley tied with a string
1 heaping tsp. flour
1.) Finely chop the garlic and onion and mix together with all the spices. Rub the bird inside and out with this mixture. 2.) Slowly heat the oil and butter in the HotPot, add the chicken. Add ¾ C. water and coriander and parsley tied together and cook until the chicken is done. 3.) Remove the cooked chicken and discard the coriander and parsley. Add flour to the sauce in the bowl. Stir quickly. 4.) 20 min. before serving, heat the second 5 Tbsp. butter and the second 1/4 Cup oil. Fry the chicken on the stove in the melted fat, turning it often. When golden, place on a serving dish. Add 2 Tbsp. of the frying oil to the sauce, mix well, and pour on the chicken. Serve at once over couscous.
Serves 4 Cooking time: 3-4 hours (thanks to Pat McArdle)